Jess Walton
By Jamey Giddens on May 08, 2013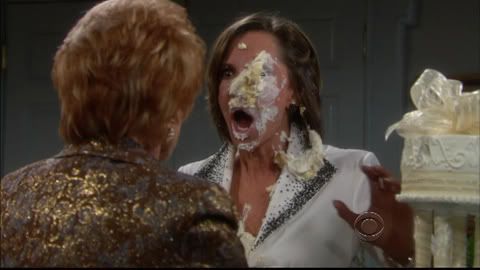 In 1987, an actress from the newly-defunct series Capitol had the unenviable task of recreating the insanely-popular role of schemer Jill Foster Abbott on CBS Daytime's The Young and the Restless. Unlike most soap opera recasts, where success or failure depends on chemistry with an opposite sex romantic lead, newcomer Jess Walton would sink or swim, based on her ability to connect with fellow female powerhouse Jeanne Cooper, who played Jill's bitter rival Katherine "Kay" Chancellor.
To say Walton swam alongside Cooper would be an understatement. The two women did a backstroke even Ryan Lochte and Michael Phelps would have to admire, during their 26 years as acting partners.
By Jamey Giddens on May 08, 2013
The Young and the Restless
fans have already witnessed the final exchange between mortal enemies/eternal soulmates Kay Chancellor (the late
Jeanne Cooper
) and Jill Foster (
Jess Walton
). According to
Y&R
scribe
Brent Boyd
, Cooper's last scene as Kay was the character ascending the Chancellor stairwell during the May 3 episode.
Tweeted Boyd
:
READ MORE
By Luke Kerr on May 02, 2013

Michael (Christian LeBlanc) stopped by Cricket's (Lauralee Bell) office, where he found Paul (Doug Davidson). Michael told Paul he'd moved out of the home he shared with Lauren (Tracey Bregman) and Fen (Max Ehrich), in an effort to save his marriage.
Michael received a call from Fen's school, telling him the troubled teen was skipping school. Michael headed home, where he found his son passed out on the couch in their royally trashed living room
Meanwhile, Lauren (Tracey Bregman) woke up looking like a kitten who'd spent all night lapping up a warm bowl of cream. Moments later, Carmine (Marco Dapper) arrived with a breakfast of chocolate covered strawberries. READ MORE
By Jillian Bowe on March 29, 2013
To commemorate
The Young and the Restless
' 40th anniversary,
Jeanne Cooper
,
Peter Bergman
,
Melody Thomas Scott
,
Jess Walton
,
Joshua Morrow
,
Michelle Stafford
,
Doug Davidson
and
Lauralee Bell
will all appear on
Marie Osmond'
s self-titled talk show on Monday, April 1. The cast will discuss past and present storylines, and how the show has affected their lives.
READ MORE
By Daytime Confidential on March 27, 2013
Peter Bergman, Melody Thomas Scott, Eric Braeden, Jeanne Cooper and Jess Walton were among The Young and the Restless stars who joined Lee Bell in celebrating the No. 1 soap's 40th anniversary with a cake cutting ceremony on March 27. Check out more photos after the jump!
By Luke Kerr on February 27, 2013

Jill (Jess Walton) and Katherine (Jeanne Cooper) argued about Katherine hiring Adriana (Jhoanna Flores) as her personal assistant. When one of Jill's pieces of jewelry went missing, she accused Adriana of taking it. I just love Katherine's waves of dismissal. It makes me smile every time. After Jill's many years as the "outsider" and warring with Katherine, I wouldn't mind Jill going after a new "outsider" like Adriana. READ MORE