Jennifer Gareis
By Jillian Bowe on May 04, 2009
How hot is former
The Young and the Restless
star
Don Diamont
as Bill Spencer, Jr. with that new look of his? On
The
Bold and the Beautiful
, they want to waste all that sexiness on Donna (
Jennifer Gareis
)? Felicia (
Lesli Kay
) can do so much with that guy and it would be smokin'!
By Darren Lomas on April 27, 2009

A bumper edition of bloopers from The Bold and the Beautiful. Way more entertaining than Rick and Steffy.
By Darren Lomas on April 20, 2009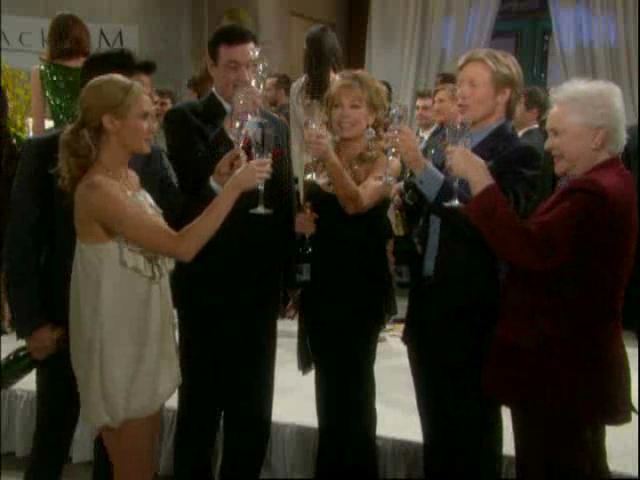 As much as it pains me to type it – last week I was reminded why I used to want to slap Taylor upside the head. She and Ridge put Brooke on the spot about Rick, Taylor spouting, "your son is sick, Brooke. Wake up! He is psychologically damaged." While this may be true, how can she be so sanctimonious? Taylor's own son, Thomas, is undergoing psychiatric help for his demented arson and car bombing attacks. I mean, really, take a look in the mirror, girlfriend. Taylor's own son is nuttier than a fruitcake, and if it hadn't been for Rick's invention last year she'd still be drowning her sorrows in LA's finest door-to-door delivery vodka.
During Taylor's lunch date with "world-renowned" quack James Warwick, ex-husband Ridge and fire-starter Thomas, it looked like someone might take some responsibility for their own actions. Alas, it wasn't to be:
Taylor: "Sweetheart, you were defending my honor. I was the one who was all caught up in these feelings, and I -"
Thomas: "- you know, let's not blame ourselves. Let's blame Rick."
Yeah, great idea Thomas. Let's blame Rick. In amongst the insanity that was Taylor/Ridge vs. Rick, Brooke at least came back with a zinger when Taylor accused Rick of having an Oedipus Complex:
Brooke: "When did you come up with this diagnosis? Before or after you slept with my son?" READ MORE
By Jillian Bowe on April 06, 2009

Hell hath no fury like Stephanie Forrester and Kevin's finally caught.
By Darren Lomas on April 02, 2009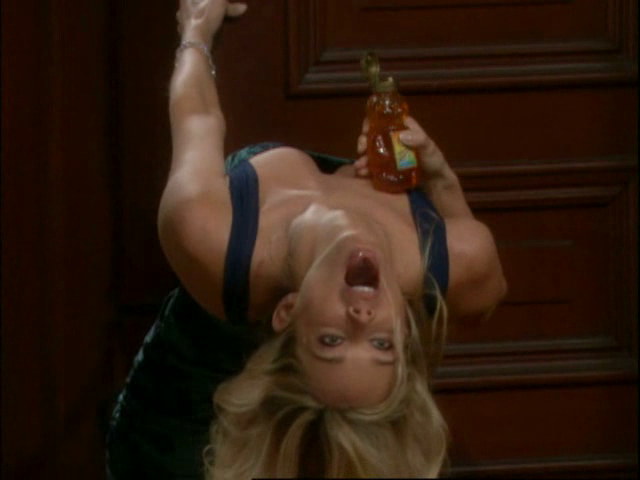 It's becoming a cliche on
The Bold and the Beautiful
: Donna Logan (
Jennifer Gareis
) half-naked, clutching her honey. This time she was swinging from an office door. Take your best shot and caption this.
By Jamey Giddens on March 18, 2009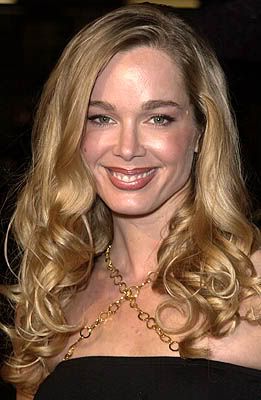 Can I call it, or can I call it? I tried to tell all of y'all who got happy thinking the arrival of
Don Diamont
(ex-Brad,
The Young and the Restless
) to
The Bold and the Beautiful's
canvas might actually mean
Katherine Kelly Lang
(Brooke),
Hunter Tylo
(Taylor) or
Lesli Kay
(Felicia) would get a decent leading man that Diamont would no doubt be pawned off on one of the soap's less-than-leading ladies. I predicted Diamont's Bill Spencer Jr. would be destined for one of the two younger Logan sisters, and guess where Diamont
tells
TV Guide
's
Michael Logan,
Bill is heading first? Donna Logan (
Jennifer Gareis
)!
But back to B&B. Diamont says Bill will likely be paired with curvy bubblehead Donna Logan (Jennifer Gareis). However, this near-incestuous soap really needs new male blood, so look for him to spread his sexual charms widely."