Jason Cook
By Regan Cellura on February 02, 2009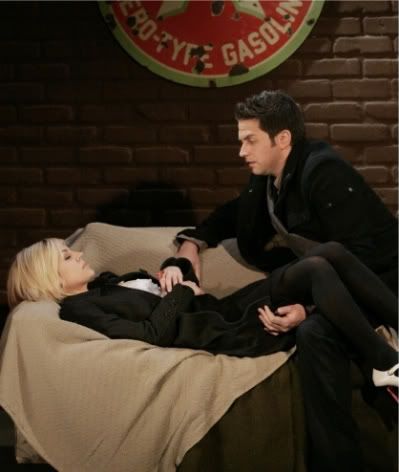 Here's the Scoop! 02.02.09
Are Johnny and Maxie doing the deed? We've SPECULATED a chem test for the pair (I actually think they're good together) BUT will they get the ultimate chem test with a roll in the hay? Are we in store for another GH Quad? I'm still pretty sure that Matt and Maxie will be teased/tested as well as Frons wants that Cook - Storms reunion. The LATEST RUMORS seem to suggest that Matt and Lulu will share some time together. Will the new quad be Lulu-Johnny-Maxie-Matt? What about Spinelli? It LOOKS like Winnie will be sticking around and don't count out Ethan as the con man is RUMORED to be mixing it up with Lesley Lu Spencer as well.
Who is Ethan? Is he Dante? Is he tied to Port Chuck through his parental units? RUMORS are all over the place for the character of Ethan. I got a little chuckle out of one RUMOR that had Ethan as Frisco Jones' son making him Maxie's brother. While I would love to see Maxie with more family, I doubt Ethan is Frisco's kid. EARLY RUMORS had the con's family having history with Luke Spencer. The most popular THEORY is that Ethan is Dante. READ MORE
By Regan Cellura on December 09, 2008
Here's the Scoop! 12.09.08
Totally forgot to talk about Tracy and Luke yesterday. While I would be all for a Tracy/Luke/Laura triangle I am not so sure I am liking the latest storyline for Jane and Tony. I always love their banter but this is Luke Spencer, I feel like he should be doing more than chasing his wife to the Dominican to stop a speedy divorce. Although this has given me the opportunity to once again call out the GH writers. Remember when you sent Carly to the Domincan to get a speedy divorce from Sonny? We learned then that the Domincan is no longer your source for a quick end to your marriage. Now, I MAY be a little premature as the LATEST SPOILERS say that while Tracy tells Luke she's already been granted the divorce, it's a bluff and Luke SHOULD be getting the opportunity to call her on it. READ MORE
By Regan Cellura on December 05, 2008
Here's the Scoop! 12.05.08
It looks like it's a light SCOOP day.... Q & A Day! Fire in with the questions and I'll do my best to answer them.

I dropped this in the comments yesterday: SO,,,, conflicting reports. In an Interview, Tristan Rogers said he was only on for 4 days and that he's back in town for Robin's wedding. Something along the lines that old relationships would have to wait for his next trip into PC. NOW, some are saying once again that Luke and Robert do share the screen. Here's the thing, I am the first person to warn that the mags don't always get it right either and that there is this little thing called spin that publicists get paid for. HOWEVER, Tristan is usually a pretty stand up guy so I don't seeing him giving false info in an interview. IF this is his attempt at dodging the question because he can't talk about it, it wasn't that great. No Offense Tristan, I still think you're the greatest. Also in that interview, Rogers said the show had not approached him to return after this limited run. READ MORE
By Luke Kerr on December 02, 2008
Take your best
Caption This
shot at the brothers Drake.
By Daytime Confidential on October 31, 2008
On today's ABC episode of Daytime Confidential Luke, Tina and Jamey discuss Jason Cook without a beard and David Lago joining General Hospital.
Bianca and Reese and why Bianca's motives don't ring true to the character. Beth Ehlers and Ricky Paull Goldin can't escape filming in stairwells and Michael E. Knight rumors.
Blowing up safes for dummies, mustache twirling Tess and the Marty/Todd rapemance on One Life to Live. All this and much, much more including the disconnect between online and offline soap viewers.
Have a question or comment for the Daytime Confidential podcast? Leave us a voicemail by calling (917) 677-9757.
Listen to Daytime Confidential by clicking on the Daytime Confidential Player at the bottom of this post or Download us for FREE via iTunes. Vote for us on Podcast Alley. Add us as a Friend on MySpace and Facebook.

By Luke Kerr on October 30, 2008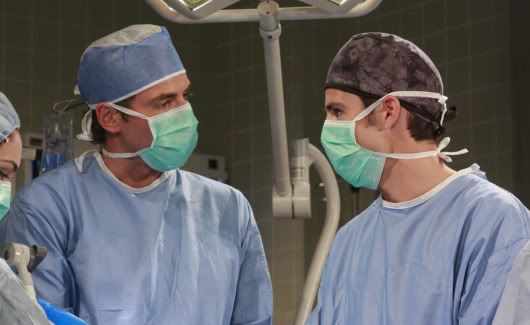 Caption This
scene between
General Hospital's
the brothers Drake (
Jason Thompson
and
Jason Cook
). Take your best shot!