Jake Silbermann
By Luke Kerr on November 08, 2010
Former As the World Turns vixens Terri Colombino and Maura West (pictured above with Jake Silbermann, Eileen Fulton and Michael Park) have found work on other soaps, but in an excellent piece entitled "Stay Tuned for Soap Stars' Next Acts" ,The New York Times takes a look what your other favorite former ATWT stars are doing to keep busy these days.
Two years later Mr. Silbermann began writing a short film script about a drug-smuggling American soldier returning from Iraq. He gave himself a secondary (but juicy) role as a tattooed, slightly demented drug connection. "I knew at the very least it would improve my reel," Mr. Silbermann said.

With more than $50,000 raised through the online fund-raising site Kickstarter (and the loyalty of generous Nuke fans) Mr. Silbermann and the director, Nathan Crooker, shot "Stuffer" over four days last summer. The film, which Mr. Silbermann hopes to expand to feature length, won the jury prize for best short film at the Royal Flush Festival last month. READ MORE

"I am, in a word, encouraged," Mr. Silbermann said.
By Mark on September 10, 2010
On the last week of As the World Turns Noah (Jake Silbermann) tells Luke (Van Hansis) that he'll wait for him, Kim (Kathryn Hays) supports her husband Bob (Don Hastings) when he retires as chief of staff, Carly (Maura West) and Jack (Michael Park) get married and Dusty (Grayson McCouch) is there for Janet (Julie Pinson) when she's about to give birth to her baby. Watch the promo after the jump. READ MORE
By Mark on September 09, 2010
After 54 seasons and one unforgettable journey As the World Turns comes to an end. Watch the series finale promo after the jump.
By J Bernard Jones on September 07, 2010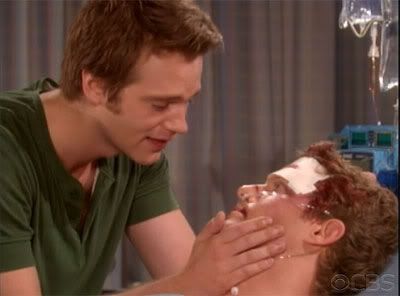 Before I get to today's stunning episode of As the World Turns, in which Dr. Reid Oliver dies and donates his heart to his professional nemesis/colleague Dr. Chris Hughes, I have a few thoughts about not only the serial's final days on the air, but also —in a broader sense—fan perceptions about what a soap's last days should be like, themes that will be carried forward as we look toward ATWT's final hours.
First, with less than two weeks to go before its final fade to black, ATWT is ending its 54 year history in perhaps better dramatic shape than almost any serial since the cancellation of NBC's Texas in 1982, a specific observation I will expand upon in a few days. Of course, there is lots to gripe and nitpick about the woulda-coulda-shoulda's of how the show might have wrapped things up. Many of those ideas are quite good and some are downright ludicrous, but in the final turn of events, all of that stuff is moot. The last scenes were shot, the sets have been struck, and the actors all went along different paths weeks ago. READ MORE
By Mark on August 13, 2010
Next week, Noah (Jake Silbermann) sees Reid (Eric Sheffer Stevens) with another man (Chris, Daniel Cosgrove) and tells Luke (Van Hansis). Blackthorn (Billy Warlock) discovers a microphone bug on Carly (Maura West) and Dusty (Grayson McCouch) is pushed into a van. Watch the As the World Turns promo after the jump.
READ MORE
By Akash Nikolas on July 13, 2010
Earlier this year, Harper's Magazine ran a thought-provoking and well written article on the groundbreaking gay storyline on As The World Turns. Granted, many of us haven't been happy with the direction TPTB took with Nuke in the past year or so; but given the show's imminent demise -- and the fact that, at one point, this truly WAS groundbreaking for daytime -- I feel it's permissible, even necessary, to be nostalgic about what could have been. Sometimes we, as viewers, forget to be grateful for what we actually had in the first place. READ MORE