Jackie Zeman
By Luke Kerr on May 30, 2008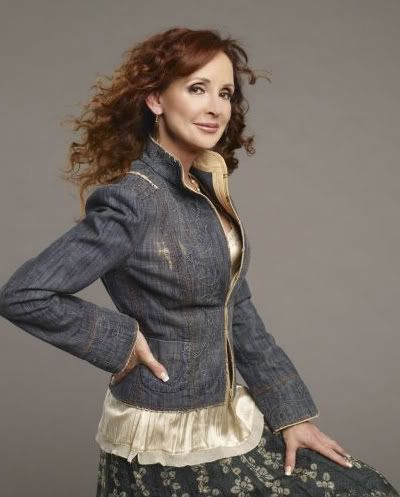 Something curious is going on over at General Hospital in the casting department and I'm not sure what to make of it.
Amidst the headline grabbing demise of legacy characters portrayed by Natalia Livingston (Emily) and Lindze Letherman (Georgie) and off screen coma of Dylan Cash's Michael General Hospital has ever so subtly been eliminating contract roles such as those portrayed by Josh Duhon (Logan) and Jason Gerhardt (Coop) or putting contract roles portrayed by actresses such as Jackie Zeman (Bobbie) and Kent Masters King (Laney) on recurring. This as word has it that several major stars have had or requested to have their daily guaranteed episode counts reduced.
Put the pieces of the puzzle together and it makes one wonder how much money the casting department at General Hospital is sitting on, and more specifically what they may be stockpiling it for?
Of course there is one obvious explanation, but I'll get to that in a minute.
First though, it should be noted that General Hospital brought back Sarah Brown in January, which you just know had to cost a pretty penny. This past October they hired Bruce Weitz as Anothony Zacchara. Of course then there was the Finola Hughes/Young and Restless casting fiasco which forced General Hospital to announce that they had a major storyline for Hughes this summer (which some fans doubt actually existed) to avoid having one of ABC's biggest names jumping to the CBS network. Not hard to imagine that was a hit to the balance sheet.
To be fair, it is entirely possible that in an era of eroding ratings General Hospital may just be tightening its casting budgets so that it can afford to go to the negotiation table with enough cash on hand to be able to keep some of it's bigger name stars such as Maurice Bernard, Jason Thompson, Kimberly McCullough, and Kelly Monaco around. Maurice Bernard just renewed his contract but the other three are all reported to have their contracts come up early this fall. However, I'm not sure I want to be "fair." It's not as fun to be fair, now is it.
Which leads me to the question. If General Hospital is in fact eliminating all these roles in order to free up cash, for what reason? Could it be to so that it can continue it's gluttonous obsession with CGI? Might it be to help pay for the second season of General Hospital: Night Shift? OR could it be in order to try and seduce She Who Shall Not Be Named back to Port Charles? Rumors abound that it is thisclose to happening.
Needless to say, I'm very curious where all the money General Hospital is saving by getting rid of or reducing these contracts is going. I know which I'm hoping for. Unfortunately when it comes to General Hospital I rarely get what I want.
By Jamey Giddens on March 16, 2008
Fifteen years ago this month daytime lost a treasure in Douglas Marland. Marland is regarded among the absolute best of the genre's writer-if not the best.
In the 1970's Marland began penning scripts under the legendary Another World scribe Harding "Pete" Lemay, whose brazen stories kept AW at Number One in Nielsen households for most of the 70's.
Then in 1977 ABC made the decision to pair Marland in the role of headwriter with one Gloria Monty serving as executive producer. The pair had the Herculean task of resurrecting ABC's ratings stagnant General Hospital in six months, or the show would be cancelled.
As Monty got busy changing the look and feel of GH (and basically all of daytime as her work would be copied by just about all the other soaps on air at the time), Marland began electrifying the scripts. He zeroed in on fresh-faced young marrieds Laura and Scotty Baldwin (Genie Francis and Kin Shriner) and created Jackie Zeman's signature role, scheming nurse Bobbie Spencer, to come between the couple. Bobbie planned to use her bad boy brother Luke Spencer (Tony Geary) to drive a wedge between Scotty and Laura and the rest we al know ended in soap opera history, no, make that pop culture history.


And while being instrumental in the early success of Luke and Laura's romance definitely was one of Marland's claims to fame, it wasn't by far his only success at GH. The storytelling genius also gave us the wealthy, cantankerous Quartermaine clan.
Dashing Dr. Alan Quartermaine (Stuart Damon) was introduced to woo and/or tame Dr. Gail Baldwin's adopted daughter Dr. Monica Bard Webber (Leslie Charleson). Since the character's introduction, Monica had been caught in a tempestuous love triangle between brothers Rick and Jeff Webber and at the time of Alan's introduction she still carried a torch for Rick, but the Quartermaine billions proved enticing enough to Monica. Other early Q's introduced during Marland's regime were Alan's parents-billionaire Edward (David Lewis) , socialite Lila (Anna Lee) and his scheming sister Tracy (Jane Elliot).
Not wanting to relocate from New York to LA where GH was filmed, Marland opted to take the headwriter's job at Guiding Light in 1979. There he created what would become one of the show's most wildly popular heroines, Nola Reardon (Lisa Brown). In 1982 Marland created a groundbreaking, but short-lived soap for cable TV station Showtime called A New Day In Eden . Touted the first "nude soap". A New Day in Eden starred Dark Shadows actress Lara Parker and GH's Jane Elliot and boasted Susan Flannery (Bold and Beautiful's Stephanie) as a director. After the show was cancelled, Marland teamed up with fellow soap legend Agnes Nixon to co-create Loving for ABC.
1985 saw Marland return to As the World Turns, the same show he had acted on briefly at the beginning of his career. This time it was as the show's headwriter where he remained until his death in 1993. During Marland's successful stint at ATWT he created the Snyder family, re-established the Hughes as the show's core family and created Holden and Lily's love story. Douglas Marland died on March 6, 1993. Click here to read Marland's classic essay on soap opera writing, entitled "How Not To Wreck A Soap".
By Luke Kerr on February 02, 2008
In memory of General Hospital's Shell Kepler (Amy Vining) I've found some clips of her on Youtube. There weren't that many but I hope you'll enjoy the trip down memory lane.

Fast Forward to minute 2:50 for the Amy Vining scene.
Amy and Lucy at the Nurse's Ball
This is a scene between Sarah Brown's Carly and Amy. I didn't even recognize Sarah Brown.
Here's another one between Sarah Brown's Carly and Amy.
This last clip is of Amy and Bobbie at the nurses' station.
By Luke Kerr on January 27, 2008
In an episode of Daytime Confidential to air this week Foxy, Jay and I were discussing General Hospital in comparison to All My Children and One Life to Live when it comes to using their veterans. The discussion got me to thinking.
General Hospital is, without question, the #1 ABC soap in terms of ratings. It has the nicest sets. It has the biggest sweeps stunts in daytime. It seems to be nominated for Emmys more than the One Life to Live or All My Children. However, even with this going for it, proportionately speaking it has the fewest veteran actors in front burner storylines. Why is this and does this seem odd to anyone else?
Take for example All My Children and One Life to Live.

All My Children's ratings have been in the toilet by comparison. Fans are crucifying it because the writing has been horrible and many of the characters are being written out of character. But even with all this going against it, it has brought back the veteran/heritage characters portrayed by Debbie Morgan (Angie) and Darnell Williams (Jesse) and still features Susan Lucci (Erica Kane), David Canary (Adam Chandler), Michael E. Knight (Tad Martin), and Walt Willey (Jackson Montgomery) prominently in its storylines.
Over on One Life to Live, which is by far the best written soap in daytime but whose ratings have yet to reflect its quality, it is jammed packed with veteran/heritage actors/characters. Erika Slezak (Victoria), Robin Strausser (Dorian), Robert S. Woods (Bo), Hillary B. Smith (Nora), Patricia Mauceri (Carlotta), Catherine Hickland (Lindsey), Kassie DePaiva (Blair), Patricia Elliot (Renee), Trevor St. John (Todd), and Timothy Stickney (RG).
General Hospital on the other hand.
Unlike All My Children or One Life to Live, General Hospital suffers from a bad case of anti veteran actor/heritage characteritis. Sure it has John Ingle (Edward), Leslie Charleson (Monica) Jane Elliot (Tracey), Anthony Geary (Luke), Jackie Zeman (Bobbie), John J. York (Mac), Kin Shriner (Scotty) and now Kristina Wagner (Felicia) but does General Hospital use them? Let's take a look.
Anthony Geary of course gets pretty much as much airtime as he wants but unfortunately for us there seems to be a direct correlation between when Anthony Geary goes on vacation and when Jane Elliot's screen time evaporates.
Then we have John Ingle and Leslie Charleson who have been relegated to deaths, funerals, and hostage situations. Sure we've been told for years that Leslie will get a major storyline and it appears that the drinking storyline may be the storyline we've been promised but will TPTB go through with it and not drop it? Only time will tell.
Over at the Scorpio household John J. York must be getting dust bunnies in his ears as little he is used. How is it that with all the crime in Port Charles that the Chief of Police is rarely seen? I'll tell you. It's more glamorous to have dark and brooding "heroes" take care of the bad, bad, bad men of Port Charles than to actually have an effective police force. Now we have Kristina Wagner back as Felicia to investigate Georgie's death but will we actually get a good investigation or will we just see her once or twice a week and then she'll disappear faster than Helena in the Wyndamere tunnels?
Talk about potential. Kin Shriner returns to the role of the ever-popular Scotty and wham bam bang he has a son he never knew of. Should be a good right? Apparently, wrong. Instead of building up the Luke vs. Scotty rivalry over their children, Shriner has languished in the land of back burner actors while his character's son has gone from being the man of choice for Lulu to the underdog in a romantic triangle.
Lastly we have Jackie Zeman. Poor Jackie Zeman. The actual General Hospital, you know the one that the show is named after, is finally getting almost equal airtime as the mob related storylines and Bobbie is no where to be found. We had a glimmer of hope after Zeman was dropped to recurring and a week later Luke was in the hospital and we saw Bobbie more in two weeks than we had the entire previous year. I don't know about the rest of you but I had hoped that Zeman would have been lucky enough to be one of those recurring actresses who the moment they were dropped to recurring we saw them almost every day. No such luck.
Adding insult to injury, one can count on two hands the number of times Bobbie has had scenes with her daughter Carly (and "star" of the show) since Laura Wright has taken over the role. We won't mention the fact that we have yet to have a scene between Bobbie and Sebastian Roche's Jerry. So what that he held her daughter hostage. So what that he was once a man that Lucas looked up to. So what that Jerry and Bobbie were once engaged. Seriously, shouldn't we have had some sort of face off between these two over everything that has happened since Jerry's return almost a year ago? One would think so. Or at least I do.
Which leads me to my biggest problem.
How is it that all All My Children and One Life to Live can have so many veteran actors/heritage characters front and center when apparently General Hospital, with all it has going for it, can't "afford" to throw its veteran actors/heritage characters a bone in the form of meaty storylines? How is it that Genie Francis can't get a contract that would bring her back to the show and the fans that adore her?
Could it be the fact that General Hospital (the show) seems to be spending a fortune on a long line of characters that we as fans have no connection to a core or heritage family?
Why do we keep getting new doctors and nurses (no offense to the actors) up the whazoo when Monica isn't fighting for chief of staff or Bobbie isn't giving Epiphany a run for her money as head nurse?
Why is John J. York's Mac Scorpio portrayed as a bumbling idiot with little airtime when his police force either A) rarely works as in the case of Lucky and the now departed Coop or B) a long line of basically nameless detectives who we either don't care about or are used instead of Mac? On top of all this doesn't it seem a bit odd that Spinelli does more investigating than the cops? Mac would get more airtime if he quite the force and started a detective agency with Spinelli than he's getting now.
I don't want anyone to interpret my thoughts as bashing the talented and not so talented (depending on how the various fan bases view them) actors and actresses who were lucky enough to land a contract and get airtime. That isn't what this is about.
What this is about.
What this is about is that in a time when both All My Children and One Life to Live are using there veterans in larger numbers. We now have, at minimum, nineteen characters on contract with General Hospital that arrived within the last three years that are not connected to a core or heritage family. Of those nineteen characters at least ten of them (possibly more) appeared on our screens this past Friday.
With such a large number of new characters circulating on a show on a daily basis, is it to much to ask that say three or four of these ten (or more) characters don't appear on any given day in order to give a veteran or two an opportunity to have some screen time and an actual storyline? There has to be a way to balance all the new character while also featuring veteran actors/heritage characters isn't there?
I certainly hope so.
By Luke Kerr on December 05, 2007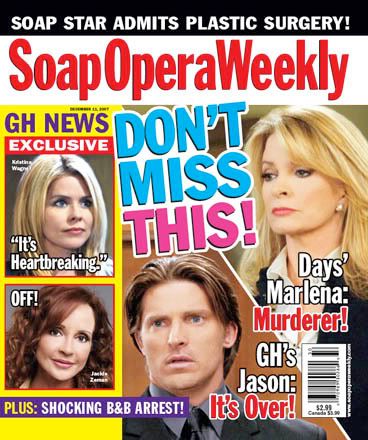 It's Wednesday which means its time to pull the mags off the stands and see what's on the covers. This week it looks like Soap Opera Weekly is running with almost all General Hospital coverage on the cover. Why is it that it's never the "big" pictures or headlines that catch my attention? I don't know either, but this week I'm more interested in the Kristina Wagner coverage. Supposedly the scenes are really intense. Rumors on the net have it that she cried almost all day during them.
Last but certainly not least Jackie Zeman. We reported it earlier this week or last week but no matter when it's discussed it still frustrates the living hell out of me that she is put on recurring and we have a bunch non heritage characters on the show that we don't care about. The only glimmer of hope in all this is that it seems people on recurring get more air time than when they had actual contracts these days.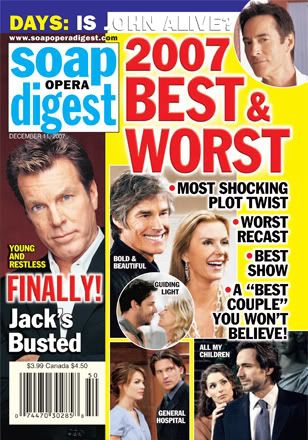 Ooooh....I love Best and Worst lists and we'll be doing them here on the blog and on the Daytime Confidential podcast later this month. Needless to say, this will be a must read issue of Soap Opera Digest for me. I want to compare what the main stream soap press thinks is the Best & Worst of 2007 as opposed to what we here at Daytime Confidential consider to be the Best & Worst of 2007.I was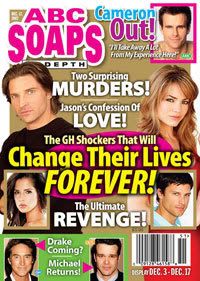 How sad is it that I can honestly say there is nothing of particular interest to me on the cover of this week's ABC Soaps In Depth? Sure there is the Liason vs. LuSam but we discuss that all the time here on the blog and in the
TV Fan Online Forums
so I'm not sure I'm interested in reading it in a magazine.
Well that's this week's look at what is on the stands. What's of interest to you?
By Regan Cellura on November 29, 2007
Fan fave and long-time Port Charles resident, Barbara Jean Spencer will now be a recurring character on ABC's General Hospital. In a statement the actress says, she was notified on Friday, November 9th that for monetary reasons her character has been downgraded and thanked her fans for all their support.