Jack Wagner
By Darren Lomas on January 03, 2009
I'm entering 2009 with a sense of dread when it comes to The Bold and the Beautiful. I'm scratching my head, trying to remember if there has ever been such an unappealing set of couples onscreen at once. READ MORE
By Luke Kerr on September 25, 2008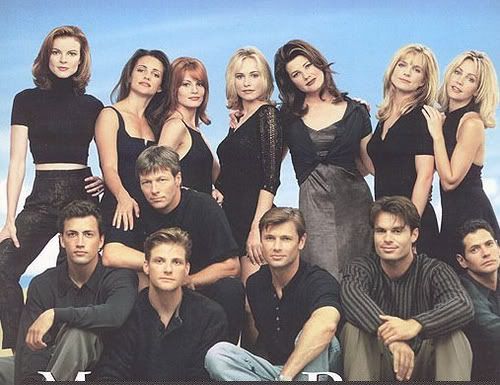 What could be better than a 90210 remake? How about a Melrose Place remake? Lisa Rinna revealed to Mark Malkin at E! Online that there is a possibility of Melrose returning.
"I've heard a rumor of them bringing back the show like they did 90210," Rinna said at TV Guide's post-Emmy party. "I heard that it's somewhere at the CW."

No surprise, but Ms. Rinna would jump at the chance to reprise her role as Taylor McBride. "I would do it in a heartbeat," she said.

Melrose Place ran from 1992 to 1999. "Let's bring it on," Rinna squealed. "Melrose, 10 years later!"
If Melrose were to return, who would you like see return of the original show's cast? Doug Savant and Marcia Cross are on Desperate Housewives. Kristin Davis could be filming a Sex and the City sequel. Jack Wagner is on The Bold and the Beautiful. Rob Estes is on 90210. Kelly Rutherford is on Gossip Girls. Josie Bissett is on The Secret Life of the American Teenager. Courtney Thorne-Smith is stuck on According to Jim, which returns in 2009.
Of the Melrose cast, it would appear that Heather Locklear, Lisa Rinna, Grant Show and Thomas Calabro are the few major Melrose alum who aren't already cast members on hit or buzzworthy TV shows or movies.
By Mike Jubinville on July 31, 2008
Will wonders never cease? Rumor has it the August 12 issue of
Soap Opera Digest
will reveal that Katie Logan is pregnant. Apparently she had near-death sex on Catalina Island with Nick when the cameras weren't rolling.
Sensible Katie was allowed to be romanced by Nick during those brief days she had left to live. Bridget selflessly stepped aside to make her remaining time special. It's about to bite her in the butt. Katie finds out about her delicate condition during a follow up exam for her recent heart transplant.
The Bold and the Beautiful has the ability to take a tired plot point and revitalize a rivalry or invigorate a character. The most recent roll-your-eyes moment was Taylor finding out that Jack was Brooke's biological mother. It turned out to be a surprising storyline that reignited Brooke and Taylor's simmering feud and had Taylor running for the nearest phone to order up a case of vodka.
Katie's pregnancy is a stretch, even for me. Aside from the obvious health issues, this latest development should send Bridget right over the edge. First it was her mother, now it's her aunt. One can only hope that Katie's revelation will finally give the simpering Bridget the sharp edge she had when blasted Brooke for wavering between Nick and Ridge. Ashley Jones has proven she has the ability, so I say bring it on!
By Brian Peel on July 15, 2008
I really hope that mental asylum Bridget is headed for is big enough for two. I think Stephanie Forrester is headed straight for the four rubber walls as well. Rocking in a chair? In the dark? Depressed? Glaring at family photos like it's all about to come to an end? What is going on?
We didn't even see Eric pay her a visit-a promise he made to Felicia. Eric even had the key to the beach house. Where are Bold and the Beautiful going with this? A little creepy? Maybe. Especially since Susan Flannery's portrayal as Laura Horton on Days of Our Lives many moons ago had her end up in a loony bin. Is this depression starting to surface or is there something more to what we are witnessing? It's confirmed, Felicia Forrester is the best possible stand in to help bring her mother back from the brink or take over the complete dynasty.
As always in true soap fashion a wedding is held up because there is a need for another member of an opposing family wishing to confess their undying love for the groom. Was anyone else' guts turning when Nick told Stephen Logan that it was 'something the Logan woman do for him'? What's with that? It's like saying – I've had your daughter, her daughter and I want your other daughter. Come off it! READ MORE
By Brian Peel on July 08, 2008

Bridget is headed for a nervous breakdown. That's how I see this whole Nick, Bridget and Katie scenario panning out. Anyone else feeling for Bridget right now, or is this just the way the 'cookie crumbles?' I've got to applaud Jackie for trying to get Nick to see the light, but no matter which woman Nick chooses, there will be utter turmoil. Standing out as show highlights this week was the revelation of Beth Logan's sudden health crisis, Steffy and Marcus' stairway flirt, Mika's 'Love Today' getting airplay and Owen Knights' arrival. I have come to a few dramatic conclusions though – Eric and Donna are officially Grose, Katie is slowly surpassing sister Brooke as the show's 'leading lady' and Stephanie Forrester, where in God's name is she? Could she be having an affair with Forrester newcomer Tim or is this the beginning of the end for our matriarch? READ MORE
By Brian Peel on June 25, 2008
The stage has been set. The Bold and the Beautiful seems like it is headed for some fireworks. All week, stories have been building to a climax with a drama fest about to ensue. Nick arrived back from Paris with Beth and Steven Logan, Katie was brought back to life by a miraculous IV wonder drug, Phoebe broke the news to Ridge that she overheard word that Marcus was Donna's son and the Forrester children are on the verge of claiming their company from their father Eric. It's been a dramatic week on the show, and will only get better. I have really warmed up to the Logan family. I am just waiting for the scene when Stephanie and Eric finally meet with Beth Logan after all these years. Will it be a sassy Bold and the Beautiful moment? You bet it will be! READ MORE