Ilene Kristen
By Luke Kerr on February 24, 2010
One Life to Live's Ilene Kristen took to the stage on February 19 performing Silver To A Trading Agent, by playwright Sharyn Rothstein, at The Ensemble Studio Theatre in New York City. In the play, described as "A funny, fast-paced Wall Street drama about the dirty choices that got us where we are today," Kristen shares the stage with Bill Cwikowski, Lucy DeVito, Richmond Hoxie and Patricia Randell with Steven Boyer. Check out photos from the event and watch an interview with Rothstein about how the play came to be after the jump.
By Luke Kerr on November 20, 2009
TV Guide Canada's Nelson Branco chats up One Life to Live's Ilene Kristen in his latest interview. In it he asks her about the return of Roscoe Born and the revelation that Mitch is Rex's (John-Paul Lavoisier) father.
TVG: What's it like having Roscoe back on the show after all these years?

IK: You know what? I'm totally thrilled and excited, but we have yet to work together. I'm dying to tape our scenes and see how Mitch's return affects Roxy's life. This storyline has a lot of potential. I can't wait. I have no idea where the storyline is headed but that makes it more exciting as an actress. Roscoe and I share a deep history as friends. Actually, I included scenes between Roscoe and I on my first Emmy nomination reel.
Read the entire interview at TV Guide Canada.
By Jamey Giddens on October 19, 2009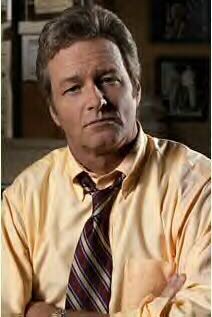 It looks like I am gonna have to start listening to my fellow soap-o-peers' radio shows a bit more! It has been brought to my attention that the fabulous
Ilene Kristen
had already revealed
William Russ
(soon-to-be Tucker) joining the cast of
The Young and the Restless
on
Brandon's Buzz
. Oh and I will
put you out of your misery
, yep he's Tucker! Kudos to
Brandon's Buzz
for getting the scoopage first!
By Jamey Giddens on October 12, 2009

Ilene Kristen
is truly a jane-of-all-trades. Not only does she keep millions of viewers in stitches with her malapropism-proned character Roxy Balsom on ABC Daytime's One Life to Live, but she also rocks out to crowds on both coasts with her vocal stylings. This coming Saturday, Oct. 17 from 8-9:30 pm PT, Kristen will serve as the musical guest for the red hot sketch comedy show ACME Saturday Night. I caught up with the talented actress, who serves as Grace to Brett Claywell's (Kyle) Will on OLTL, to dish about her ACME gig and of course, her one life to live.
Daytime Confidential: The last time we talked, you were hosting ACME Saturday Night, now you're the musical guest. What numbers will you be performing?
Ilene Kristen: I'm going to be performing some of my original songs. One called "Lion's Den", another called "Rise to the Occasion" and then also, "I'm Not Done With You Yet". I've also been working on this jazzy version of The Beatles' "Cant Buy Me Love". My brother-in-law Mike Hoffman is doing the arrangement for me. I'm a little nervous, with me being here in New York, and him doing it out in California! READ MORE
By Jamey Giddens on October 09, 2009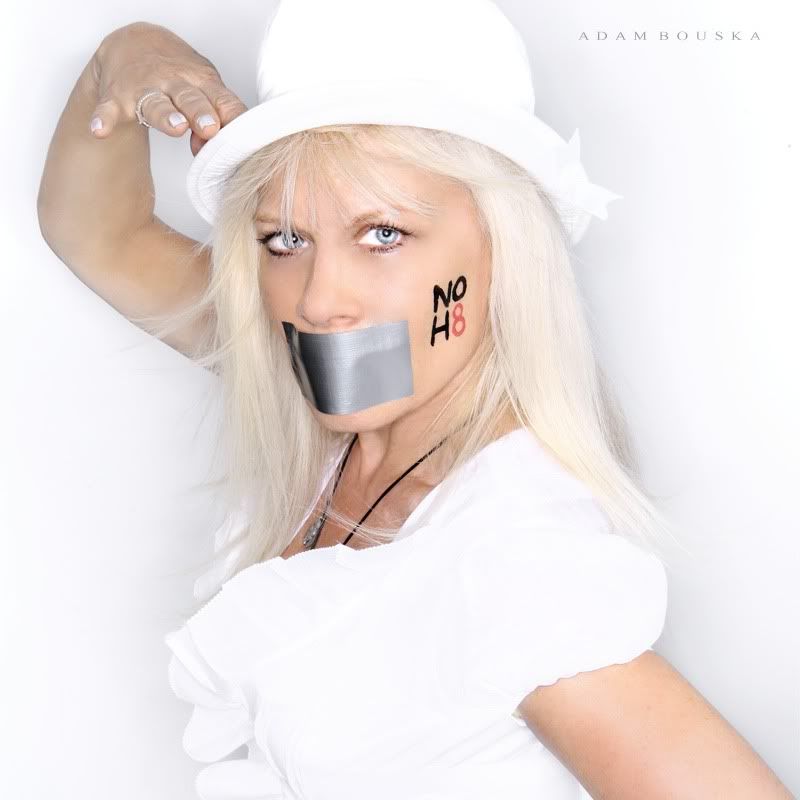 One Life to Live's Ilene Kristen (Roxy) is speaking out against the ban on gay marriage in California by participating in photographer Adam Bouska's NOH8 Campaign. The campaign has featured several soap faces, including The Bold and the Beautiful's Brandon Beemer, Days of Our Lives' Nadia Bjorlin and Michael Muhney of The Young and the Restless. I recently caught up with the Ryan's Hope alum and asked three quick questions about her involvment in the campaign, her character's relationship with OLTL's gay hunk Kyle (Brett Claywell) and both Kristen's and Roxy's beliefs on gay marriage.
Daytime Confidential: So what made you decide to participate in the NOH8 Campaign?
Ilene Kristen
:
I'm a straight, unmarried woman, but I very much believe that if a gay couple really loves each other and want to get married, why shouldn't they have the same rights as straights? It is ridiculous at this point in time that this should even be an issue. Come on America, get hip already! This campaign is great. Get the word out, in a big way!
READ MORE
By Luke Kerr on August 04, 2009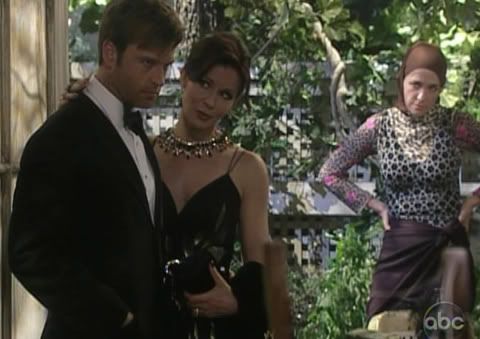 The best argument the soap opera genre can make in favor of its own survival airs at 2pm EST on ABC/ 9pm EST on SOAPnet. Its name is One Life to Live.
OLTL's fictional town of Llanview, PA. is a town rich in history, overflowing with talent, boisterous in personality and uninhibited by an addiction to one or two characters.
Monday's nod to Grey Gardens–acted out by the fantastic foursome of Robin Strasser, Kassie DePaiva, Trevor St. John and Florencia Lozano–and the seamlessness with which it was woven into the double wedding ceremony of Viki to Charlie and Nora to Clint is one of many examples of why OLTL has surpassed The Young and the Restless as the genre's most well-written soap opera. READ MORE