Hogan Sheffer
By J Bernard Jones on February 20, 2009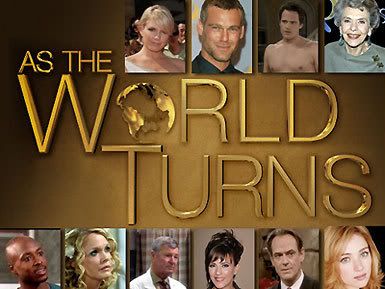 As the World Turns is something of a mystery to me these days. I haven't been blogging regularly about the show because, honestly, I am kind of flummoxed about what to actually write about from day to day.
I love ATWT. The show is blessed with some of daytime's strongest actors. In this age of massive cost cutting, ATWT found an arguably better production alternative than Procter & Gamble sister show Guiding Light. Speaking for myself, I find most days, most characters, most stories and most events to be sufficiently captivating to keep me coming back.
Nonetheless, something is badly amiss in Oakdale. The usual criticisms of ATWT are all-too-familiar: far too many recasts, underused vets, storylines that turn on a dime, compressed storytelling and ever shrinking production values to name a few. While those issues are real and important, they are only symptons of several larger problems that encapsulate the issues that I, other Daytime Confidential bloggers and commentators all over the internet have found themselves dismayed about over the last several months. After trying to put a finger on these issues while attempting to "figure out" what's going on at ATWT from a larger perspective, several things have jumped out as serious structural flaws, like a cracked foundation in a beloved old home. READ MORE
By J Bernard Jones on December 07, 2008
Here lies the final resting place of the Great American Soap Opera
A good and constant companion to millions,
The genre lost its way toward its Final Fade to Black.
Neglect and misconception caused the genre's downfall,
But their collective memory shall live in our hearts. Forever.
Daytime O. Drama
1952 (or 1937) - 2010 (or 2015) — Depending on Who's Counting
Yes, my friends, it is time to put on your best Sunday black, sit Shiva if you are among our Jewish friends, remove all your jewelry if you are Muslim, burn those collections of Soap Opera Digest in a Shraddha ceremony for our Hindu cousins, and the rest of us heathens and infidels can cuss out Brian Frons, Barbara Bloom, Ellen Wheeler and Ken Corday in polysyllabic orgasmic fury. A flame in the wind has flickered its last, the bright promise of our date with life is forever gone. Today is no longer ours. Stick a fork in daytime soaps. They are done. I just have one tiny question:
Are soaps really dead? READ MORE
By Luke Kerr on August 22, 2008
I don't know if this qualifies as another "freaky friday," or not, but as if Higleygate, Hinseygate, and the Scott scandal weren't enough, now TV Guide Canda's Nelson Branco is reporting that "Y&R setsiders are buzzing that Hogan Sheffer is butting heads behind the scenes with his writing partner co-head Maria Arena Bell."

Read the Suds Report for more on the story.
By Luke Kerr on May 21, 2008
Soap Opera Network is reporting that former As the World Turns and Days of Our Lives' Head Writer Hogan Sheffer is joining the #1 rated soap, The Young and the Restless as Co-Head Writer.
Many fans had wondered where Sheffer might end up after leaving his roller coaster ride of a stint at Days of Our Lives. Unlike Days of Our Lives, many fans would probably agree that Sheffer might find a better home for his character-driven storylines at The Young & the Restless than at Days of Our Lives, known for its plot-driven storylines.
What do you think of Sheffer joining The Young and the Restless? As a fan of his writing since his time on As the World Turns I can only hope that he helps The Young and the Restless regain some of its ratings luster, much like he did As the World Turns.