Helen Wagner
By Mark on September 09, 2010
After 54 seasons and one unforgettable journey As the World Turns comes to an end. Watch the series finale promo after the jump.
By J Bernard Jones on September 07, 2010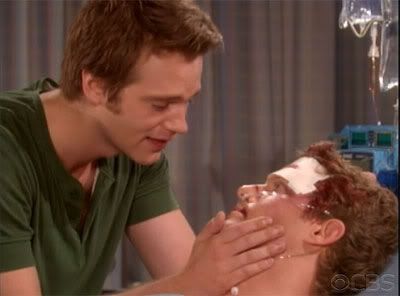 Before I get to today's stunning episode of As the World Turns, in which Dr. Reid Oliver dies and donates his heart to his professional nemesis/colleague Dr. Chris Hughes, I have a few thoughts about not only the serial's final days on the air, but also —in a broader sense—fan perceptions about what a soap's last days should be like, themes that will be carried forward as we look toward ATWT's final hours.
First, with less than two weeks to go before its final fade to black, ATWT is ending its 54 year history in perhaps better dramatic shape than almost any serial since the cancellation of NBC's Texas in 1982, a specific observation I will expand upon in a few days. Of course, there is lots to gripe and nitpick about the woulda-coulda-shoulda's of how the show might have wrapped things up. Many of those ideas are quite good and some are downright ludicrous, but in the final turn of events, all of that stuff is moot. The last scenes were shot, the sets have been struck, and the actors all went along different paths weeks ago. READ MORE
By Luke Kerr on September 06, 2010
This Week in Daytime,
I teared up at As the World Turns' tribute to Nancy Hughes (Helen Wagner). The episode contained so many wonderful flashbacks. I was in the midst of patting myself on the back for not letting it get to me when they began Nancy's Thanksgiving prayer and I knew I was a goner. Of course, that touching scene was immediately followed by Katie's (Terri Colombino) flashbacks of Nancy. I know each ATWT fan has their own fond memories, but there are three reasons I fell in love with ATWT and Oakdale. 1) I discovered ATWT because it was where my beloved Another World characters ended up. 2) I couldn't get enough of Jack (Michael Park) and Carly's (Maura West) on again/off again relationship 3). Katie and Simon's (Paul Leyden) romance–nurtured by Nancy–hooked me. Share your favorite Nancy Hughes moments in the comments. We miss you Helen Wagner.
By Jillian Bowe on July 22, 2010
In an interview with
TV Guide's
Michael Logan
,
As The World Turns'
executive producer
Chris Goutman
discusses the show's plans to honor the late
Helen Wagner
(Nancy). Goutman stated,
We decided not to go the traditional route in paying tribute to Nancy because she made it clear she didn't want anything fancy done," Goutman notes. "Instead, we pick up right after the ceremony with all the characters feeling like they need to do more for her. Casey takes the lead and challenges everyone to come up with a special way to honor Nancy, and that becomes our farewell episode.
By Jamey Giddens on May 02, 2010
As The World Turns
is mourning the loss of series matriarch
Helen Wagner
(Nancy Hughes), who passed away Saturday, May 1. She was 91. With ATWT ending its run this September and wrapping production in June, this news couldn't come at a sadder time for the cast, crew and fans of the soap opera.
"All of us at As The World Turns are deeply saddened by Helen's passing," said ATWT executive producer Christopher Goutman in a statement. "She is loved by generations of fans and while we will miss her greatly, Helen will always remain the heart and soul of As The World Turns."
By Luke Kerr on March 16, 2010
Julianne Moore has taped her April 5 appearance on As the World Turns, when she will reprise the role of Frannie Hughes. Moore recounted to Showbiz 411 what it was like to be reunited with Helen Wagner, who portrays her onscreen grandmother Nancy Hughes.

She says she loved being reunited with her soap family, including 92 year old show matriarch Helen Wagner, who plays her grandmother. "She's still giving us acting tips," Moore recalls.