Heather Locklear
By Jamey Giddens on March 27, 2013

Who are the 60 Greatest TV Villains of All-Time? TV Guide Magazine's Bruce Fretts and Matt Roush listed their picks for the dubious distinctions in the March 25-April 7 issue of the magazine.
It should come as no surprise that many suds evil-doers made the cut, including Dallas' late, great J.R. Ewing (Larry Hagman) at No.1; Dynasty devil Alexis Colby (Joan Collins) at No. 7 and Dark Shadows' Barnabas Collins (Jonathan Frid) at No. 8. READ MORE
By Jamey Giddens on June 28, 2012
Take this one with a grain of salt — make that a whole shaker! The
National Enquirer
is reporting that, on the heels of the success of TNT's
Dallas
reboot, there are now talks of doing one for classic, 80's sudser
Dynasty
! Said veteran
Enquirer
gossip hound
Mike Walker
:
TV moguls are already huddled in top-secret talks with tempestuous Denver oil "Dynasty" divas JOAN COLLINS and LINDA EVANS – begging them to get glam again in those magnificent, iconic costumes and scratch each other's eyes out encore!

Said My Dyna-Spy: "Joan and Linda are really excited about reviving 'Dynasty.' The show looks like a definite go as producers work out the details!" READ MORE
By Jillian Bowe on March 21, 2012
Former
All My Children
star and
CSI: Miami
regular
Eva La Rue
has been named a recipient of The Alliance for Women in Media's 2012 Inspiration Award. La Rue's Genii Award will be being presented to the actress for recognition as the spokeswoman for the Backstrand Cancer Foundation.
READ MORE
By Jillian Bowe on January 19, 2012
Could domestic violence be the real cause of Heather Locklear and Jack Wagner's breakup? TMZ is reporting the former couple have a date with the L.A. City Attorney's Office to find out if they will be charged with criminal battery. According to the site, the Los Angeles Police Department has a file created on the actors after they were called to Wagner's house last month. Police claim they came out to the house after Locklear and The Bold and the Beautiful star got into an argument and altercation. A police officer tells TMZ,
She lost it on him and he retaliated. READ MORE
By Jamey Giddens on August 15, 2011
Everywhere you look these days, popular stars from primetime and film are turning up on daytime soaps. I say it's high time Jack Wagner convinced his ladylove (and according to People, new fiancée) Heather Locklear to make an appearance on his CBS Daytime sudser The Bold and The Beautiful. I know the perfect role to facilitate my dream Melrose Place reunion — Locklear could play Eric and Stephanie Forrester's (John McCook and Susan Flannery) ice princess daughter Kristen! READ MORE
By Darren Lomas on March 19, 2009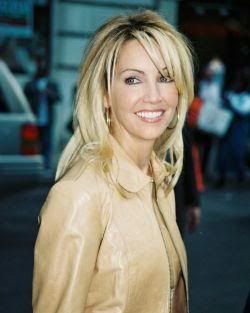 Despite reports that
Heather Locklear
was close to signing on for the new
Melrose Place
,
Entertainment Weekly
is reporting that she has turned down the opportunity. EW quotes a source close to the situation:
There wasn't a way to bring her back that made sense.
With Ashlee Simpson-Wentz already cast on Melrose redux, and Locklear out, things are not looking too promising from where I'm sitting.
One former star desperate to get a role is Lisa Rinna. We Love Soaps has a snap of her with a huge "Honk 4 Lisa Rinna on the new Melrose Place!" sign around her neck. Apparently, she was out campaigning on the real Melrose Place, Los Angeles, yesterday.