Hayden Panettiere
By Luke Kerr on September 08, 2008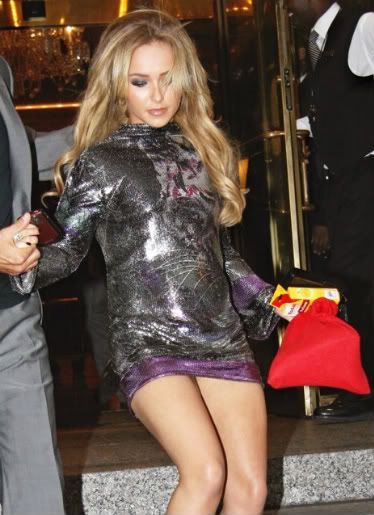 Check out Heroes' Hayden Panettiere leaving Fashion Rocks, which begs the question...

Does Hayden's fashion really rock?
By Luke Kerr on September 08, 2008
Heroes star Hayden Panettiere dropped by Letterman to promote the third season of Heroes and her efforts to help save endangered whales.
Letterman's response to Hayden's compassion for the level of mercury in the whale and dolphins' system, "because of that factor, a lot of people will catch one and mount it on their walls as a thermometer." Ba dum bum.
The third season of Heroes premieres on September 22.


By Luke Kerr on August 11, 2008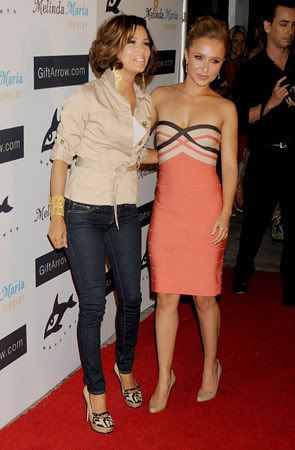 What is better than one former daytime star on the red carpet? Two former daytime stars on the red carpet together. It's a fashion face off between Heroes' Hayden Panettiere (Guiding Light) and Desperate Housewives' Eva Longoria (The Young and the Restless) on the red carpet at the Whaleman Foundation Benefit which Panettiere hosted.

Who has the better look?
By Jamey Giddens on August 01, 2008
Could Hayden Panettiere (ex-Lizzie,
Guiding Light
) and Milo Ventimiglia's on-set romance cause problems for their hit NBC series
Heroes
? Co-star Greg Grunberg may be worried it could. According to
TV Guide
's Seen & Heard column, Grunberg was overheard at an NBC party saying he had already experienced the pitfalls of a co-stars becoming romantically linked on both
Felicity
(Keri Russell and Scott Speedman) and
Alias
(Michael Vartan and Jennifer Garner), but that so far Panettiere and Ventimiglia's relationship had been "great".
By Jamey Giddens on July 16, 2008
I'm not certain which former
Guiding Light
scribe created the character of Elizabeth "Lizzie" Spaulding, but he or she should be credited for envisioning one of daytime's most star-making roles.
Former Lizzie, Hayden Panettiere (who also played OLTL's Sarah Roberts), is fast becoming one of Hollywood's favorite "It" girls with star turns in Heroes and a hot spokesmodel deal with Candies.
Queen of All Media Perez Hilton seems to love the little blonde spitfire almost as much as he loves Rihanna and Angelina, if you look at how much he covers her-in a positive light no less! Another actress to once carry Liziez's purse pup, Crystal Hunt, is also blazing a trail as both star and producer of The Hicks.
I wonder how long it will be before we see the equally cutesexy (an awesome new phrase I stole from Likely Story!) Marcy Rylan-who is currently occupying Lizzie's Manolos and starred opposite Panettiere in Bring it On: All or Nothing-take Pop Culture by storm?

By Luke Kerr on June 11, 2008
Could former Guiding Light star Hayden Panettiere voice Smurfette in the upcoming Smurf film?
That is who USATODAY's William Keck is suggesting for the role. This is his reasoning.
Smurfette: Standout blonde in a village of males. Loves nature.
Hayden Panettiere: Standout blonde in mostly male Heroes cast. Campaigns for dolphin rights.
Reportedly the new Smurf film is a live action animation take on the beloved children's cartoon.
My favorite of Keck's suggestions is who he's picked for Vanity Smurf. If that isn't hilarious I don't know what is.