Greg Vaughan
By Regan Cellura on July 07, 2009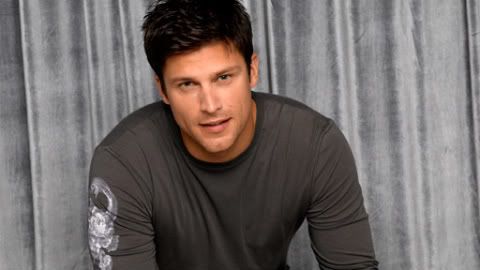 Here's the Scoop! 07.07.09
RUMORS, RUMORS, RUMORS… what should a GH fan believe? Better yet, what should a Greg Vaughan fan believe? RUMORS have said the actor was put on recurring status months ago despite some saying that simply wasn't true. NOW we're seeing more RUMORS that Lucky MAY be heading out of Port Charles. Is this to help his "brother" Ethan find their wayward father Luke? Or is there more behind this story? Of course with the POSSIBILTY of Lucky's exit/time out, there is much SPECULATION on what this means for LL2, Elizabeth and Cam and Jake. Will there be a Nikolas-Elizabeth pairing? Will Jason spend more time with his son? Will there be danger ahead?
Speaking of Nikolas and Elizabeth… I said I'd rather them than a LL2 re-do but I'm not 100% sold on them as a pairing. RUMORS say Nikolas starts to realize that Rebecca isn't Emily and questions her actions. He SHOULD share his reservations with Elizabeth who is determined to expose Rebecca for the liar she is. READ MORE
By Regan Cellura on June 30, 2009
Here's the Scoop! 06.30.09
I love all the Spixie love! Dare I say TPTB are actually listening to the fans? Despite the heat that was JoMax, Spixie fans have held strong and wanted their couple and it appears it is all steam ahead for the computer geek turned PI and his Maxinista. More to come? Yep and no worries, their loving that was cut short yesterday will happen and it will be for all the right reasons. That courting I was talking about the other day? Its coming and when Spinelli serenades Maxie at Jake's karaoke night everything seems oh so right. I haven't been a fan of the sex hospital; it just seems so trashy when the fans want love in the afternoon. This is love in the afternoon people, writers pay attention. READ MORE
By Regan Cellura on June 24, 2009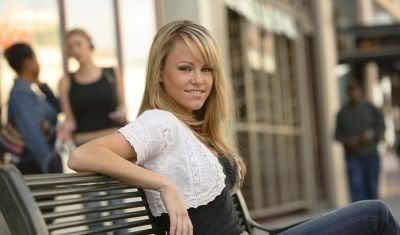 What's the latest with
General Hospital
star
Julie Marie Berman
(Lulu Spencer)? According to the
actress's website
a pilot and a movie.
Pilot: 22

Julie is currently filming the pilot presentation for the show called, "22," produced by Daniel Kellison. She continues to work on General Hospital around the filming of this project.

Film: Rachel's Return
Julie is scheduled to star in the upcoming film, Rachel's Return, playing the character of Rachel. Filming will begin July of '09 and end in August of '09. She is extremely grateful for General Hospital's flexibility in scheduling around this project, and will continue to play Lulu during these months as well. More details on the film to follow...
Does this mean we'll be seeing less Lulu in the coming months? Is GH trying to lighten the load by allowing their actors and actresses time off for outside projects? Berman's onscreen brother, Greg Vaughan, had told fans that GH was being more lienient by allowing the stars to pursue outside work.
By Regan Cellura on June 02, 2009
Here's the Scoop! 06.02.09
So NotEmily isn't the RealEmily, she's Emily's long lost twin. Is that TPTB way of placating the fans who wanted her to be the real deal? SPOILER has it that Rebecca has known all along she's the long lost twin despite her insistence otherwise when she first hit PC. Another bit of history rewritten? When Monica's cancer story was happening, we met Paige Bowen a single mother who was very open with her fellow breast cancer patient Monica Quartermaine. Paige left Monica to care for her only child yet never mentioned that only child was actually a twin? I can't wait to see how Guza and company spin this one. One RUMOR says Rebecca's adoption was illegal. I know most fans say "how can she be Emily? We saw her dead body laying there for days upon days." Well, in GH time it was only one night despite it taking weeks to play out. It's very plausible to make NotEmily the RealEmily. Alexis uncovers the dirt with Rayner's help and Rebecca leaves Wyndamere just in time to bump into Helena who wants in on Rebecca's scam of her grandson. That Helena never misses a golden opportunity. Rebecca pretends to not know that she and Emily were twins when Nikolas shows her proof. READ MORE
By Regan Cellura on May 27, 2009

Here's the Scoop! 05.27.09

Alexis fan?
I keep hearing that the attorney will be getting plenty of story to play with. The question is will it be favorable? Some of Alexis's best scenes are when she goes off on another PC resident and while I like the Sonny-Alexis friendship one of my favorite scenes was her going off on Sonny and Jason at her sister's funeral. Will that happen again? RUMORS have Alexis laying into her daughter's father when Ric goes missing. Can you blame her? IF Sonny is involved in Ric's "disappearance" he's taking Molly's father away from her. There's more for Alexis coming up. She's still determined to link Rebecca to Helena and there's that whole political mess RUMORED to be happening with Mayor Floyd and his wife. Will Alexis get the dirt on NotEmily? SPOILERS say she uncovers a few "skeletons" in Rebecca's closet.
Speaking of Ric… he wants Claudia to go on the run with him. Is that what happens to Sonny's bro? Or will he be the murder mystery we had heard about? Either way, Rick Hearst vacates Port Chuckles mid June. According to Martha Byrne she shared some of Hearst's last scenes with him. READ MORE
By Regan Cellura on May 06, 2009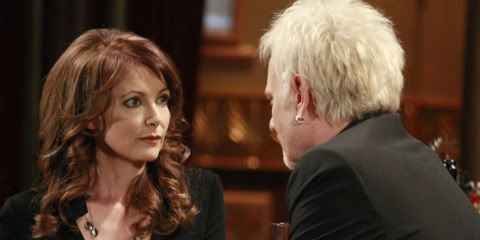 Here's the Scoop! 05.06.09
Nursing a Cinco de Mayo hangover? Be warned that this may make you nauseous. According to a report in this week's TVGuide, Holly comes to town to tell Luke he is the father. Say it isn't so! There is much more story potential if Robert Scorpio is the pops. Interesting tid bit… Nathan Parsons (Ethan) read for the role of Dante but didn't fit the part because he is Australian despite most fans thinking his accent is a fake. TPTB - or TIIC as I like to call them - were so taken with Parsons, they created the role of Ethan for him. They should have stopped at him not being right for the role of Dante. CAUTION: Another interview with Emma Samms had her playing coy about Ethan's paternity.
Speaking of yet another Corinthos child… lord there are way too many of them. Dante is still being cast according to sources. The original plan was to have Dante already in town when Michael woke up but the casting wasn't going as planned. Do we really need more of Sonny's offspring? Jason can't be around the one child he has but Sonny has them literally coming out of the woodwork. READ MORE