Grant Aleksander
By J Bernard Jones on July 15, 2009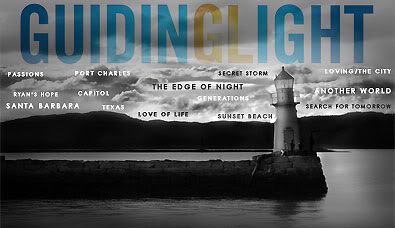 One of the hardest tasks in all of television must be bringing a daytime drama to a close. In other realms of entertainment, plays and musicals can be resurrected through countless revivals. Primetime TV shows can come and go, yet have the potential to be re-imagined or rebooted for the small or big screen. The biggest box office disasters can live on via countless direct-to-DVD sequels. Radio hosts and their dubiously talented sidekicks can be fired for the most hateful commentary, yet live on with the same formats other stations to be spiteful for another day.
With the exception of Dark Shadows, once a soap opera is canceled it is gone forever. During my time I've watched some of my favorites disappear: The City, Port Charles, Generations, Texas, and — in my opinion — two of the genre's titans, Santa Barbara and The Edge of Night. Many of you are still missing your own beloved shows over the last three decades as well. Fans of Capitol, Love of Life, Sunset Beach, Passions, Search for Tomorrow, and the still mourned Another World among others express their loss as if there yet remains a certain kind of grief that has not yet abated after all these years. Soon we will lose another giant among soaps: in less than ten short weeks, Guiding Light will shine for the last time on CBS. READ MORE
By Luke Kerr on July 06, 2009
By Jamey Giddens on June 24, 2009
The End of an Era
. On August 19, 2009 The Paley Center for Media will be hosting an event to say goodbye to broadcasting's longest running program,
Guiding Light
. Attending the evening, will be GL executive producer
Ellen Wheeler
, head writer
Jill Lorie Hurst
, and actors
Kim Zimmer
,
Robert Newman
and
Grant Aleksander
, with other panelists to be announced. A clip from the finale will be shown as part of the planned activities. For more information visit the Paley Center online
here
. Thanks
Daisy Clove
r for the tip!
By Jamey Giddens on June 19, 2009
In
Michael Fairman
's new interview with
Crystal Chappell
for
Advocate.com
he mentions how awesome it would be for
Days of Our Lives
ot snap up the other half of the insanely popular Otalia,
Jessica Leccia
.
You told Jessica you were going to go back to Days. How did that go?

I did tell Jessica, and she texted me back and said, Yay! Employment. You know, that is what we all wish for each other. It was funny. I had this wonderful news breaking last Friday. I am so lucky as an actor to have a job these days, but I really thought it hit me hard. I am the first one to announce: Hey, I'm going over here, and you could kind of see that people were so happy for me, but there was a weight that fell on the group. I kind of felt it all weekend. I am vacillating between extreme relief and joy and excitement about going back and trying something old and making it new again. At the same time I was feeling devastated. So, it was this weird emotional breakup at some level. READ MORE
By Jillian Bowe on June 12, 2009
Guiding Light
can't get NO love these days! The oldest sudser has made it onto mainstream media but not in a good way on Yahoo's
Daytime In No Time
blog. Check out what host
Nikki Boyer
had to say about
Grant Aleksander
(Phillip) and
Michael O'Leary's
(Rick) acting abilities at the 2:48 mark. Ouch!
By J Bernard Jones on May 20, 2009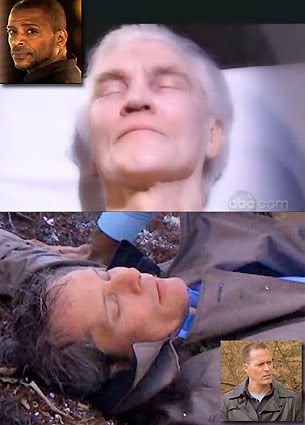 Hot on the heels of my admittedly scathing review of Friday's ultra-campy, Scooby Doo meets The Munsters inspired episode of All My Children which culminated in the murder of Stuart (Not Adam) Chandler, I finally had the opportunity to catch up with Guiding Light, which had its own less heralded "Who Killed Edmund Winslow?" whodunit kick off.
Since I received a little bit of blow back for my harsh (and well-deserved) criticism of AMC, I'd like to take the opportunity to explain why Springfield's simultaneous murder mystery is infinitely superior to Pine Valley's. READ MORE