Gina Tognoni
By J Bernard Jones on November 19, 2008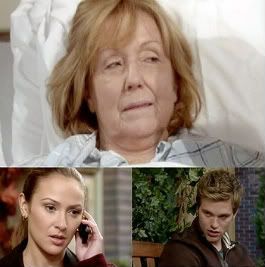 While
The Young and the Restless
and
One Life to Live
are the two must see soaps on daytime right now, our schizophrenic
As the World Turns
is firing on most of the right cylinders and can't be counted out of the fight. The last time I posted about ATWT, I had a great many concerns about the direction of the show and it's storylines given the supersonic speed by which they are told. In the last week however, the show has made me sit up and take notice with some interesting developments.
READ MORE
By Melodie on June 25, 2008
Our friend Nelson Branco just put up another article about his Emmy experience. The article features many quotes from a wide array of daytime's hottest stars. The starts discuss everything from their respective story lines to outside film projects. Head over to TV Guide Canada for all the backstage Emmy gossip.
By Luke Kerr on June 20, 2008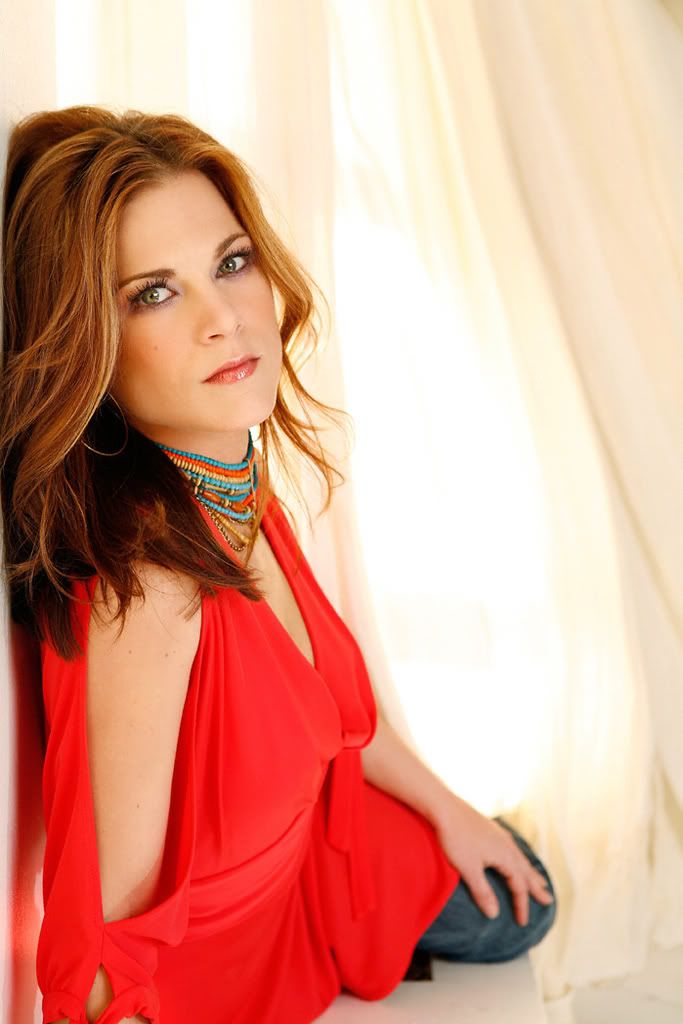 Congrats to
Guiding Light's
Gina Tognoni for winning Outstanding Supporting Actress!
Supporting Actress
Kelly Menighan Hensley - As the World Turns
Heather Tom - Bold & Beautiful
Judi Evans - Days of Our Lives
Gina Tognoni - Guiding Light
Tracey Bregman - Young & Restless
By Luke Kerr on June 20, 2008

Image details: The 35th Annual Daytime Emmy Awards Behind-The-Scenes Preview served by picapp.com
When isn't
All My Children's
Rebecca Budig, Rebecca Budig? Apparently when seat assignments are being made at the Daytime Emmy Awards. Look closely at this picture of Cameron Mathison and the seat he is pointing out. The name reads "Rebecca Budig" but the picture is of
Guiding Light's
Gina Tognoni.
I'm sure this seat sharing issue will be resolved before tonight's show or else all of a sudden there would be an entirely new dynamic to the show, celebrity musical chairs. Now that would be something I'd pay good money to see.
By Luke Kerr on June 03, 2008
After reading all the latest news here at Daytime Confidential during your lunch break be sure to check out these great links.
Nelson Ratings - TV Guide Canada
Eva Longoria pregnant? - New York Daily News
"We are young, and we are restless, and we're not gonna take it anymore!!!" - Tom Casiello Blog
Dressed for a winning role - Boston.com
By Luke Kerr on April 30, 2008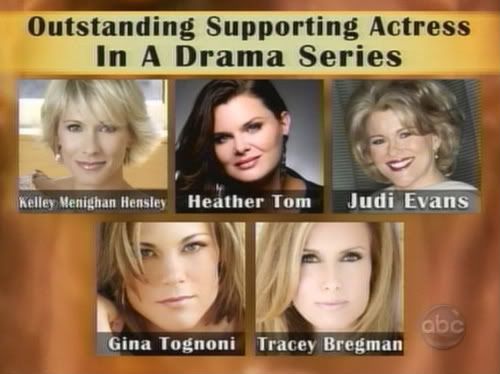 Congrats to Kelly Menighan Hensley, Heather Tom, Judi Evans, Gina Tognoni and Tracey Bregman. May be best supporting actress win but I wouldn't envy being in this category. Not when this was probably this year's most competitive category.
Before I continue I want to give a shout out to Judi Evans. I have loved your work since Another World and to see you nominated nearly 10 years after that great show ended is satisfying.
I am still in shock from this category. Not that any of these actress are undeserving, because each is a consummate actress. However, the fact that Kathy Brier or Catherine Hickland didn't receive a nomination for their work on One Life to Live is a crying shame. After losing the award to Genie Francis last year I sort of expected to see the Bold & Beautiful's Lesli Kay nominated, even if it was a sympathy nomination. I really wish there was some way to include both of Guiding Light's Gina Tognoni and Marcy Rylan in this category. Both had great a great year. Then we have General Hospital. Unlike some actresses who were obviously leads on their respective show Carolyn Hennesy is the definition of a supporting actress and while Rebecca Herbst's status as a supporting actress is questionable considering how much air time she receives the fact that she wasn't nominated for the scenes surrounding Emily's death is striking.
Looking at the prenominations list below and comparing it to the nominees above is there anyone who you feel is missing from this list or who should be on it instead of someone else?
Outstanding Supporting Actress Pre-Nominees:
AMC: Alicia Minshew and Sabine Singh
ATWT: Kelley Menighan Hensley, Colleen Zenk Pinter, and Marie Wilson
B&B: Jennifer Gareis, Lesli Kay, and Heather Tom
DAYS: Judi Evans, Martha Madison, and Mary-Beth Evans
GH: Rebecca Herbst, Carolyn Hennesy, and Kimberly McCullough
GL: Beth Chamberlin, Marcy Rylan, and Gina Tognoni
OLTL: Kathy Brier, Catherine Hickland, and Bree Williamson
Passions: Erin Cardillo and Melinda Sward
Y&R: Tracey E. Bregman, Judith Chapman, and Adrienne Frantz
Be sure to tune in for our Daytime Emmy Nominations podcast episode with should air on Thursday or Friday.