Gary Tomlin
By Jillian Bowe on February 15, 2011
Just what the heck is going on over at Days of Our Lives!? Soap Opera Digest is reporting Natalia Livingston has been fired and DAYS has cast her former General Hospital co-star Tamara Braun to take over the role of Taylor! Ouch, thats gotta hurt... Livingston's debut on DAYS just started a few weeks ago and Braun, who was on the sudser as Ava in 2008 has started taping today. Co-executive producer Gary Tomlin stated:

It was decided to take the character of Taylor in a new direction. Natalia Livingston is an amazing actress and a consummate professional. She is a class act and everyone at the studio adores her.
I guess Braun's pesky Daytime Emmy win on the show for another character is something to overlook, right? Braun's first airdate is slated for April.
By Jamey Giddens on March 27, 2009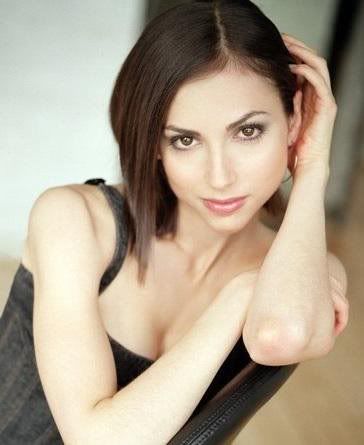 It's no secret
Days of Our Lives
is my heart. Like Tara to Scarlett, Llanfair to Viki and the Promises Treatment Center in Malibu to
Lindsay Lohan
, DAYS is home to me, which is why it pains me to find the land of my childhood, fanboy dreams war-ravaged, and overrun with some strange cow wandering about chewing cud.
I wrote last week how the show was actually watchable again, well, watchable won't keep DAYS on the air past 2010. In years past I never worried about whether NBC-U-Later-Soaps would kill
Days of Our Lives
, because I knew CBS or ABC would readily fight to the death grab up the most buzzed about soap in the last 20 years of daytime television. Thanks to the woeful state of the U.S. economy, coupled with DAYS being written by someone who would make the top brass at AIG shake their heads and go "tsk, tsk, tsk", I no longer have the quiet comfort that
Frons
or
Bloom
will pick up DAYS once it's cut by NBC. Hell, Mickey Mouse and Tiffany are having a hard enough times keeping the soaps already on their network lineups afloat, why would they consider bringing DAYS to the table in the shape its in?
READ MORE
By Luke Kerr on August 22, 2008
Well, if Hogan vs. Bell wasn't enough to call today "Freaky Friday" than the following may just be.
Soap Opera Network is reporting that Days of Our Lives' Gary Tomlin, who took over after Ed Scott left, has appointed Christopher Whitesell as Co-Head Writer along with Dena Higley.

By Jamey Giddens on August 18, 2008

Like clothes through a spin cycle, so are the Days of Our Lives. Days of Our Lives released a press release today confirming the appointment of Gary Tomlin as co-executive producer and thanking fired exec Ed Scott for his "contributions" and "amazing energy".
Hmmm, it's been awhile since I took my undergrad publicity and media affairs course, but I remember something about facing a scandal head on being touted. Instead of skating, make that doing figure eights, around the issue at hand - Scott's alleged re-writing of Dena Higley's scripts and claims that he gave certain actors free reign to do the same - why not issue a firm statement about how Days of Our Lives doesn't condone violations of the Writers Guild of America (WGA) Minimum Basic Agreement (MBA), which is why Days had to come to the "painful decision" to relieve Scott from his duties? I mean, that's how this lil' ol blogger would have handled it. Oh well, again, that would be "too much like right". Here's the spin release, er press release in full:
By Luke Kerr on August 18, 2008
Sarah Bibel has written an excellent piece called Unhealthy Dialogue about the recent firings of Ed Scott and Josh Griffith and how it cut close to home for her since she worked for both Scott and Griffith in the past. She also points out how only in daytime writers are considered interchangeable and expendable. Here is an excerpt.
"It seems like the writers' strike ushered in a new era of nastiness in daytime. While the rest of the entertainment industry shut down, daytime, as it has during every other strike, kept going...Daytime writers were the only writers forced to choose between their union and their job, the only ones with anything to gain by leaving the union. If a couple of primetime writers went financial core, NBC wouldn't have handed them Heroes. It's only in daytime that writers are considered to be interchangeable and expendable."


Read Unhealthy Dialogue.


By Luke Kerr on August 17, 2008
Nelson Branco has updated Friday's Suds Report today (Sunday) with more information about Ed Scott's firing from Days of Our Lives by Ken Corday and reveals that The Young and the Restless' Josh Griffith has been given his walking papers.
Check out the excerpt below.
Moments after Giddens' bombshell scoop aired online, The Suds Report soon learned The Young and the Restless executive producer Josh Griffith was also given his walking papers on the very same day. Astute Suds readers will remember TVGuide.ca broke news suggesting CBS chief Barbara Bloom was angling to replace Griffith this past June. The reason? Griffith was also reportedly re-writing Maria Arena Bell's scripts. However, after the Writers Guild of America sent a cease-and-desist letter to the Y&R studios, "Josh stopped hijacking scripts immediately, but everyone still wanted him fired," points out a snitch. One can only assume Paul Rauch, who recently served as a consultant on Y&R on a short-term contract, will most likely inherit the top spot on daytime's No. 1 soap opera.
Read the Suds Report for more details.