Finola Hughes
By Regan Cellura on August 29, 2008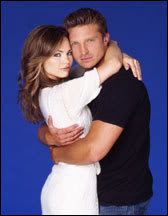 Here's the Scoop! 08.29.08
Happy Liason Day! Today's the day my fellow Liason Fans. Their scenes kick off today and continue on Tuesday. Keep watching all week though. Elizabeth gives Jason the cold shoulder at GH and we MAY have another scene after that as well.
Lulu sees dead people. She'll see Logan while talking to Laura. Will Mommy send the bad guy away? I mentioned before... this storyline MAY have Lucky looking like a jerk when really, he just wants what is best for Lulu. Lucky wants Lulu to stay away from Johnny. Lu says she'll never forgive him if he takes Johnny away from her.
Claudia figures it out. Look for Claudia to put the pieces together and see the real picture. Lulu killed Logan. What will a girl on the witness stand do with that information? Claudia is desperate to get Johnny released, will she spill the truth? No! This is Claudia, she lies on witness stands. Don't count out Lulu's prince. Nikolas has the ammunition to keep Claudia's mouth closed. Claudia hurt? Sick? RUMORS say that she wants to get to Johnny's trial but Patrick won't let her leave the hospital. READ MORE
By Regan Cellura on August 12, 2008
Here's the Scoop! 08.12.08
The LuSam Reveal... not quite as scandalous as I make it sound but Elizabeth does show up at Sam's after Lucky and Sam have hit the sheets sofa. During their post sex bliss, the couple discuss their relationship. Is this when Lucky drops the I Love You? Not sure but SPOILERS say Elizabeth shows up at Sam's most likely trying to once again get her one-time enemy to reunite with Lucky. LuSam fills Liz in on the details of their fake out.

More RUMBLINGS that Jagger will be back on General Hospital. Antonio Sabato Jr's return to Port Chuck via Night Shift had the fans wondering if we'd see Jagger back on our daytime TV and we're hearing it COULD be happening.
Nikolas consults Alexis... will his aunt suggest mental illness as a defense?
When Jax returns he's not happy. He'll find his wife way too deep in the mob world they fought to get the boys away from. READ MORE
By Regan Cellura on August 11, 2008
Here's the Scoop! 08.11.08
It's gonna be a quickie, I'm a busy gal today! Check back for updates!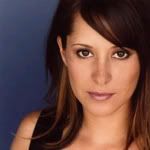 The Scrubs Proposal.... is it at GH? At Jake's? Remember, there are a possible three proposals before Robin agrees to become Mrs. Drake. The scenery may be suspect for a marriage proposal but from what I keep seeing, Patrick is 1000% serious. Still hearing that the ultrasound is happening on screen on General Hospital. So much for the sync up with Night Shift.
Johnny calling in for sisterly back-up? SPOILERS say that Johnny asks Claudia to look into Laura's breakdown. READ MORE
By Regan Cellura on August 08, 2008
Here's the Scoop! 08.08.08
The Scrubs Proposal... I dropped it in the comments yesterday (remember to check there for updates!). RUMORS are circulating once again that a proposal is coming for Robin and Patrick. Our faithful SPOILER readers will remember those OLD RUMORS regarding Scrubs and their proposal(s). I am once again hearing that what MAY happen is Patrick popping the question with Robin turning him down much to the disappointment of family and friends. He MAY ask again only to be turned down, again with Robin making the third time the charm. Those OLD RUMORS had Robin finally proposing to Patrick. Whatever it is, whoever is asking, and whichever proposal....I am hearing its a grand gesture and very romantic. Another RUMOR says that the first proposal is a spur of the moment event at GH. Baby Shower for the mommy-to-be? RUMORS say yes! READ MORE
By Jillian Bowe on July 01, 2008
BREAKING NEWS!!!!
Looks like the walls have finally closed on on Vincent Irizarry's David Chow.
The verteran daytime actor will be leaving his role as the newly married husband and gambling addict of Nikki Newman (Melody Thomas Scott).
No word yet on when his last air date is and the official word came via Irizarry's official My Space page.
Now that he's leaving Genoa City, maybe Vincent's other character Nick McHenry (Guiding Light) will turn up in Springfield or even Port Charles as David to shoot the breeze with his ex-wife Anna Devane (Finola Hughes).
Here's hoping another soap will pick up this talented actor.
By Luke Kerr on June 16, 2008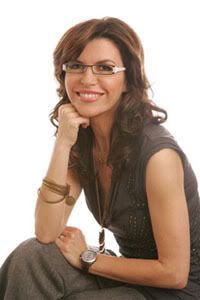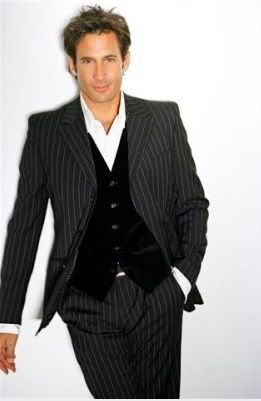 TV Guide
is reporting that
General Hospital
star Finola Hughes,
All My Children
stars Rebecca Budig and Ricky Paull Goldin and
LIVE: With Regis & Kelly
fashion consultant Lawrence Zarian will be hosting SOAPNET's red carpet coverage.