Finola Hughes
By Regan Cellura on April 02, 2009
TVGuide Canada
's
Nelson Branco
chatted up
GH
's supercouple Robin and Patrick (
Kimberly McCullogh
and
Jason Thompson
) in celebration of the sudser's 46th Anniversary. The duo talk about Robin's Post Partum Depression, their love of
Finola Hughes
(Anna Devane) and
Tristan Rogers
(Robert Scorpio) and give kudos to
NightShift
head writer
Sri Rao
.
TVG: Kimberly, we were all a little bit surprised when you returned to GH a few years ago because you had relative success in other mediums. Are you planning on staying on GH for the foreseeable future? READ MORE
By Regan Cellura on December 23, 2008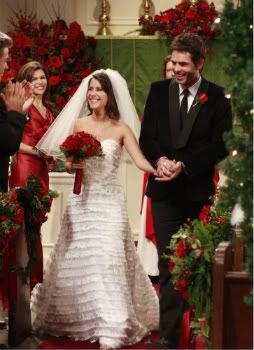 Here's the Scoop! 12.23.08
Not much out there this AM but we do have SPOILER pics for you!
It's the Scrubs Wedding on Friday. Finally, a couple can be happy and in love with their child. It's not typical for the angst ridden General Hospital but wonders never do cease. So enjoy it while we have it GH and Scrubs Fans. Luke will be there to see his old pal walk Robin down the aisle.
Robin and Patrick return to GH after their honeymoon. Things don't seem right in Port Chuck as we MAY finally see an end to the Great Drug Caper. Will one of Patrick's patients die? Is Robin seeing things?
Could Robin be seeing Emily? One RUMOR says Rebecca will be that new doctor that has been RUMORED to be coming. This RUMOR says she'll be a medical chemist. Elizabeth will be one of the first people to see Rebecca and she'll react to seeing her dead best friend's dopplehanger. READ MORE
By Regan Cellura on December 22, 2008
Robin and Patrick say I - DO! Tune in on Friday, December 26th!
By Regan Cellura on November 25, 2008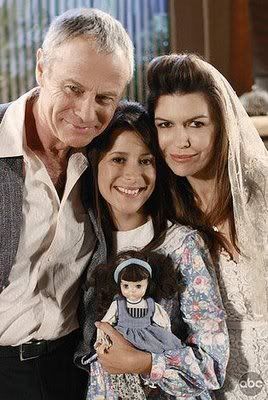 According to Robin's (
Kimberly McCullough
) proud on-screen dad (
Tristan Rogers
) the upcoming wedding re-do for Robin and Patrick (
Jason Thompson
) was a "soapish" event. Here's Tristan's
latest update
on his time at
General Hospital
.
Here comes the Bride

I have just finished shooting the wedding sequence for Patrick and Robin's wedding, and if I do say so it was upbeat and intimate. More a gathering of a close group to witness the ceremony. The emotion was high as were all the normal attributes that you find at any soap wedding. Robert and Anna were very much the proud parents, who throughout the ceremony reflected on their life and what brought them to this moment. READ MORE
By Regan Cellura on November 18, 2008
Here's the Scoop! 11.18.08 Plus SPOILER pics at the end!
We talked about Elizabeth and Olivia having more in common than they realized and if you noticed the ladies have been sharing more screen time together. The LATEST for these two MAY be happening after Jake is grabbed by the Russians. RUMORS suggest that Elizabeth pushes people away taking all the blame on herself. Olivia confides in Elizabeth that Dante's Dad is a mobster also and she's protected him from that his whole life to avoid exactly what Elizabeth is going through now.
Will Elizabeth really push Jason away? According to RUMORS that COULD be happening. Don't forget there were RUMORS about Elizabeth offering herself for Jake. There have been plenty of RUMBLINGS about this one that I've held off reporting simply because it seemed like Fanfic to me. Will Elizabeth offer herself in a trade? Will the OLD RUMORS of Sonny helping come true?
Elizabeth is going to have a rough end of Sweeps. She kills a man and then her child is kidnapped, again. Her faith in the man she loves is shaken and everything she did to protect Jake from Jason's life was all for nothing. Jason will blame himself. He sent them out of town for their safety but left them unguarded. Such a Sonny thing to do... no guards. READ MORE
By Jillian Bowe on October 27, 2008

Looks like I'm not the only one that's happy about the status of The Young and the Restless these days. TV Guide Canada's Nelson Branco has deemed November Y&R month in this week's Nelson Ratings. Branco urges fans to help Y&R reclaim a 5.0 rating and even suggests that General Hospital's Finola Hughes should join the show (see below). Personally, I'm all for it.
I can't help but wonder if perhaps Finola Hughes should join Y&R in the role she was originally cast in: Sabrina's mom, Zara. Think about it: Zara who could help heal Victor's heart.
Its official, Nelson is my new BFF! It's safe to say that fabulous Ms. Hughes' talents will be utilized on Y&R, unlike the screwball way GH portrays the actress' character. She wouldn't even have to be Zara, but another character who can go toe-to-toe with the heavyweights at the eye network.