Erika Slezak
By J Bernard Jones on December 31, 2008
There are unforgettable performances in daytime television, many of them etched in fable or memory. Who among us who witnessed it the first time it aired will ever forget Judith Light during Karen Wolek's testimony in which she revealed she was a hooker on One Life To Live? How about Kim Zimmer as Reva declaring herself the slut of Springfield or Beverlee McKinsey's Alexandra and her lethal evisceration of Roger at the country club on Guiding Light? Almost everyone involved in the aftermath of BJ's death on General Hospital was awesome. There was Mary Fickett's brilliance in the aftermath of Ruth's rape by Ray Gardner on All My Children. And who could forget Douglass Watson's titanic performance when Iris (Carmen Duncan) revealed to Mac she was behind the attempted takeover of Cory Publishing on Another World? There are untold dozens of scenes, including quite a few in recent years that have been mesmerizing in their own right.
For my money, one of the most electric performances on daytime drama for all time was rendered by Academy Award winner Kim Hunter in her final episode on The Edge of Night as faded film star Nola Madison. For your consideration, I have posted the meatiest scene — the episode's second act, featuring the confrontation between Nola and rival Margo — at the top of this entry, but the two brilliant scenes that follow are at the end of this entry with some additional background after the jump. READ MORE
By Luke Kerr on November 18, 2008
Sherri Shepherd
was at Super Soap Weekend and has some behind the scenes looks your favorite ABC stars including
Susan Lucci
,
Erika Slezak
, the hot hunks of ABC daytime and tells how she grabbed
Jason Thompson's
butt twice.
Note: If this clip does not appear in Internet Explorer view in Firefox.
By J Bernard Jones on November 12, 2008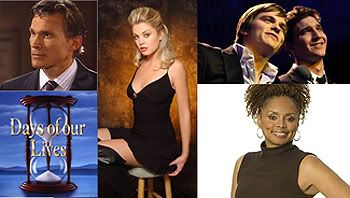 At the risk of indulging an age-old cliché or perhaps inventing a new one, real life is the soap opera that interrupts our daytime dramas.
I've been away for the last couple of weeks caring for my partner who was seriously ill for a little while (all is better now); dealing with the challenges of running a business and maintaining my livelihood in a faltering economy; consoling friends over unexpected loss in their lives and reveling in the result of a Presidential election which has left me elated and joyous in an event that I, as a Black man, never thought I would see in my lifetime. This time has been filled with hospital vigils and prayers (all answered in the affirmative), nail biting suspense, and a dash of personal intrigue. In short, the last two weeks have been a period of belief and disbelief. READ MORE
By Luke Kerr on September 24, 2008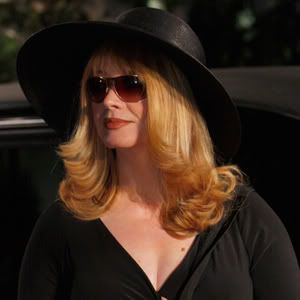 Michael Fairman
has a new
interview
with
One Life to Live's
Andrea Evans
in which she reveals that Tina has an upcoming love interest and more scenes with
Erika Slezak
.
MICHAEL: When you returned for the 40th anniversary episodes you only had short scene with Viki at the airport. Many die-hard fans felt perhaps short changed. But I hear there are more Tina and Viki moments on the way!

ANDREA: There will be more Tina/Viki absolutely. I think Ron Carlivati tried to bring in a scene with us before Erika Slezak (Viki) left for her vacation. Between our two schedules… to get me their before the 40th anniversary, and her leaving on her vacation was challenging. He really struggled to find the opportunity for us to have any scenes at all under those circumstances. I promise you there will be a lot more to come.
By Regan Cellura on August 05, 2008
Join Daytime Confidential in wishing
Erika Slezak
(Viki,
One Life to Live
) a very Happy Birthday!
By Daytime Confidential on July 27, 2008
Join the Daytime Confidential gang and TV Guide Canada's Nelson Branco as they celebrate One Life to Live's 40th Anniversary by taking a trip down memory lane and reminisce about how they became hooked on the ABC soap and who is their favorite character.
They discuss One Life to Live's two 40th Anniversary episodes and all the special moments, the little tributes to the show's past, the Mendora story, Viki's heavenly experience, Dorian's reunion with Mel and Bo and Rex's trip into the past.
All this and more on today's One life to Live 40th Anniversary episode.
Have a question or comment for the Daytime Confidential podcast? Leave us a voicemail by calling (917) 677-9757.

Listen to Daytime Confidential by clicking on the Daytime Confidential Player at the bottom of this post or Download us for FREE via iTunes. Vote for us on Podcast Alley. Add us as a Friend on MySpace. Drop by our sister site TV Fan Online and visit with other soap fans in the TV Fan Online Forums.