Ellen Wheeler
By J Bernard Jones on September 05, 2009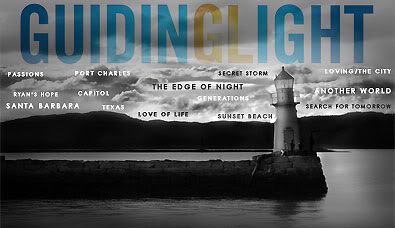 As promised,
The New York Times
ran
a lengthy and bittersweet article
on the demise of
Guiding Light
on September 3rd. The final episode is slated to air on September 18th on CBS. The article's introduction could not have been more in sync with what many of GL's fans are feeling as that dreaded airdate approaches:
READ MORE
EMOTIONS are an actor's currency, but on this day in early August,

Robert Newman

was coming up empty. He sat slumped in a chair in his nearly vacant dressing room at the CBS Broadcast Center on West 57th Street in Manhattan. Cartons with his name scrawled on them were stacked in the corridor. His colleagues, some of whom he had worked with for decades, were all packing up as well. "I shot my last scene in the studio an hour ago," he said, then paused and studied his hands, clasped in his lap. "I don't know how I feel."
By J Bernard Jones on August 14, 2009
For the first time in ages, and certainly since I've been blogging for Daytime Confidential, I am absolutely furious and utterly appalled over a bit of business that happened on today's episode of Guiding Light in scenes involving Buzz (Justin Deas) and Cyrus (Murray Bartlett) set on location in New York City.
While tracking down a lead to a clue that the late Jenna (Fiona Hutchinson) left in a hotel room, Buzz and Cyrus wound up at the real CBS Broadcast Center in Manhattan. Once inside the building, they spoke to a page (think 30 Rock's Kenneth) who awkwardly and painfully informed them that The Price is Right films in California and gave them the actual phone number to would be contestants in the studio audience. Things didn't stop there. The page then told them As the World Turns tapes in Brooklyn and airs at 2PM. I am not making this up. READ MORE
By Jamey Giddens on June 24, 2009
The End of an Era
. On August 19, 2009 The Paley Center for Media will be hosting an event to say goodbye to broadcasting's longest running program,
Guiding Light
. Attending the evening, will be GL executive producer
Ellen Wheeler
, head writer
Jill Lorie Hurst
, and actors
Kim Zimmer
,
Robert Newman
and
Grant Aleksander
, with other panelists to be announced. A clip from the finale will be shown as part of the planned activities. For more information visit the Paley Center online
here
. Thanks
Daisy Clove
r for the tip!
By Jamey Giddens on March 30, 2009
A source close to the
Guiding Light
production office says
TV Week
's report about
Barbara Bloom
allegedly developing in-house candidates to replace the soap opera has "completely blindsided" executive producer
Ellen Wheeler
, who was reportedly told the soap opera would likely be renewed for another year recently.
"Ellen and the production company were told the show would probably be renewed just last week, now they read the report from TV Week," begins the source. "People don't know what to think!"
A second source very close to the situation reiterates that Guiding Light's fate is all in the hands of CBS now.
"All anyone can do now is call the network and let them know you want Guiding Light to stay on the air!"
Les Moonves's Number at CBS: (212) 975-4321
By J Bernard Jones on February 13, 2009
Before I get to the main event regarding the much ballyhooed resurrection of the lost Spaulding heir, a little housekeeping is in order.
First, no matter what one may think of the current state of Guiding Light or its prospects for survival, one cannot fault CBS for not marketing the high holy hell out of the return of Grant Aleksander and the character of Phillip Granville Spaulding. GL/Phillip/Aleksander has been everywhere: print ads and a steady barrage of television commercials have been broadcast non-stop, right down to a live interview with Sarah Bibel on Fancast.com. Internet advertising has been almost overwhelming.
Think I'm exaggerating? Consider that the publicity has run so deep and so wide that outlets as disparate as TVGuide.com have featured two video packages to The Wall Street Journal's financial/investment website MarketWatch.com have featured Aleksander/GL related material. Hell, all that was missing was a Super Bowl commercial; given how ubiquitous the marketing has been, no doubt CBS would have run one had it broadcast the game! I don't believe I have seen this much publicity for a soap since the heydey of General Hospital's Luke & Laura or, more recently, Susan Lucci's reported pay cut. READ MORE
By J Bernard Jones on January 30, 2009
Funny how the universe sometimes lines up and minds think alike, isn't it? Guiding Light is in the thoughts of a lot of people these days. Bloggers, soap journalists and industry watchers — not to mention the writers, cast and crew of GL — are all on pins and needles about this 72 year old institution. The writing has been on the wall among commentators on the Internet and in the soap press for some time regarding GL's maybe/probably/likely cancellation, which would essentially signal the final march along daytime's trail of tears as the end of the genre.
The signs are obvious and ominous: GL has been hovering at a 1.5 rating for the last few months, a situation exacerbated by a genre-crushing free fall in advertising revenues, which have in turn led to massive budget cuts by the networks for all the shows. If GL doesn't get its act together by the Ides of April, as our own Jamey Giddens so aptly put it, the oldest series on broadcast television will bite the dust. However, there is hope. As has been reported here, Guiding Light needs the minimum of a steady 1.8 rating to avoid getting the ax.
Back to minds thinking alike: Just as I was finalizing this list, Mr. Giddens posted his "Top 10 Last Ditch Stunts To Save Guiding Light," followed by Spauldingfield's awesome GL promo posted by Luke Kerr. Because of their excellent efforts I almost decided to not post these recommendations, but the situtation at Guiding Light is so important to those of us who love the show that I felt it was more important to contribute to the call to keep GL on the air and risk repetition than not do so. Therefore, consider these considerations an addition to their efforts. GL needs viewers not tomorrow, but today and here are ten reasons to tune in right now! READ MORE