Ellen Wheeler
By Jamey Giddens on July 08, 2011
I really think Luke and I and the rest of the bloosphere should cut
Kim Zimmer
a check. From "sweating my balls off in Peapack" to her latest round of zingers in this week's
Soap Opera Weekly
(on newstands now), the daytime drama queen keeps giving good pull quote!
La Zimmer talked with the magazine about her new tome I'm Just Saying: Three Deaths, Seven Husbands and a Clone, My Life as a Daytime Diva, which among other things, delves into a DUI arrest and the anger issues she had to deal with because of her last few years on Guiding Light. We feel you girl; we were angry too! When asked if GL's final showrunner Ellen Wheeler had read the book, here's what One Life to Live's Echo di Savoy responded:
I don't know. I don't totally destroy her in the book. I do come around to say that she had a job to do and she did it very well, though I didn't agree with the way she did it. She did what she was told to do. She knows how I felt about her, that was no secret to her, so if she reads it, I don't think she'll be surprised or shocked. I don't even know where she is. Somebody told me she was working on a farm somewhere in Utah. I think she was ready to get out of the business after that whole debacle there [Laughs]. READ MORE
By J Bernard Jones on September 16, 2010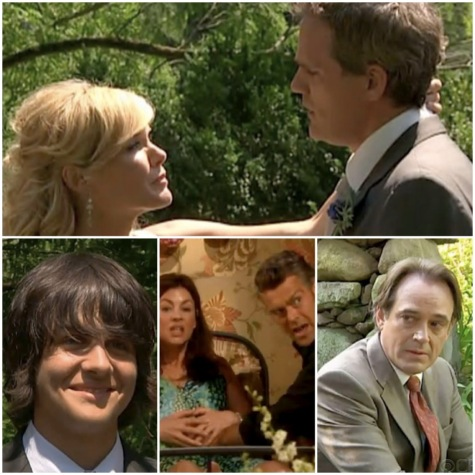 Several days ago, I posted an entry about the fallout from the death of Dr. Reid Oliver (Eric Sheffer Stevens) on As The World Turns. There were three central ideas in that piece. First, despite the very legitimate complaints that any given fan might have, ATWT is providing great human drama here at the end of its run. Second, Reid's tragic passing and donation of his heart to Chris (Daniel Cosgrove) encapsulated that goal mainly by thrusting the Hughes'— the show's core family since its very debut— front and center toward its conclusion. Third, given the soap opera wrapped production months ago, the idea of kicking a dead horse with unrelenting criticism isn't going to make it win the Kentucky Derby.
I have not budged one iota from any of those positions and I am about to incur the wrath of a whole lot more of you by making what I know will be a very controversial statement to many: I believe that in these final days, executive producer Christopher Goutman has made mostly the right decisions.
By Mark on December 07, 2009
TV Guide Canada's Nelson Branco is reporting Ellen Wheeler has been hired as a director at As The World Turns.
OMFG: Several set sources confirm that show-killer Ellen Wheeler (Another World, Guiding Light) has been hired by World Turns as a "director." One furious actor tells Soapgeist, "It's a nightmare. You know we'll be cancelled now!" Never thought I'd say this — but I hope Christopher Goutman is never let go. Only in soaps, folks, only in soaps! Good luck, Oakdale. You'll need it now.
As someone who never watched Guiding Light or Another World I have no idea how bad those shows got, but maybe she's a better director? Trying to remain positive here.
By Jillian Bowe on September 20, 2009
Go behind the scenes with
Christian LeBlanc
and
Jeanne Cooper
for their cameo appearance during the last week of
Guiding Light. The Young and the Restless
stars can be found with the GL cast on LeBlanc's video diary.
By J Bernard Jones on September 18, 2009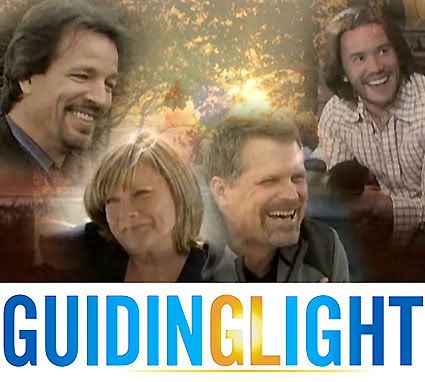 The final part of a highly personal, non-objective series highlighting various aspects of the last episodes of Guiding Light, which which ended its 72 year run on September 18th.
What was it that got me first?
Was it the opening flurry of Guiding Light's logos throughout it's 72 year history or was it the show's last "Only Love" opening featuring the most of the current cast as it had never done before? Whatever it was that first triggered a torrent of emotions that ran through me, this is what happened on Guiding Light today:
In the wake of Alan Spaulding's death, Fletcher whisked Alexandra away to see the world. Doris pulled strings and got Ashlee into a writer's program at Berkeley; Daisy and Ashley went to California together for school, while James stayed behind and bonded with his father. Mindy informed Billy that she was moving back to Springfield. Remy and a newly pregnant Christina got married in the quickest wedding in soap opera history. Olivia & Natalia settled on a name for the baby — Francesca, named after Frank. Maureen played matchmaker for Matt and one of her pretty school teachers. After weeks of online dating, Frank & Blake finally hooked up for their date, with seemingly all of Springfield stalking him. Beth gave Phillip, who once had great dreams of being a writer, a journal in which to put his every thought.
Finally, there was everything involving Josh (Robert Newman) & Reva (Kim Zimmer).
It wasn't what happened "today" that was most important; it was what happened "one year later" in Springfield that truly mattered. As I sit a home, with the television now turned off and with more than a few tears in my cynical eyes, I cannot help but be amazed that I bore witness to what I believe was one of the greatest series finales of an American institution as has been produced during the long — and now endangered — life of a uniquely American genre. READ MORE
By J Bernard Jones on September 17, 2009
The fourth in a highly personal, non-objective series highlighting various aspects of the last episodes of Guiding Light, which will end its 72 year run on September 18th
The penultimate episode of Guiding Light was light on story, but extraordinarily high in emotion and closure — and there was one bit of ridiculousness about which, at this late date, I could ultimately only laugh.
Jill Lorie Hurst & Ellen Wheeler threw in so many twists, turns and delightful surprises that it was hard to keep up! Danny (Paul Anthony Stewart), Michelle (Nancy St. Alban) and Robbie moved back to Springfield! Remy (Lawrence Saint-Victor) found out that he and Christina (Karla Mosely) really weren't married — again, only to be informed by the not-Mrs. Boudreaux that she is pregnant! Mel (Yvonna Wright) & Cryus (Murray Bartlett) burned up the well-worn sheets at the Beacon! Even Daisy (Bonnie Dennison) got accepted to college, which was a delightful shock, given that not only did I have no idea she had applied to a university, but was more shocked that she actually could read!
In some ways these developments were mere appetizers for two of the biggest, most emotionally satisfying payoffs Guiding Light could have ever delivered for its long time, faithful fans! READ MORE