Ellen Degeneres
By Luke Kerr on February 17, 2009


The Mentalist's Simon Baker dropped by The Ellen DeGeneres Show and Ellen took it upon herself to help Baker brush up on American people, places and things as he readies to become an American citizen. I have to say, this is one of my favorite Ellen games. It's always hilarious to see how the celebrities describe things and Baker trying to describe Dolly Parton is great.
By Luke Kerr on February 09, 2009
Wouldn't it be awesome if there was a Friends reunion episode as Ellen tried to get Jennifer Aniston to agree to?
By Luke Kerr on January 17, 2009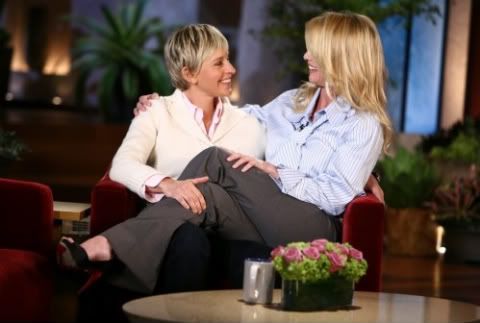 Take your best Caption This shot at this picture of
Nicollette Sheridan
sitting in
Ellen's
lap on the
Ellen
show.
By Luke Kerr on December 12, 2008
By Luke Kerr on December 05, 2008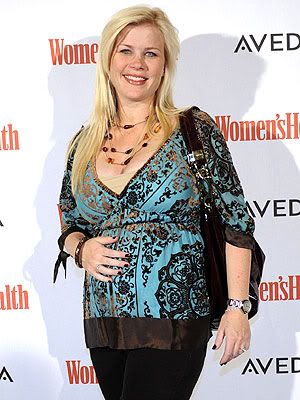 After concerning fans and setting the gossip blogs on fire yesterday by
faking going into labor
on
Ellen
,
Alison Sweeney
is blogging about her appearance on the popular talk show.
I can't believe how many people have called, texted and emailed me, my husband and everyone I know to ask about Ellen today. As if she would really leap over a woman in labor to go open presents! Lol. I was a guest on the show yesterday, and they were so excited to be doing the first day of their big 12 days of giveaways.

For me it's always a blast to be on Ellen's show. She's hilarious, and fun to talk to and of course, it was pretty cool, running into Ludacris in the hallway. He said hi to Ben, and 'pounded' fists with him. While he was performing Ben was totally rocking out to the music too. So cute.

So, anyway, before the show they asked me if I'd be willing to set up the audience gift portion with a gag. I'm always game, and Ellen thought it would be funny to have me mock going into labor at the beginning of that segment. And be sure to sprawl out as much as possible so she really had to leap over me. Lol. So, I did the best I could. As soon as she passed me, I jumped up and laughed and clapped with the audience so everyone would see that I was okay. But I guess that didn't make it on camera. I didn't really think about it beyond that. Next thing I know, my best friend from New York is instant messaging me this morning about it. She wrote that if we hadn't already been emailing that morning she would have thought something had really happened. Then I started getting more and more calls. My mom had me pulled out of a meeting! I said "MOM!!! Come on! If I'd gone into labor, I would DEFINITELY have called you!!!"

The best are the gossip site "reports". Uh huh, clearly lots of thorough reporting going on there. One site even claimed I had gone to the hospital. Now they all have retractions up.

So anyway, it's not true. I'm fine. The baby is fine. I have a check up tomorrow, we're still looking at mid-January when she's expected. Thank you all for your concern. I'm sorry if anyone was alarmed! If I had any idea that it wouldn't be clear that it was a joke, I would have said something, but I just didn't realize how the story would get so out of control!!

I'm prepping for the live Biggest Loser 6 Finale, Tuesday December 16th. Hope you all tune in. There are so many incredible transformations, and wonderful people I look forward to seeing again.
XOXO
Now that you've seen Alison's explanation do you think the stunt was all in fun or in bad taste?
By Luke Kerr on November 26, 2008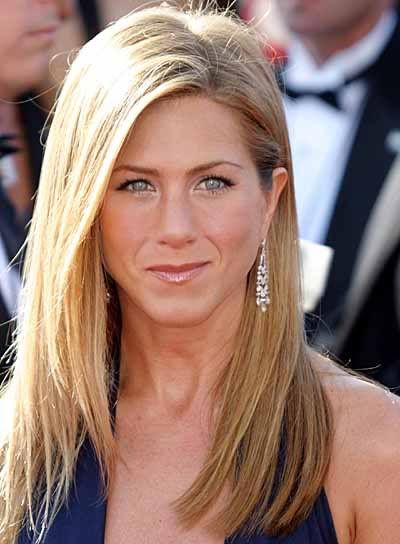 Jennifer Aniston
is still America's sweatheart according to AOL's Popeater.com Aniston, whose hit show
Friends
was watched by a generation of Americans each Thanksgiving, beat out
30 Rock
star
Tina Fey
and daytime talk show host
Ellen Degeneres
for the No. 1 spot with 26 percent of the vote.
Ten most popular Thanksgiving guests:
1. Jennifer Aniston
2. Tina Fey
3. Ellen Degeneres & Portia De Rossi
4. Patrick Dempsey
5. Suri Cruise
6. Tyra Banks
7. Jonas Brothers
8. Keira Knightley
9. Beyonce
10. Rob Pattinson
Check out some classic Friends Thanksgiving clips after the jump. READ MORE