Elizabeth Keifer
By Daytime Confidential on October 15, 2013
Former Guiding Light, As the World Turns, One Life to Live and All My Children stars celebrated the 10th anniversary of Liz Keifer and Jerry verDorn's (pictured above with Thom Christopher and Robert S. Woods) Daytime Stars and Strikes at Bowlmor Lanes on October 13. Check out more photos of your soap favorites after the jump! READ MORE
By Daytime Confidential on October 08, 2012
Former cast members of Guiding Light, the longest running drama in TV history, reunited at Bowlmor Lanes in Times Square to honor the show's 75th anniversary with a brunch on October 7. See more photos of Guiding Light after the jump!
By Daytime Confidential on October 08, 2012
Former One Life to Live and Guiding Light stars came together at the 9th Annual Daytime Stars and Strikes charity bowling event on Oct. 7 at Bowlmor Lanes in New York City. Hosted by Jerry verDorn (ex–Clint, OLTL; ex-Ross, GL) and Elizabeth Keifer (ex-Blake, GL), the event helped raise money to strike out cancer and support the American Cancer Society. See more photos from the event after the jump!
By Daytime Confidential on March 12, 2010
One Life to Live's Jerry verDorn may not have been able to return for the Guiding Light finale to reunite Ross with Blake (Elizabeth Keifer), but GL fans who attended the "So Long Springfield" event at the Mohegan Sun Resort & Casino on March 7 were treated to just such a reunion. New mommy and soon-to-be The Young and the Restless star Marcy Rylan also participated in the event, along with Beth Chamberlin, Kim Zimmer, Robert Newman, Jessica Leccia, Bradley Cole, Grant Aleksander, Justin Deas and Michael O'Leary. See more photos from the "So Long Springfield" event after the jump.
By Melodie on December 19, 2009

Get ready East Coast
Guiding Light
fans. The "So Long Springfield" tour is coming to the Mohegan Sun in Uncasville, Connecticut. The cast list for this gathering features some new additions including:
Beth Chamberlin
(Beth Raines),
Liz Keifer
(Blake Marler),
Marcy Rylan
(Lizzie Spaulding), and an old favorite
Jerry VerDorn
(Ross Marler). So if you want the chance to meet your favorite stars, get autographs, take a few pictures and hear what it was like to be on the set straight from the actors' mouths be sure to attend the event on March 7, 2010. For more information visit the "So Long Springfield"
official website
.
By J Bernard Jones on September 15, 2009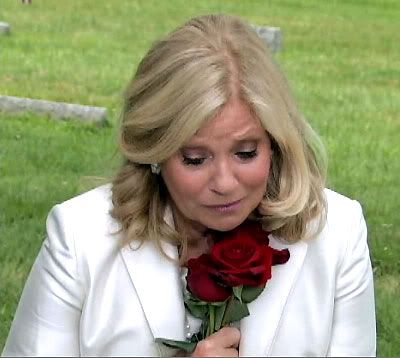 The first in a highly personal, non-objective series highlighting various aspects of the last episodes of Guiding Light, which will end its 72 year run on September 18th.
These final weeks of Guiding Light have been pure torture to watch. I don't mean "the new production model" (a phrase I never hope to hear again in my lifetime) or Bonnie Dennison's (Daisy) futile attempts to remember her lines. No, what has been extraordinarily difficult for me as a viewer — who vividly remembers when Roger (Michael Zaslow) kidnapped Holly (Maureen Garrett) in the Caribbean and Ed (then Mart Hulswit) threw him off a cliff — is watching the series' stories come to their inevitable conclusions. READ MORE