Elizabeth Hubbard
By Mark on September 09, 2009
Back in early July, Elizabeth Hubbard debuted as Sair Poindexter on the Dutch soap opera Goede Tijden, Slechte Tijden (Good Times, Bad Times). On Monday the show returned after a nine-week summer break and Hubbard's character Sair was back on Tuesday's episode. Watch her scenes after the jump. READ MORE
By Mark on August 03, 2009
Last night Elizabeth Hubbard (Lucinda, As the World Turns) was interviewed on Dutch television on the show Praatjesmakers. On that show the host has all kinds of lame conversations with bratty children. In one of the segments a celebrity is interviewed by one of those children, not knowing that the child doesn't come up with these questions himself (although I think most celebrities know something's going on and just play along).
By Jillian Bowe on July 24, 2009
Luke (
Van Hansis
)decides nepotism is the way to go....
By Mark on July 02, 2009
A couple of weeks ago I reported that Elizabeth Hubbard (Lucinda, As the World Turns) was going to play a guest role on Dutch soap opera Goede Tijden, Slechte Tijden (Good Times, Bad Times). Today she debuted on the show in the role of Sair Poindexter, the American mother of Irene Huygens (Anita Donk). Check out the clip with English subtitles during the few Dutch parts.
Tomorrow is the season finale of this soap, but Hubbard will continue to appear in the first few weeks of the new season starting on Monday, September 7. Both Hubbard and the show are open to more visits in the future.
By Mark on May 18, 2009
Elizabeth Hubbard (Lucinda, As the World Turns) is going to play a guest role on the Dutch soap Goede Tijden Slechte Tijden (Good Times Bad Times). She's going to play Sair Poindexter. She's the mother of the character Irene Huygens (played by Anita Donk). Sair is an American sexologist.
Elizabeth is looking forward to her gig at the most popular Dutch soap:
I am very excited to be joining such a distinguished cast on such a popular show. I already feel welcomed by my new Dutch family and I look forward to all the upcoming challenges. This is an actors dream and I can't wait to get started.
Besides the mother of Irene, Sair is also the grandmother of Ronja (Alexandra Alphenaar) and Dex (Emiel Sandtke). The kids can't wait to see their grandmother again. Irene is less enthusiastic. She has a love/hate relationship with her mother. Elizabeth starts filming on Monday, June 1st. Her first airdate is Thursday, July 2nd.

This blogger is thrilled with this news. Elizabeth Hubbard is one of my favorite actresses. To be able to see her on my favorite soap is going to be great.
By Luke Kerr on March 02, 2009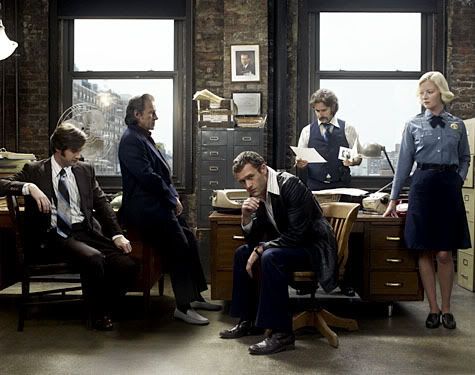 Another ABC series bites the dust.
Michael Ausiello
is
reporting
that network execs at ABC have "advised the show's producers that it would not be ordering a second season. The heads-up will allow them to make this year's season finale a series finale, thus leaving no questions unanswered."
The cancellation of Life on Mars comes after ABC axed Pushing Daisies, Dirty Sexy Money and Eli Stone. Several current and former daytime stars have appeared during the series run. They include: Jennifer Ferrin (ex-Jennifer Munson, As the World Turns), Elizabeth Hubbard (Lucinda Walsh, As the World Turns), Grant Aleksander (Phillip Spaulding, Guiding Light) and Alicia Minshew (Kendall Hart Slater, All My Children). READ MORE