Elizabeth Hendrickson
By Jillian Bowe on June 01, 2009

Yes sir, let the chaos begin!
By Jamey Giddens on May 14, 2009

It looks like every cloud has a silver web series. I am rescending
Opposites Day
to sincerely, and totally on purpose congratulate the cast and crew of my favorite 2008 series
Imaginary Bitches
on
their very first Daytime Emmy nomination. No, seriously, IB
is
my favorite show, has been since the moment I saw that one guy call
Eden Riegel
"bat shit crazy". Opposites Day is over people. Let's move on!
"We couldn't be more thrilled," says Imaginary Bitches creator Andrew Miller. "Even Catherine and Heather are walking around with smiles on their faces!"
IB is nominated in the New Approaches in Daytime Entertainment category opposite fellow You Tube series I Met The Walrus. TAC. TV, The New York Times Magazine Screen Tests and All My Children are also nominated. READ MORE
By Jamey Giddens on May 07, 2009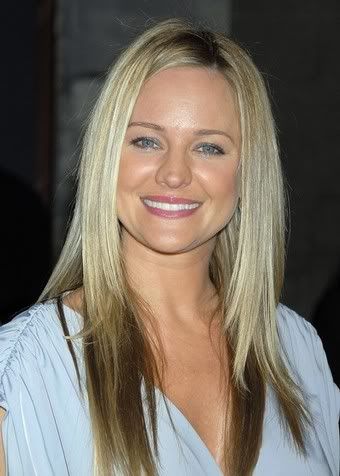 Okay, so anyone who listened to those Top 10 Ways to Improve This Soap or That One episodes of the Daytime Confidential podcast knows how I feel about stunt casting. Generally, I hate the concept. Especially if a soap is already smelling up the joint like a backed up port-a-potty at the Four States Fair.
Who cares about seeing some Nascar driver or Donald Trump when the soaps that brings them on aren't using the vets we know and love and are telling recycled, tired stories? However, when a soap is firing on all cylinders, telling good, juicy, character-driven tales of love, lust, and, okay, the occasional chipmunk (nobody's perfect), that the majority of the fans are enjoying, then I don't mind them having a little fun with casting. That's why I think The Young and the Restless should bring on talk show host/baby daddy-figurer-outer Maury Povich for a dream sequence starring Sharon Newman Abbott (Sharon Case)! READ MORE
By Jillian Bowe on April 29, 2009
He may have just flatlined in Peapack, but former
Guiding Light
star
John Driscoll
(Ex-Coop) is set to prove just how alive and well he is in Genoa City, Wisconsin. Driscoll has landed the plum role of Phillip Chancellor IV on
The Young and the Restless
.
John was so good during his audition the casting director actually cried!, says a source.
The actor auditioned opposite Elizabeth Hendrickson (Chloe), whom he will be reportedly sharing a storyline with.
Additional reporting by Melodie Aikels.
By Jamey Giddens on April 21, 2009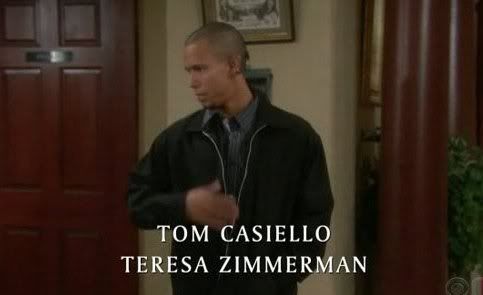 Picture it. Genoa City, Wisconsin. Monday, April 20, 2009. A foster child/custody storyline so boring, so polarizing, so utterly pointless, by comparison it makes
Ryan Seacrest
on the red carpet seem like edge-of-your-seat entertainment, is finally, mercifully climaxing on CBS Daytime's
The Young and the Restless
.
While I knew weeks ago that yesterday would be the day when Neil Winters (Kristoff St. John) and his wife Karen (Nia Peeples) would face off in court with Tyra (Eva Marcille) over the custodial fate of Sally Sing-A-Lot aka Ana. I also knew this episode would be important for another reason. It would be the first air show since officially rejoining the soap opera writing community for former Days of Our Lives scribe Tom Casiello, whose My Space blog became a soap fanboy/girl's wet dream during the 2007-2008 Writers' Strike. Talk about pressure. For his first show, Casiello would have to help breathe life into the only storyline stinker left on the soap opera since the Dream Team of Maria Arena Bell, Paul Rauch and Hogan Sheffer began masterfully restoring The Young and the Restless, following the destructive tenure of Lynn Marie Latham. READ MORE
By Jillian Bowe on April 13, 2009
Fans of Lane (Cane and Lily) get ready to throw some rice. A little birdie told me on May 15, Cane (
Daniel Goddard
) and Lily (
Christel Khalil
) will finally tie the knot. The scenes, from what my snitch er birdie has told me, are being shot right now. I guess this means that Lily either gets Cane to fold on his idea of taking Delia away from Billy and Chloe, or she will decide to jump on his quest to claim the tyke. Meanwhile, the birdie also says Murphy (
Michael Fairman
) and Katherine (
Jeanne Cooper
) will get hitched on May 1. Hmm... Could this be the reason why Nina (
Tricia Cast
) will be back in Genoa City? Stay tuned kids!