Elizabeth Hendrickson
By Jillian Bowe on September 26, 2008
Its about to get really juicy!
By Jamey Giddens on September 23, 2008

Whether she's breaking the hearts of plucky Web TV heroines on You Tube's
Imaginary Bitches
or causing even
more
angst for teen queen Naomi (AnnaLynne McCord) on the post-Kurt Cobain version of
90210
, Chandra West is making waves on our favorite soaps. I recently talked with West for Daytime Confidential. The actress shares what it's like appearing on two of the most buzzed about shows this season. We find out if her aborted same-sex match up with Eden Riegel will be revisited on the next season of IB and talk about what things have been like on the set of
90210
. Have Jennie Garth and Shannen Doherty really been behaving themselves
?
And you'll never guess which daytime soap opera West just can't get enough of
.
Daytime Confidential: You're quite the busy actress these days, appearing on Imaginary Bitches and on 90210—the most talked about network show of the new season—how does it feel to be a part of projects that are generating so much buzz?
Chandra West: It's good, we'll definitely see where it all goes. It's been fun to be a part of both shows. READ MORE
By Jamey Giddens on September 22, 2008

Every so often a story breaks that reminds you why you haven't deleted the entire daytime soap lineup from your DVR. This past week such a development took place. ABC/SOAPnet announced the unforgettable Eden Riegel would be reprising her groundbreaking role as Bianca on
All Ryan Lavery's Children
. If that wasn't reason enough to make a pilgrimage to Mount Soap-Olympus, Binks will be coming home with a new lady love named Reese, played by none other than this blogger's all-time favorite
General Hospital
heroine Tamara Braun (ex-Carly). Talk about Gay Paree!

I must admit my excitement was initially mixed with a bit of panic . As much as I can't wait to see the Emmy-winning Riegel share screentime with "My Tamara"—as I affectionately started referring to Braun years ago on the SOAPnet GH message board —I was concerned with what Riegel's return would mean for
Imaginary Bitches
, the show that singlehandedly made me give a damn about webisodic television. Not to worry, the lovely Riegel quieted all my fears and provided Daytime Confidential with some awesome insight into how Bink's return came about, whether or not Maggie is next and the future of
Imaginary Bitches
.
Daytime Confidential: Congrats on reprising your role as Bianca! How did it come about? READ MORE
By Jillian Bowe on August 28, 2008
Hang onto your hats everyone! The true identity of The Young and the Restless' Chloe is revealed as Esther's daughter Kate! As reported earlier, Chloe has a secret besides not being pregnant with the Chancellor heir. According to Soap Opera Digest, the quirky fashion diva gets a long overdue reunion with her mother Esther.
"Esther hasn't seen Chloe yet, so she doesn't realize that she and Kate are the same person," explains Kate Linder. "She's always liked Lily, so before Chloe shows up, she's going on about how Chloe got pregnant to hold on to Cane. When she sees her daughter there - and that Kate is pregnant - she's floored. I was shocked too! I had no idea about this reveal."
The shocking revelation upends the Chancellor mansion as Esther comes to terms with her daughter's betrayal while Jill sets out to rid Chloe from Cane's life and Lily ponders the possibility that Chloe duped Cane with her baby and marriage.
For more of the storyline to come pick up a copy of the latest Soap Opera Digest.
By Luke Kerr on August 26, 2008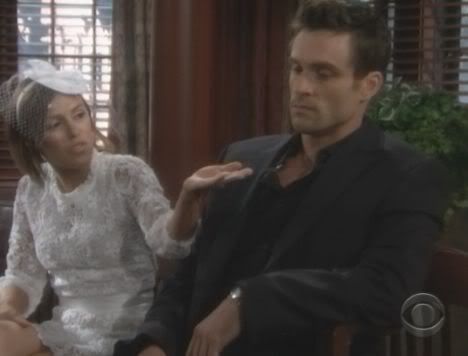 Don't The Young and the Restless' Chloe and Cane just look absolutely, positively thrilled to be getting married? Ok, maybe not Cane but Chloe does. I thought it would make a good Caption This.
Here is my feeble attempt.
Chloe to Cane: "Now spit out your gum, wipe Lily's lipstick off your cheek and smile, we're getting married."

By Jillian Bowe on August 12, 2008
Just when I thought the residents of Genoa City were starting to smarten up, Cane Ashby and Lily Winters make me take it all back. I guess Tammy Wynette's song, "Stand by Your Man,"
doesn't ring true with Lily does it?
Her ultimate answer to everyone's problems: "You should marry Chloe!"
As the child who came from the loins of Drucilla and Malcolm Winters, Lily proves street smarts can skip a generation. I keep wondering what the junior model's mom, La Diva, Drucilla would say if she were around to hear her daugther's solution to her current romantic entanglement?

The same can be said for the long lost Chancellor heir. After the debacle he had with Amber why isn't he trying to double check the DNA results and ask for an explanation of the results?
I sat and waited for Cane's mama Jill, to slap some sense into that boy and say, "tell me exactly what the results said word for word and don't leave a THING out!" Alas, Jill also drank from the tainted Kool-Aid that Cane's sipping on these days.

Maybe she decided to believe what her son says...

Just goes to show that the saying, "the apple doesn't fall far from the tree," is just that... A worn out saying because after today it makes me realize that genetics means nothing when people are stuck on stupid. READ MORE