Elisabeth Hasselbeck
By Luke Kerr on June 30, 2009
Are you pregnant and looking for something to wear? Let
Elisabeth Hasselbeck
dress you in the latest in pregnancy fashion, football jerseys. Elisabeth Hasselbeck–hand picked by Reebok–is
teaming up
with the NFL to create shirts with little sayings such as "#1 Draft pick and "Kicker" across the belly.
RELATED: Elisabeth Hasselbeck Dismisses Plagiarism Claim | Did The View's Elisabeth Hasselbeck Steal Idea for Gluten Free Book?
By Luke Kerr on June 24, 2009
By Jamey Giddens on June 23, 2009
The View
's
Elisabeth Hasselbeck
has more to obsess over this week than what her pal
Sarah Palin
is up to and/or the latest episode of
The Hills
. The conservative voice of Gen Y is
being sued
by a self-published author who claims Hasselbeck stole the idea for her new cook/lifestyle guide
The G-Free Diet: A Gluten Free Survival Guide
. The author-in-question,
Susan Hassett
says she sent Hasselbeck a copy of her book and other materials that she alleges the ABC star used to create her book. Somewhere
Rosie O'Donnell
is laughing over a bowl of Shredded Wheat.
By Regan Cellura on June 18, 2009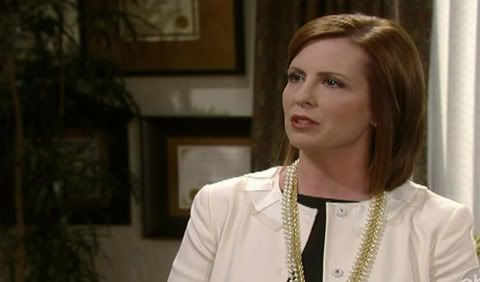 Here's the Scoop! 06.18.09

If it's murder…
Who killed Brianna Hughes? Would they really bring Martha Byrne onboard and make her a murderer? Will there be suspicion thrown Alexis's way? I liked Byrne's introduction and especially liked her comment to Patrick about not knowing that she was the Mayor's wife. My first thought was, hmmm, we all should know the Mayor's wife especially if the Mayor and his wife are central the storyline.
Despite being a big brat lately… Kristina has tried to be the perfect child to impress her mother. What's the straight A student going to do when she learns her mother ain't perfect? Hey Kristina haven't you ever heard of 'do as I say, not as I do?' Will Kristina's disappointment in her mom send her in her nonexistent father's direction? When Kristina first hit the canvas the story SEEMED to be going in the direction of 'poor me, daddy pays me no attention.' Now that it's Alexis letting her daughter down, will Kristina expect daddy to pick up the slack? I have to say, if you're going to give Sonny all these kids, he really should be more of a father to them. Who am I kidding… Nikolas hasn't even seen his son in the last six months, Jason abandoned his in the name of safety; in comparison Sonny is father of the year. God help us. READ MORE
By Jillian Bowe on June 12, 2009
You have to give bladder man
Brian

Frons
credit for the cross promotions on ABC Daytime. On
The View
,
All My Children
stars,
Susan

Lucci
(Erica)
and
Cameron

Mathison
(Ryan)
strolled on through to discuss the latest
storyline
of Lucci's Erica taking a younger lover Ala
Mrs. Robinson
with her daughter's baby daddy, Ryan. Check the two out at the 5:22 mark.
By Jillian Bowe on April 24, 2009
Jamie "Turbo"
Luner
stopped by
The View
today to dish about life as NotLiza Colby
.
Now correct me if I'm wrong but I thought
Chuckie P (
Chuck Pratt
) said that she wasn't an ass-kisser? At the
2:26 mark though it seems like he's off the mark as usual with things. Ok, I kid I kid, about the ass-kissing part.