Eileen Fulton
By Mark on September 21, 2009
Next year Eileen Fulton will celebrate 50 years as Lisa Miller Hughes Eldridge Shea Colman McColl Mitchell Grimaldi on As the World Turns. Unfortuantely, there isn't a lot to celebrate according to Eileen in an interview with Dutch magazine Weekend:
Once every three months I get to show up to support other storylines. I have a contract until 2010 and that's exactly when I started on As the World Turns 50 years ago. I hope the producers will let Lisa die. A beautiful, exciting storyline and then an ending where everyone will be talking about. That would make me very happy, but I doubt it will happen. I've presented story ideas before, but they were just pushed aside. They might find me difficult, but they don't have the nerve to fire me either.
By Jillian Bowe on August 14, 2009
By Mark on July 22, 2009
As the World Turns was able to surprise the viewers today when the Hughes clan gathered at Tom (Scott Holmes) and Margo's (Ellen Dolan) for a surprise party for Casey (Billy Magnussen) who had just been reinstated at Oakdale University. In a scene Bob (Don Hastings) asked Alison (Marnie Schulenburg) out of the blue to bring in the next patient. When asked about it, Bob's excuse was that he was making a joke, but then later he called his wife Kim (Kathryn Hays) "Lisa".
Is this the beginning of an Alzheimer's disease storyline for Bob? Will it give vets like Don Hastings, Kathryn Hays and Eileen Fulton some much deserved airtime? I have to say, I'm intrigued and want to know where this is going. I just hope we won't find out that a microchip is causing Bob's strange behavior...
By Nicki on April 13, 2009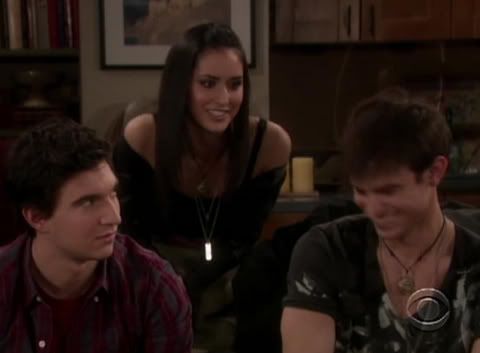 Bits of annoying banter started off this week for
As the World Turns....
let's just hope it doesn't dominate the week.
First off lets start with the couple who are definitely not going to make it long term, Parker Munson and Liberty Ciccone. Liberty is far beyond Parker in maturity and you can already tell she wants out. However for now she seems to be letting him get his way as she agreed to turn down the internship of a lifetime. Meanwhile Parker is acting more like a 5 year old then a teen with his pouting and temper tantrums. And I don't care who you are you never speak to your mother the way he spoke to his mom Carly Tenney today, even if he did have a point on the drinking issue. READ MORE
By J Bernard Jones on February 20, 2009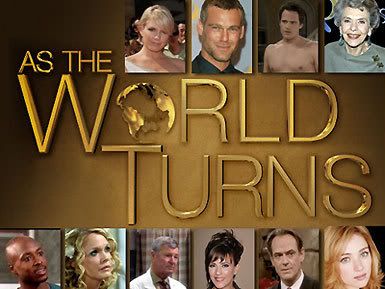 As the World Turns is something of a mystery to me these days. I haven't been blogging regularly about the show because, honestly, I am kind of flummoxed about what to actually write about from day to day.
I love ATWT. The show is blessed with some of daytime's strongest actors. In this age of massive cost cutting, ATWT found an arguably better production alternative than Procter & Gamble sister show Guiding Light. Speaking for myself, I find most days, most characters, most stories and most events to be sufficiently captivating to keep me coming back.
Nonetheless, something is badly amiss in Oakdale. The usual criticisms of ATWT are all-too-familiar: far too many recasts, underused vets, storylines that turn on a dime, compressed storytelling and ever shrinking production values to name a few. While those issues are real and important, they are only symptons of several larger problems that encapsulate the issues that I, other Daytime Confidential bloggers and commentators all over the internet have found themselves dismayed about over the last several months. After trying to put a finger on these issues while attempting to "figure out" what's going on at ATWT from a larger perspective, several things have jumped out as serious structural flaws, like a cracked foundation in a beloved old home. READ MORE
By Mark on December 06, 2008