Eileen Fulton
By Jillian Bowe on July 29, 2010
Fans wanting to say adiós to Oakdale will have their chance next month. On Aug. 18, The Paley Center will host an event which will showcase clips from over the years and discuss how As The World Turns handled many real-life issues throughout the years. The following are slated to appear:
Chris Goutman
Jean Passanante
Terri Colombino
Trent Dawson
Kathryn Hays
Don Hastings
Eileen Fulton
Colleen Zenk Pinter
Van Hansis
For tickets and more information click here
By J Bernard Jones on July 20, 2010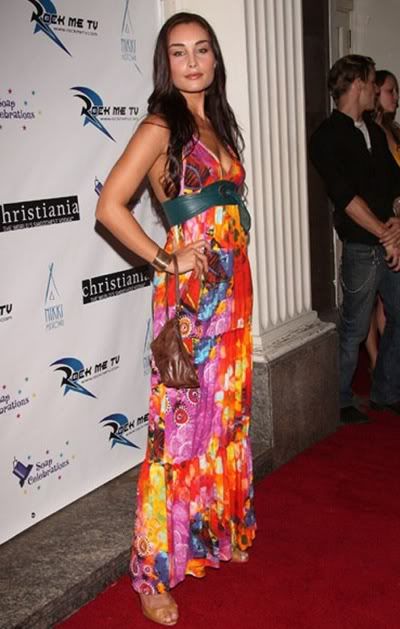 Today's episode was a typical "treading water" day in the life of a daytime drama winding up its final days. With tons of exposition and repetition, the news of Vienna's pregnancy deception and other shenanigans, Henry's relationship with and long overdue publicly admitted love for Barbara, and Katie's attempts to make right her role in the whole fiasco rocketed through Oakdale faster than tweets about
Sarah Palin's
hilariously absurd forays into neologism.
Henry confronted Vienna about Barbara's whereabouts. Katie told Margo, Will and Gwen about Vienna and Barbara and Henry. Will confronted Henry about Barbara. Alison told Casey about Vienna. Folks ran around in various combinations telling each other the same information several times throughout the episode. Perhaps the best reaction of learning of Vienna's pregnancy scam came from a genuinely shocked, appalled, and disappointed Kim, who laced into a semi-penitent/self-justifying Chris about his role in the cover-up and its consequences. Of course, one must ask if anyone in Oakdale has heard of texting, Facebook, or Twitter in this day and age, but then this kind of "shocking news spreads through town like wildfire" episode is the kind of thing that soaps used to do so well.
This brings me to a point about Henry (Trent Dawson) and Barbara's (Colleen Zenk Pinter, who has been extraordinary) love being thwarted by the "evil" machinations of Vienna (Ewa de Cruz): I like it. Correction. I love it! READ MORE
By J Bernard Jones on July 01, 2010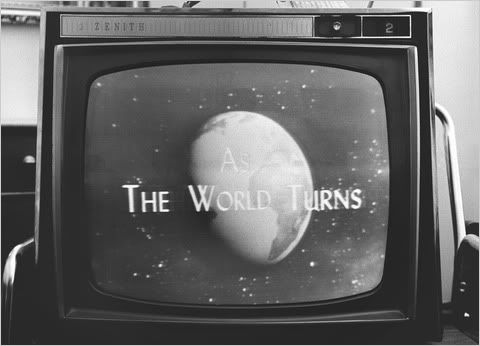 Wednesday, June 23, 2010 was the last production day for As the World Turns.
There seems to be no more appropriate time to begin the 54-year-old series' final reviews before the globe stops spinning on September 17.
This first entry in that effort actually is an overview of where I, as a reviewer & fan, see ATWT's standing first and foremost as a soap opera. The politics, recriminations, ratings analysis, and the business decisions leading to its demise are not my primary concern. Instead, I want to focus on the trials and shenanigans of Oakdale because, in my opinion, this venerable daytime serial — which once held the slot as the number one daytime drama for 20 years! — deserves no less. READ MORE
By Jamey Giddens on May 22, 2010
While watching
Eileen Fulton
c
elebrate 50 years as As The World Turns' Lisa
—television's first love-to-hate bitch— this past week I started brainstorming ways to keep this still vital soap treasure on our screens post September when ATWT goes off the air. First I thought about what a fun, recurring love interest Fulton would make for
General Hospital
's Edward (
John Ingle
), but since that development would be highly unlikely on youth-obsessed ABC Daytime, my thoughts turned to
The Young and the Restless
. Say what you will about Y&R (and trust me, I have of late), but they are the one soap that consistently doesn't seem to to cater to the Madison Avenue belief that life ends the day you turn 51. That being said, wouldn't it be cool for Fulton to guest star on Y&R from time to time as Jack, Traci and Ashley Abbott's mother Dina Mergeron?
READ MORE
By J Bernard Jones on May 18, 2010
Today's brilliant episode of As the World Turns marked the 50th anniversary of the arrival of Lisa Miller Hughes Eldridge Shea Colman McColl Mitchell Grimaldi Chedwyn, and her legendary portrayer, the incomparable Eileen Fulton. READ MORE
At first, I thought this review would be easy: lots of praise for an episode that was by turns charming, well-acted and filled to the brim with romantic subplots. However, the more I've thought about it, the more impressed I am with the stellar execution executive producer Chris Goutman, the writers and the production staff managed to pull off in a way that not only honored one of ATWT's most cherished characters and actors, but also As the World Turns itself.
By Luke Kerr on May 14, 2010
Your votes are in and As the World Turns has announced that April Grove of Piqua, Ohio is the winner of the "50 Fabulous Years With Lisa" contest. Grove will appear with Eileen Fulton onscreen May 18.