Eden Riegel
By Jillian Bowe on July 07, 2009
Showing what a consummate professional she is, former
All My Children
alum
Eden Riegel
(Bianca) discusses with
TV Guide
Magazine's
Michael Logan
the blame game AMC scribe
Chuck Pratt
cast upon her with Bianca and Reese's (
Tamara Braun
) dud romance storyline.
Michael Logan: Speaking of your groupies, do you watch Pratt Falls?

Eden Riegel: Ohhh, yes! Can you believe that show?

The two gals who write that series are scathingly funny. It's terrific satire!

It's so brilliant. And so perfect. I couldn't believe it when I saw it. READ MORE

They really skewered and roasted AMC head writer Chuck Pratt for that interview he gave me in TV Guide Magazine—the one where he blamed the Reese-Bianca storyline mess on you for leaving the soap earlier than expected.
By Jamey Giddens on June 19, 2009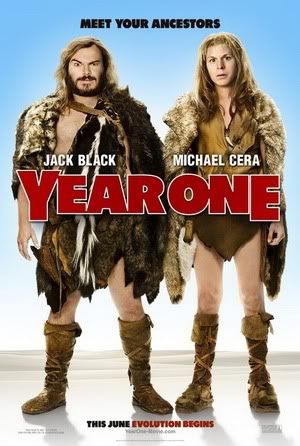 Today's the day
All My Children
and
Imaginary Bitches
fans.
Eden Riegel
's new movie
Year One
hits theaters.
Year On
e also has a few other stars in it, you know, like
Jack Black
and
Michael Cera.
The raunchy comedic romp is set during in biblical times, so look at it this way, going to the see the show counts as attending Sunday School! Won't Mee Maw be impressed? I know I will be catching the 5 pm show today with
Catherine
and
Heather
, hope to see ya there!
By J Bernard Jones on June 18, 2009
My absence from Daytime Confidential lately has not been due to the usual business of family and work taking up a lot of my time, but rather a certain lack energy to post about practically any of the daytime serials that clog up my DVR from day to day. This is neither a positive nor a negative thing because there are frequent periods throughout the year when shows kind of coast along and do their their thing, usually between sweeps.
At these times, there is little for the viewer — if that viewer is me — to get all worked up about this plot twist, that character's action, some couple or another or even a whole show's direction. Normally, this state of affairs hits one or two shows at a time. Every once in a while like the last couple of weeks, the stars align and all the serials get caught in the same momentum of drift. All that is required of us is to watch and see where it all goes.
In that spirit, my brain plays a little game of soap opera hopscotch, taking in odds and ends big and small. There is no great elaboration on anything here, just a quick rundown of things I like and not like so much. Your mileage may vary... READ MORE
By Jamey Giddens on June 16, 2009
Check out oh-so-ready-for-primetime-and-film player
Eden Riegel,
Monday night at the world premiere of
Year One
at Lincoln Square in New York
.
if you've seen the theatrical trailers for the movie, or if
Imaginary Bitches
stars
Catherine
and
Heather
constantly leak you information on Riegel, i.e. sex tapes, prescriptions, diary excerpts, etc., you already know the actress appears in the
Jack Black
/
Michael Cera
biblical laffer as Lilith.
When I interviewed Riegel earlier this year, the saucy, little minx revealed not only does Lilith have a LOT in common with Riegel's All My Children character Bianca (wink, wink, nudge, nudge), but Riegel also shows off her mammaries in the R-rated flick! That sound you hear is every BAM fan in the country—and no doubt certain daytime executives— rushing to their computers to pre-order tickets for this Friday's opening of Year One across the country! Photo by AP.

By Jamey Giddens on June 13, 2009
Our pal
Mary Montanari
who writes the
Soap Opera Examiner
online column for
Examiner.com
has written an open letter to some guy named
Andrew Miller
asking him to help take
Guiding Light
to the web. I am sorry, I don't know what Mary is smoking, but this sounds like a TERRIBLE idea! Here's a snippet:
Dear Mr. Miller:

Please pardon this intrusion, but I just had a thought related to your brilliant production of the Internet based show Imaginary Bitches and the untimely demise of Guiding Light. You have managed to create, write, direct and produce a cutting edge show that has proved to be Emmy worthy. The cast of IB is phenomenal and of course your talented wife (Eden Riegel) has much to do with that. READ MORE
By Jamey Giddens on June 09, 2009
Check out
Imaginary Bitches
'
Eden Riegel
's hilariously-naughty acceptance speech at the 2009 Webby Awards. Good to know with so much changing in Hollyweird, the casting couch is alive and well! Oh and before you ask, those rumors involving,
Catherine
,
Heather
,
Seth Meyers
and a tube of Colgate are not true, not true at all.