Ed Scott
By Luke Kerr on October 23, 2012
The Bold and the Beautiful's Scott Clifton married Nicole Lampson on October 23 in Los Angeles. Clifton's B&B co-stars John McCook, Ronn Moss, Kristolyn Lloyd, Don Diamont, Adam Gregory, Kim Matula and Jacqueline MacInnes Wood were on hand for the nuptials. Ed and Melody Thomas Scott were also in attendance. Congratulations to the couple!
By Luke Kerr on June 18, 2012
James Scott and Lauren Koslow celebrated with the Days of our Lives makeup team at the 39th Annual Daytime Creative Arts Emmy Awards on June 17. DAYS took home the Daytime Emmy for Outstanding Achievement in Makeup for a Drama Series. See more photos from the Creative Arts Daytime Emmy ceremony after the jump!
RELATED: PBS Dominates at Creative Arts Daytime Emmys | Soap Stars Celebrate at 2012 Daytime Emmy Nominee Reception READ MORE
By Luke Kerr on May 26, 2011
The Young and the Restless' Melody Thomas Scott and husband Ed Scott are the first-time grandparents of twins. The actress tweeted the news, revealing the names and weights of her two new grandbabies, on May 25.
We've got babies! James Rawlings Christenson 7:59am 6 lbs 3oz and Charlotte Scott Christenson 8:00am 6 lbs. 2 oz. (Cell phone dying!).
The two bundles of joy are the first for Ed and Melody Thomas Scott's daughter Jennifer Scott Christenson and husband John Christenson. Melody Thomas Scott recently joined Twitter and has been taking questions from fans about the expected arrivals, but didn't reveal their names until after they were born.
By Daytime Confidential on January 31, 2011
The fantastic Katherine Kelly Lang and the fabulous Melody Thomas Scott (pictured above) lit up the red carpet at the Directors Guild Awards in Los Angeles on January 29. One Life to Live's Larry Carpenter took home the award for Outstanding Directorial Achievement in Daytime Serials, marking his third award and seventh nomination. See photos of Thomas Scott, her husband Ed Scott, Lang, Carpenter and Ron Moss after the jump! READ MORE
By Jillian Bowe on August 17, 2010
Seems like
The Bold and the Beautiful
is gunning for the #1 spot! According to
TV Guide's
Michael Logan
, former
Days of Our Lives
and
The
Young and the Restless
executive producer
Ed Scott
has been hired on B&B as a producer. Scott will succeed current producer
Rhonda Friedman
who will work closely with showrunner/head writer
Brad Bell
.
By Jamey Giddens on June 23, 2009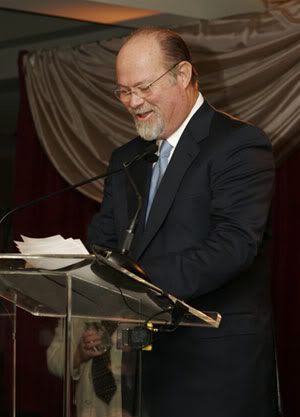 TV Guide Magazine'
s
Michael Logan
has a new
feature up
begging the question did
Ed Scott
, former co-executive producer of
The Young and the Restless,
and for a time,
Days of Our Lives,
save the soap opera, crediting Scott with turning DAYS around and helping it to secure 13 Emmy nods. Here's what Scott, who Logan reports has three feature films in the works, has to say:
"It's proof a show can turn around in these difficult times, a soap can be saved," Scott says. "There needs to be leadership, drive, positive energy and a respect for the audience—but that's nothing new. It's old-school stuff. Of course, you don't have all the time in the world. You need to work hard and work fast."