E.J. Bonilla
By Jillian Bowe on September 14, 2009

Damn it! This just makes me teary eyed – and pissed at a certain executive producer... Thanks to beautreal for the tip and tvobsessive2008 for the clip!
By Luke Kerr on September 02, 2009
While the ladies of daytime were preening on the
36th Annual Daytime Emmy
red carpet, the men were doing their thing in penguin suits. Who looked the best and who looked the worst on the red carpet? See the other men
HERE
.
By J Bernard Jones on July 15, 2009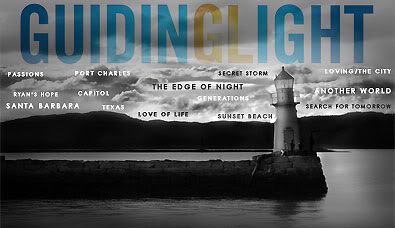 One of the hardest tasks in all of television must be bringing a daytime drama to a close. In other realms of entertainment, plays and musicals can be resurrected through countless revivals. Primetime TV shows can come and go, yet have the potential to be re-imagined or rebooted for the small or big screen. The biggest box office disasters can live on via countless direct-to-DVD sequels. Radio hosts and their dubiously talented sidekicks can be fired for the most hateful commentary, yet live on with the same formats other stations to be spiteful for another day.
With the exception of Dark Shadows, once a soap opera is canceled it is gone forever. During my time I've watched some of my favorites disappear: The City, Port Charles, Generations, Texas, and — in my opinion — two of the genre's titans, Santa Barbara and The Edge of Night. Many of you are still missing your own beloved shows over the last three decades as well. Fans of Capitol, Love of Life, Sunset Beach, Passions, Search for Tomorrow, and the still mourned Another World among others express their loss as if there yet remains a certain kind of grief that has not yet abated after all these years. Soon we will lose another giant among soaps: in less than ten short weeks, Guiding Light will shine for the last time on CBS. READ MORE
By J Bernard Jones on June 18, 2009
My absence from Daytime Confidential lately has not been due to the usual business of family and work taking up a lot of my time, but rather a certain lack energy to post about practically any of the daytime serials that clog up my DVR from day to day. This is neither a positive nor a negative thing because there are frequent periods throughout the year when shows kind of coast along and do their their thing, usually between sweeps.
At these times, there is little for the viewer — if that viewer is me — to get all worked up about this plot twist, that character's action, some couple or another or even a whole show's direction. Normally, this state of affairs hits one or two shows at a time. Every once in a while like the last couple of weeks, the stars align and all the serials get caught in the same momentum of drift. All that is required of us is to watch and see where it all goes.
In that spirit, my brain plays a little game of soap opera hopscotch, taking in odds and ends big and small. There is no great elaboration on anything here, just a quick rundown of things I like and not like so much. Your mileage may vary... READ MORE
By J Bernard Jones on April 18, 2009
She'd been teased and mocked for years, no more so than in her competition with other, younger and, some would say, prettier hopefuls. Her appearance had been derided as "downmarket." She obviously couldn't afford fancy stylists and didn't have the finesse of her peers, but when she revealed the depths of her talents she left viewers and critics quaking in their boots.
I'm not talking about Susan Boyle, the YouTube and Britain's Got Talent overnight sensation. I'm talking about the magnificent week of high octane, balls to the wall drama that has been Guiding Light.
I'm glad I waited before posting anything about the extraordinary week that has transpired on GL as the Olivia/Natalia love story played out before my astonished eyes. Temptation tested me in the aftermath of Olivia's shattering graveyard soliloqy to her heart donor Gus and, later, her heartstopping confession of love to Natalia, in what is quite possibly destined to become remembered as one of the greatest performances in daytime of the last decade. My fingers fidgeted over my keyboard during one of the most gloriously tortured daytime weddings in recent memory. My mind raced with superlatives about Natalia's struggle at the altar and her tearful confession of love for Olivia mixed with guilt about Frank. While the week belonged to Otalia (which I will get to in a moment), the entire show was, to borrow a phrase, a towering inferno of greatness. Let us count the ways: READ MORE
By J Bernard Jones on January 30, 2009
Funny how the universe sometimes lines up and minds think alike, isn't it? Guiding Light is in the thoughts of a lot of people these days. Bloggers, soap journalists and industry watchers — not to mention the writers, cast and crew of GL — are all on pins and needles about this 72 year old institution. The writing has been on the wall among commentators on the Internet and in the soap press for some time regarding GL's maybe/probably/likely cancellation, which would essentially signal the final march along daytime's trail of tears as the end of the genre.
The signs are obvious and ominous: GL has been hovering at a 1.5 rating for the last few months, a situation exacerbated by a genre-crushing free fall in advertising revenues, which have in turn led to massive budget cuts by the networks for all the shows. If GL doesn't get its act together by the Ides of April, as our own Jamey Giddens so aptly put it, the oldest series on broadcast television will bite the dust. However, there is hope. As has been reported here, Guiding Light needs the minimum of a steady 1.8 rating to avoid getting the ax.
Back to minds thinking alike: Just as I was finalizing this list, Mr. Giddens posted his "Top 10 Last Ditch Stunts To Save Guiding Light," followed by Spauldingfield's awesome GL promo posted by Luke Kerr. Because of their excellent efforts I almost decided to not post these recommendations, but the situtation at Guiding Light is so important to those of us who love the show that I felt it was more important to contribute to the call to keep GL on the air and risk repetition than not do so. Therefore, consider these considerations an addition to their efforts. GL needs viewers not tomorrow, but today and here are ten reasons to tune in right now! READ MORE