Dylan Bruce
By Jamey Giddens on September 27, 2010
The Bay returns this Wed., Sept. 29 at 3 pm EST, with not one, but two soapgasmic webisodes back-to-back! I recently caught up with creator Gregori J. Martin to discuss his buzz-generating, dream sudser come to life. In part one of a two-part chat, Martin reacts to The Bay being named one of the "Shows Worth Watching" by TV Guide Magazine. He also shares a moving account of all the letters and poems he's received from fans of the recently-cancelled CBS sudser As The World Turns, thanking him for offering them a new soap home.

Martin then reveals what's coming up for three former World Turners, who happen to play pivotal roles on The Bay—Marie Wilson (ex-NutMeg, ATWT), who will appear near the end of the first season as the mysterious Claire, Dylan Bruce (ex-Chris Hughes, ATWT), as troubled golden boy Brian Nelson and of course, one of daytime's most beloved superstars— Mary Beth Evans (Kayla, DAYS; ex-Sierra, ATWT; ex-Katherine, GH) as The Bay's central antiheroine Sara Garrett.

Martin expresses what it means to have Evans involved in the soap opera he's been working on for over a decade, not only as the star, but a producer. He also shares what drives Sara Garrett—despite all her faults—is her unwavering love for her three children by three different men. Martin also has kind words for all the web series pioneers who've inspired him, such as Andrew Miller and Eden Riegel (Imaginary Bitches), Martha Byrne (Gotham) and Crystal Chappell (Venice), while explaining how his 80's-themed pot boiler is unique.

Daytime Confidential:
Congrats on being named Number 9 in TV Guide Magazine's "What's Worth Watching" Guide for their Sept 20–26 issue! That has to feel good?
Gregori J. Martin: Thank you. That came as a very, very big surprise. A few days after The Bay premiered, the magazine came out. It was pretty exciting! TV Guide actually reached out to us. It's funny because I have my personal email linked to The Bay website's email, so sometimes it takes me a few days to get through all the emails, and I almost missed the note from them! [Laughs] The reporter said she'd been hearing a lot of positive things about The Bay, and she wanted some pictures. I sent her the link to our Photo Bucket account. I didn't even know what was happening. Then I saw the magazine. It was amazing to be picked by TV Guide as a show worth watching with all the great new and returning Fall shows. READ MORE
By J Bernard Jones on February 20, 2009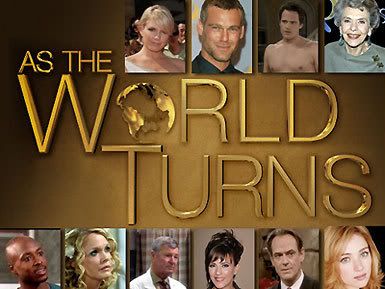 As the World Turns is something of a mystery to me these days. I haven't been blogging regularly about the show because, honestly, I am kind of flummoxed about what to actually write about from day to day.
I love ATWT. The show is blessed with some of daytime's strongest actors. In this age of massive cost cutting, ATWT found an arguably better production alternative than Procter & Gamble sister show Guiding Light. Speaking for myself, I find most days, most characters, most stories and most events to be sufficiently captivating to keep me coming back.
Nonetheless, something is badly amiss in Oakdale. The usual criticisms of ATWT are all-too-familiar: far too many recasts, underused vets, storylines that turn on a dime, compressed storytelling and ever shrinking production values to name a few. While those issues are real and important, they are only symptons of several larger problems that encapsulate the issues that I, other Daytime Confidential bloggers and commentators all over the internet have found themselves dismayed about over the last several months. After trying to put a finger on these issues while attempting to "figure out" what's going on at ATWT from a larger perspective, several things have jumped out as serious structural flaws, like a cracked foundation in a beloved old home. READ MORE
By Mark on December 06, 2008
By Jamey Giddens on November 23, 2008
It appears Soap Opera Mafia Don/
Days of Our Lives
executive producer
Ken Corday
had three name actors lined up to replace
Jay Kenneth Johnson
as Philip Kiriakis had Corday's strong arm tactics to scare the actor not worked. Reliable sources reveal
Dylan Bruce
(ex-Chris, ATWT),
Jon Prescott
(ex-Mike, ATWT) and
Josh Duhon
(ex-Logan, GH) all tested for the role of Philip Kiriakis. However, Johnson did indeed sign a new contract.
"They had to have already had these actors lined up," says the source. "No work is done in Hollywood on the weekend, so the Days execs must have already had them ready just in case." READ MORE
By J Bernard Jones on October 06, 2008
I wasn't going to comment on today's episode of As the World Turns because I've been extremely busy, but two segments were so incredibly good that I couldn't help myself.
The first segment was Chris' goodbye scenes with Kim. Beautifully written and heartfelt, these are the kinds of scenes that the ATWT writers should be penning all the time. READ MORE
By J Bernard Jones on September 22, 2008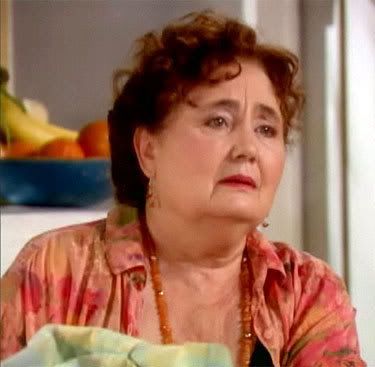 In a world where the stock market is crashing, Morgan Stanley and Goldman Sachs decide they would be better off as banks, the price of a barrel of oil jumps $16 in one day, and a Federal bailout plan threatens to balloon between $700 billion and a trillion dollars or more, everyone needs a little Emma Snyder in their lives.
I thought today was a strong episode of As the World Turns. The Chris/Alison/Aaron triangle continued to make less and less sense given that we (the online "we") know that Dylan Bruce is leaving as Chris Hughes while the "Who's The Baby Daddy?" story line is apparently ramping up. Lily and Holden got closer after bringing Ethan home from the hospital. Derek made an outrageous request of Bonnie to be his lawyer, which she wisely refused (although we know Paul is going to rope her into it to help find Meg). Colleen Zenk Pinter was phenomenal with the little bit that Barbara was given to do. Dallas increased his line count to about eight while Ethan officially became The Cutest Kid on Daytime.
But the pure pleasure for today was Kathleen Widdoes as Emma. She certainly wasn't the star of today's show. She's not hip. She doesn't fit the desired 18-34 demographic. She's not a size 0 and she's not a hair model, but that's the point. READ MORE