Drew Tyler Bell
By Darren Lomas on July 26, 2009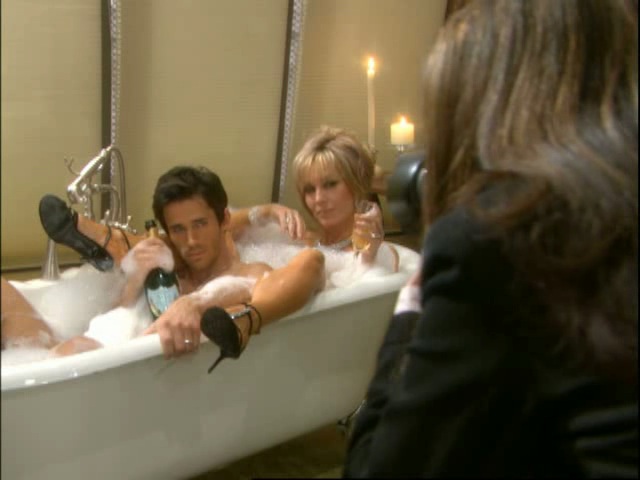 Steffy saw Brooke and Ridge hugging and got a little verklempt. Brooke went home to snivel over pictures of Ridge again, but Steffy was hot on her heels. Brooke said she'd "made a mistake" in ditching Ridgiculous. Steffy slammed Brooke for causing her father pain and was adamant that Ridge needed the peace and stability of Taylor/Steffy/Thomas.
Stephanie gave Whip the lowdown on Brooke's current situation and sent him over there to try and keep her away from Ridge. Brooke was surprised to see Whip in LA. Of course, there was some reminiscing and the two of them had a pretty fun smooch. Brooke yanked his chain by pretending she was ready to get fresh in the bedroom: "take me upstairs." Alas, she once more confessed she would always love Ridge, and she wasn't ready for humpy-pumpy yet.
Meanwhile, back at the crypt, Ridge told Taylor she was "stuck with him." How true. Then Taylor had to go and spoil it all by saying that he was "the best thing that ever happened to either one of us," meaning Brooke or Taylor. Seriously, we're expected to buy that, despite the fact that he keeps pawing them both? Ugh. They both look pathetic trying to "win" that jackass. Ridge didn't look too thrilled at Taylor's marriage proposal, although their grown children clapped and whooped. Good ol' daddy Ridge. READ MORE
By Jillian Bowe on July 23, 2009
By Jamey Giddens on June 12, 2009
What's that they say, everytime a mediocre actor gets a contract, a hooker gives a sailor VD? Or something like that.
TV Guide Canada
's
Nelson Branco
is
reporting
The Bold and the Brazenly Bad
has put thespian du jour
Drew Tyler Bell
on contract. Oh well, I am not gonna let the Devil steal my joy.
Lynn Herring
is back on TV and
Crystal Chappell
is returning to DAYS! Happy thoughts! For more from
The Suds Report
this week go
here
.
By Jamey Giddens on May 16, 2009

Michael Fairman
spoke
with
Brad Bell
on the heels of
The Bold and the Beautiful
being nominated for the Daytime Emmy Award for Best Drama Series and Best Writing Team. The writer revealed his feelings over sister soap
The Young and Restless
being snubbed, and previewed storylines for
Don Diamont
's Bill Spencer and
Rick Hearst
's Whip Jones, the latter of whom, yours truly
broke the news that he was returning to B&B
.
MICHAEL FAIRMAN: Were you shocked there were only three nominees in the category?

BRAD BELL: Totally shocked! Maria Arena Bell (head writer and co-executive producer, "Y&R") sent me a nice email already. It is a shock because "Y&R", in the ratings, is by far and above the top show. It's a brilliant show and deserves to be nominated. So, it's hard to understand. But, it's great to be nominated and it's great that a show from each network is represented in the finals, and it's great for all the networks." READ MORE
By Darren Lomas on May 06, 2009
Drew Tyler Bell
shocked cast mates last Friday (May 1st) when he got down on one knee and proposed to his girlfriend Sarah Grunau on
The Bold and the Beautiful
's set. The actor, who plays lovable car bomber Thomas Forrester, had only informed one of the shows producers - everyone else was taken by surprise.
For a slideshow featuring shots of the proposal check out Soap Opera Digest.
By Luke Kerr on March 24, 2009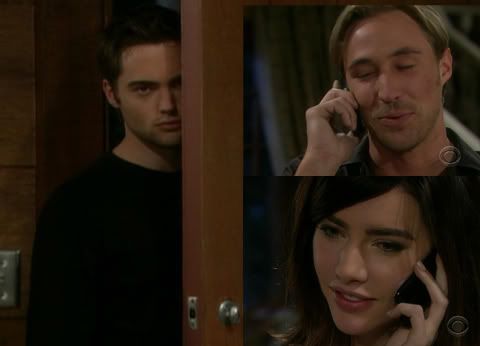 Take your best Caption This shot at
The Bold and the Beautiful's
Thomas (
Drew Tyler Bell
), Steffy (
Jacqueline MacInnes Wood
) and Rick (
Kyle Lowder
).