Drew Garrett
By Jamey Giddens on June 12, 2009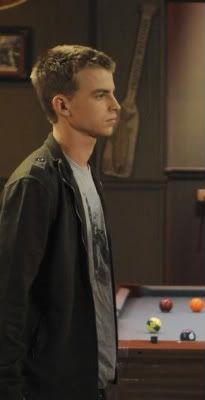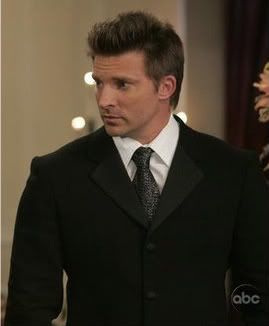 Michael Fairman
has a new
interview up
at
MichaelFairmanSoaps.com
with one of the most fascinating young actors to hit daytime in years,
Drew Garrett
(Michael,
General Hospital
). I love the way Garrett answers his questions as Michael! Seems like a cool kid. Here's what Garrett has to say about the inevitable comparisons to Port Chuck's other brain damaged Q.
MICHAEL: Is Jason Michael's bud more so now, because Jason had brain damage at one point, too? Are those two going to have a stronger bond?

DREW: We share a lot of similarities. He has been where I am, in a way. That will help for us to have a strong relationship. He is a father figure to me, or the next best thing aside from Sonny. I am aware he has gone through some stuff similar to what I have gone through. Obviously, I turn to him to vent, and for questions and support. Once again, for Michael,
he is there more than Carly is. People say, "Is Michael going to be the next Jason?" That very well could be, but in his own way, obviously. READ MORE
By Luke Kerr on May 28, 2009
General Hospital's
Michael Corinthos III (
Drew Garrett)
thinks his new step mother Claudia (
Sarah Brown
) is "so cool" and that doesn't have Jason (
Steve Burton
) all to pleased, especially since Claudia wants to be "more than just a step mom."
By Regan Cellura on May 27, 2009

Here's the Scoop! 05.27.09

Alexis fan?
I keep hearing that the attorney will be getting plenty of story to play with. The question is will it be favorable? Some of Alexis's best scenes are when she goes off on another PC resident and while I like the Sonny-Alexis friendship one of my favorite scenes was her going off on Sonny and Jason at her sister's funeral. Will that happen again? RUMORS have Alexis laying into her daughter's father when Ric goes missing. Can you blame her? IF Sonny is involved in Ric's "disappearance" he's taking Molly's father away from her. There's more for Alexis coming up. She's still determined to link Rebecca to Helena and there's that whole political mess RUMORED to be happening with Mayor Floyd and his wife. Will Alexis get the dirt on NotEmily? SPOILERS say she uncovers a few "skeletons" in Rebecca's closet.
Speaking of Ric… he wants Claudia to go on the run with him. Is that what happens to Sonny's bro? Or will he be the murder mystery we had heard about? Either way, Rick Hearst vacates Port Chuckles mid June. According to Martha Byrne she shared some of Hearst's last scenes with him. READ MORE
By Regan Cellura on May 22, 2009
Here's the Scoop! 05.22.09

Michael, Michael, Michael…
what are they doing to you? I've been saying all week, so far so good in terms of
Drew Garrett
but that writing… geez! Does he have to be such a brat right out of the gate? Do we need so many ill conceived plot points while he's still strapped to that hospital bed? We get it, you have a traumatic brain injury and you're an angry little boy and I could ALMOST understand it if Carly was being her typical overbearing self but in my opinion, she's really not. I just don't understand what exactly these writers are thinking when they concoct this stories. When you wrote Robin's postpartum most fans wanted to smack Robin when we should have been sympathizing with her. Now, here we are once again in a storyline where we SHOULD be rooting for the patient and all I want to do is smack him across the face. Sonny's ok even after telling him it was his fault Michael got shot but Carly is enemy numero uno? What I do actually like is the Lulu connection. At first I too was scratching my head over Michael waking up to his cousin but I'm not minding Lulu these days and have actually enjoyed her scenes with Michael. Question though, are tacos really the best idea? A year on a liquid diet and she brings him Mexican? How about some soup from Kelly's instead?
READ MORE