Drake Hogestyn
By J Bernard Jones on December 08, 2008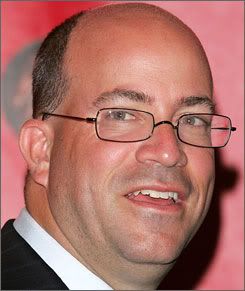 I've said it before and I'll say it again: NBC Universal's president Jeff Zucker seems to be running that network into the ground. In fact, in my most recent blog posting Soap on a Rope, I tried to lay out what NBC's wholesale slash-&-burn destruction of its soap franchise has cost the network in several key areas. You can read that specific part of the analysis here.
NBC is mired in fourth place after a disastrous fall. The network recently announced a layoff of 500 employees. For Days of Our Lives, draconian budget cuts have forced out that show's two marquee stars, Deidre Hall and Drake Hogestyn and resulted in a ton of bad publicity for the show, network and genre at large.
Now comes word from The Hollywood Reporter a story quoting Zucker saying that NBC is looking at the possibility of cutting back it's entire broadcast schedule. The whole thing. This is what Zucker has to say: READ MORE
By J Bernard Jones on December 07, 2008
Here lies the final resting place of the Great American Soap Opera
A good and constant companion to millions,
The genre lost its way toward its Final Fade to Black.
Neglect and misconception caused the genre's downfall,
But their collective memory shall live in our hearts. Forever.
Daytime O. Drama
1952 (or 1937) - 2010 (or 2015) — Depending on Who's Counting
Yes, my friends, it is time to put on your best Sunday black, sit Shiva if you are among our Jewish friends, remove all your jewelry if you are Muslim, burn those collections of Soap Opera Digest in a Shraddha ceremony for our Hindu cousins, and the rest of us heathens and infidels can cuss out Brian Frons, Barbara Bloom, Ellen Wheeler and Ken Corday in polysyllabic orgasmic fury. A flame in the wind has flickered its last, the bright promise of our date with life is forever gone. Today is no longer ours. Stick a fork in daytime soaps. They are done. I just have one tiny question:
Are soaps really dead? READ MORE
By Jamey Giddens on December 06, 2008
I know my fellow Liason lovers are probably dressed in sack cloth today, watching You Tube clips of our spectacular, amazing, soaptastic supercouple who are being viciously torn asunder due to ABC Daytime focus group foolishness, but until
Brian Frons
sees something that gets him excited againt at
One Rapemance to Live
or
All Ryan Lavery's Thongs
(Maybe Fronsie-Pie plans to bring
Drake Hogestyn
and
Deidre Hall
over as
Beth Ehler's
parents and order them to arrive during a CGI-Tsunami?) and our couple is given a fair shot, I figured I would post this to give us hope.
READ MORE
By Luke Kerr on December 04, 2008
Forgive me for my righteous indignation but the mere thought of Melanie (
Molly Burnett
) donating anything, as Maggie (
Suzanne Rogers
) suggested getting tested for today, to Kate Roberts (
Lauren Koslow
), whether it be an organ, blood or a bad cold is like hearing someone scratch a chalkboard but visually.
Sure, pairing a newbie like Molly Burnett with an Emmy winning veteran like Suzanne Rogers and then having Melanie donate anything to Kate is a tried and true soap formula. In fact it's pretty darn dear close to what All My Children did with Babe but in a different type of storyline. Problem is, Molly Burnett doesn't have an ounce of the personal appeal, charisma or talent that Alexa Havins did, which allowed the viewer to hate the character but like and/or respect the actress.
The character of Melanie is quite literally becoming the character that ate Salem alive. Truth be told she should be called The Salem Slayer because that's what she's doing, slashing, hatcheting and stabbing her way through every storyline and scene with a bloody gusto unmatched by even the Saw movie franchise. READ MORE
By Jillian Bowe on December 03, 2008
The soap opera industry, a genre that needs all the mainstream press and support it can get, is finally getting some recognition, but not in a good way.
The Associated Press (AP), has picked up on All My Children and One Life to Live's, creator-turned-consultant Agnes Nixon's confirmation of her pay cut, as well as those of AMC actors, Susan Lucci, Michael E. Knight and Ray MacDonnell.
According to the AP, an ABC spokesperson states that the network will,

carefully and responsibly managing our costs, which include some production cuts, but in ways the audience will not see on screen.
The news outlet has also picked up on the shocking firings of Days of Our Lives, stars Drake Hogestyn and Deidre Hall of which NBC and Days have stated were cost cutting measures.
By Jamey Giddens on November 28, 2008
Like most
Days of Our Lives
fans, I'm still reeling from the news that we are losing
Deidre Hall
and
Drake Hogestyn
(Marlena and John), however the news that my all-time favorite soap opera supercouple Beauregard "Bo" Brady and Hope Williams Brady (
Peter Reckell
and
Kristian Alfonso)
will be sticking around gives me well, hope.
Since Dena Higley can't be bothered to watch the current air shows she gets paid an obscene amount of money to write—who could blame her? They're dreadful— I figured she just might be able to squeeze in a few of these clips— in between blog posts of course— to see why this couple is so iconic and magical to millions of soap fans. READ MORE