Drake Hogestyn
By Jamey Giddens on November 26, 2008
Since news of
Days of Our Lives
executive producer
Ken Corday
's unheard of move to fire his soap's two top stars first broke online, the big question has been, were
Deidre Hall
and
Drake Hogestyn
offered the opportunity to take a pay cut? According to the latest issue of
Soap Opera Weekly
, they weren't.
Setsiders report the veteran stars, both of whom command big salaries, were informed they were being written off the show sans negotiation."
By Jamey Giddens on November 25, 2008
Thom Racina
, the man who wrote the ratings juggernaut wedding of a couple of soap opera characters named Luke and Laura (Tony Geary and Genie Francis) on General Hospital, before moving on to Days of Our Lives, where he and fellow co-head writers Sheri Anderson and Leah Laiman continued the supercouple craze, penning lush, romantic storylines for Patch and Kayla (Stephen Nichols and Mary Beth Evans), Bo and Hope (Peter Reckell and Kristian Alfonso), Shane and Kim (Charles Shaughnessy and Patsy Pease) and John and Marlena (Drake Hogestyn and Deidre Hall), speaks exclusively to Daytime Confidential.com about the shocking ouster of Hogestyn and Hall.

Read why Racina believes Ken Corday's move to fire Days of Our Lives' most popular couple, reportedly to trim costs, was the "wrong way to fix what's wrong" with the NBC sudser. Find out what Racina feels Days can learn from his most recent employer, The Young and the Restless, in terms of rebuilding itself by focusing on core characters, as opposed to focusing on younger viewers. When you're done, go back and listen to our podcast interview with The Father of the Modern Soap Opera Supercouple (DC# 191). It's a true can't miss Thanksgiving treat for a soap fan.
READ MORE
By Jamey Giddens on November 22, 2008
This made me smile
. Anyone wanting to read a nice, humorous story likening Soap Opera Mafia Don
Ken "The Soap Killer" Corday
to a Thanksgiving Turkey should read
this article
by soap journo
Mary Montanari
of Examiner. com.
I couldn't think of a more fitting analogy for the Days of Our Lives golf pro if I tried, and trust me I have. In fact the next time I read a press release, I mean, interview featuring Corday I am simply going to imagine him goobling like a simple, clueless fowl.
"My actors are like spokes, GOOBLE, GOOBLE! Dena Higley can write, GOOBLE! GOOBLE! Molly Burnett is the star of the show! GOOBLE!"
By Jillian Bowe on November 21, 2008
The dust hasn't settled yet and already the news of
Days of Our Lives
firing stars
Deidre Hall
and
Drake Hogestyn
has set off a frenzy.
Yahoo TV
blog writer
Rebecca Detken
stated:
As much as I hate to say it, I'm not sure if the soaps can be saved, but in staying true to the genre's form, a dramatic death is inevitable.
This comes from a fan and ardent protector of the soap industry who also asked,

Can you imagine the town of Salem without Marlena (aka "Doc") and John?
No truer line has been uttered. Read Detken's entire blog posting on Ken Corday's grotesque solution for his birthright.
By Luke Kerr on November 21, 2008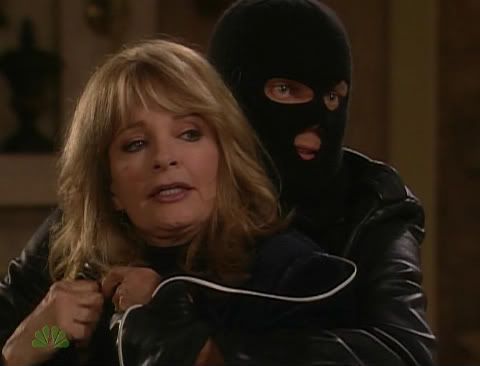 Take your best shot! My humble attempt: "Save yourself John! It may not be to late for you to survive!"
By Brian Peel on November 20, 2008
In light of the all the ongoing turmoil on
Days of Our Lives
right now, take a minute to watch this video. It almost makes me want to vomit. You know sometimes in life, words do come back to haunt you in some way, shape or form. In October 2007,
Deidre Hall
,
Drake Hogestyn
, Thaao Penghlis and wait for it...
Ken Corday
, were interviewed by Australian show host Kerri-Anne.
It's almost like a complete 360. Deidre talks about her love for the role she plays as Marlena, while Drake and Deidre talk about their highlights on the show and their favourite character moments. But wait for Ken Corday. He starts his 'speech' by saying he was 14 when Days of Our Lives was on, and it was not cool to watch soap opera's. He also goes on to say that he felt honoured to continue the legacy his parents left him. Complete and utter vomit. READ MORE