Don Hastings
By Jillian Bowe on July 29, 2010
Fans wanting to say adiós to Oakdale will have their chance next month. On Aug. 18, The Paley Center will host an event which will showcase clips from over the years and discuss how As The World Turns handled many real-life issues throughout the years. The following are slated to appear:
Chris Goutman
Jean Passanante
Terri Colombino
Trent Dawson
Kathryn Hays
Don Hastings
Eileen Fulton
Colleen Zenk Pinter
Van Hansis
For tickets and more information click here
By J Bernard Jones on March 31, 2010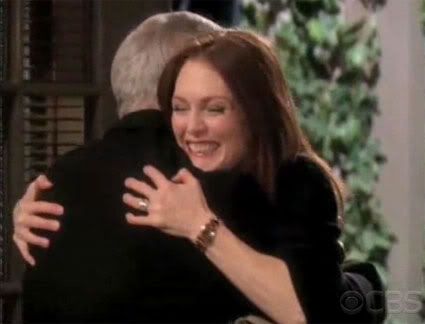 In preparation for
Julianne Moore
's guest appearance on
As the World Turns
, CBS has posted a brief sneak peek of her return as Frannie Hughes on their
website
.
The four time Golden Globe and three time Oscar nominated actress' episode will air on Monday, April 5 as Frannie swings through Oakdale for her parents Bob (Don Hastings) and Kim's (Kathryn Hays) 25th anniversary. For a preview, watch the video after the jump.
By Mike Jubinville on March 26, 2010
Next week on
As the World Turns
, Bob (
Don Hastings
) and Kim (
Kathryn Hays
) reach a milestone anniversary, Reid (
Eric Sheffer Stevens
) is hit with a lawsuit, Carly (
Maura West
) is tempted by the demon bottle and Jack (
Michael Park
) finds Dusty (
Grayson McCouch
) knocked out cold. Watch the promo video after the jump!
By Jillian Bowe on March 16, 2010
TV Guide Magazine chatted with As The World Turns stars, Don Hastings (Bob) and Kathryn Hays (Kim) about their alter-egos' love affair in conjunction with their upcoming 25th wedding anniversary . The actors also discussed the lack of screentime the duo has endured for the past view years and the fan response online. Says Hastings,
"They should never have been excluded," states Hastings. "[ATWT creator] Irna Phillips built this show on all the generations and our best writers over the years, like Douglas Marland, continued that tradition. I don't have a computer but the young people on our show are always telling me that the internet crowd wants to see more of Kim and Bob. The people who have the power [at ATWT] may not realize that, or care about that, but I do believe it's true."
By Mark on August 21, 2009
Next week on As the World Turns, the Oakdalians are still dealing with Holden's "death".
By Mark on August 14, 2009
One family is grieving. Another family is reunited. Next week on As the World Turns.