Denise Alexander
By Jamey Giddens on May 20, 2013

Watch out, Scotty (Kin Shriner) and Monica (Leslie Charleson). Dr. Lesley Webber is BACK in Port Charles, and she's feistier than ever! What were your First Impressions of the return of Laura's (Genie Francis) mama on General Hospital?
READ MORE
By Jillian Bowe on March 11, 2013
Forget
The Sopranos
; the new cable hit
General Hospital
appears to be aping is
The Walking Dead
!
TV Guide Magazine
's
Michael Logan
is reporting
Chris Robinson
is returning as Dr. Rick Webber, just in time for the sudser's 50th Anniversary.
Fans will recall Rick died in 2002, with his stepdaughter Laura (Genie Francis) believing she'd done the deed. As it turned out, it was ex-hubby Scotty (Kin Shriner) who ended the life of the man Monica (Leslie Charleson) and Lesley (Denise Alexander) spent the late 70's and early 80's fighting over. According to Robinson:
I could never have predicted I'd be rejoining the group but I guess anything is possible on a soap, even when you've been dead 10 years!
By Luke Kerr on January 10, 2013
In an interview with TV Guide, General Hospital's Frank Valentini dishes about his plans with Ron Carlivati for the ABC soap's 50th Anniversary celebration.
TV Guide Magazine: What can we expect to see at the Ball?

Valentini: There will be some big story reveals over a few days. We're now doing the sketches for the set and costume designs, which are going to be really exciting. We'll have the characters sing and dance. We'll of course have (inaugural Dancing With the Stars champ) Kelly (Monaco, who plays Sam) dance. We might even bring (her DWTS partner) Val Chermkovskiy back.
Valentini also responds to questions about the possible guest returns of fan favorites, such as: Bobbie Spencer (Jackie Zeman), Audrey Hardy (Rachel Ames), Alan's ghost (Stuart Damon), Lucky Spencer (Jonathan Jackson), Nikolas (Tyler Christopher), Lesley Webber (Denise Alexander) and Scotty Baldwin (Kin Shriner).
By Luke Kerr on July 18, 2008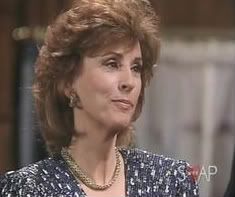 Daytime Confidential receives a lot of emails from readers and listeners asking questions about their favorite soaps. Because of the volume we aren't able to respond to each email individually but occasionally we are able to respond to them here on the blog.
Today's question comes from Daytime Confidential reader Sandy about the anticipated return of Genie Francis to General Hospital. Here at Daytime Confidential Regan writes some great General Hospital Spoilers so I asked her to respond to Sandy's question.
Sandy: Does anyone know if Denise Alexander is returning to GH when Genie Francis does?

Regan: To the best of our knowledge, no, Denise Alexander is not returning. When the news of Genie's return was first reported, we started digging for details of her return.
At first it looked like Genie would only interact with Lulu, Laura's daughter to help tell the story of Logan's Murder, Lulu's slip from sanity and of course the comparison from mother to daughter. Now there may be more to the story! READ MORE
By Belinda on June 18, 2008


I found this tribute done by sandyatsea on You Tube and having just blogged about wanting her back on General Hospital in the "Nikolas' Free Clinic for Emily" storyline I wanted to share it with you all.
By Belinda on October 20, 2007

Accidents happen. The romance of a television lifetime was an accident. When feisty nursing student Bobbie Spencer called in her thug of a big brother, Luke, to help her get rid of rival for hunky law student Scott Baldwin's affections, the part was meant to be short term. Luke was supposed to get Laura's probation revoked so that she would be sent to reform school and then break up Rick and Leslie's marriage. A funny thing happened though. Chemistry sprung up between unlikely parties.
Anthony Geary, playing street tough Lucas Lorenzo Spencer, could have come and gone from the canvas without much fanfare, as could have Genie Francis as headstrong, spoiled princess Laura Webber. If someone behind the scenes at General Hospital had not recognized the overwhelming chemical reaction these two sparked when they were together on screen, that is exactly what probably would have happened.
Instead, they started a chain reaction that resonates down through the decades. The phenomenon known world wide as Luke and Laura might never have come to be if there had not been someone paying attention to what was coming across our television screens at home. The story played out in front of a fascinated audience that grew steadily as the magic built. READ MORE