Deidre Hall
By Jillian Bowe on November 21, 2008
The dust hasn't settled yet and already the news of
Days of Our Lives
firing stars
Deidre Hall
and
Drake Hogestyn
has set off a frenzy.
Yahoo TV
blog writer
Rebecca Detken
stated:
As much as I hate to say it, I'm not sure if the soaps can be saved, but in staying true to the genre's form, a dramatic death is inevitable.
This comes from a fan and ardent protector of the soap industry who also asked,

Can you imagine the town of Salem without Marlena (aka "Doc") and John?
No truer line has been uttered. Read Detken's entire blog posting on Ken Corday's grotesque solution for his birthright.
By Luke Kerr on November 21, 2008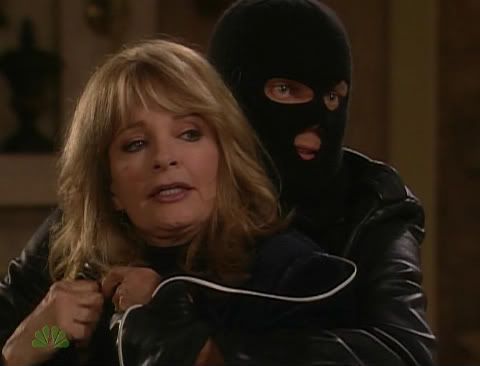 Take your best shot! My humble attempt: "Save yourself John! It may not be to late for you to survive!"
By Brian Peel on November 20, 2008
In light of the all the ongoing turmoil on
Days of Our Lives
right now, take a minute to watch this video. It almost makes me want to vomit. You know sometimes in life, words do come back to haunt you in some way, shape or form. In October 2007,
Deidre Hall
,
Drake Hogestyn
, Thaao Penghlis and wait for it...
Ken Corday
, were interviewed by Australian show host Kerri-Anne.
It's almost like a complete 360. Deidre talks about her love for the role she plays as Marlena, while Drake and Deidre talk about their highlights on the show and their favourite character moments. But wait for Ken Corday. He starts his 'speech' by saying he was 14 when Days of Our Lives was on, and it was not cool to watch soap opera's. He also goes on to say that he felt honoured to continue the legacy his parents left him. Complete and utter vomit. READ MORE
By Brian Peel on November 19, 2008


If you thought yesterday's John and Marlena tribute video was good, then wait until you see this one. So many moments, so many memories. Boy, it's just all too dramatic. I don't think I can handle anymore.

By Jamey Giddens on November 18, 2008

Ken Corday
's head scratcher of the soap millenium decision to gut his two biggest stars, while seemingly courting ever actor from
Passions
, even the chimp, has the mainstream press taking notice. Notorious gossip blogger
Perez Hilton
posted
about the firings of
Deidre Hall
and
Drake Hogestyn
and the
New York Post
also weighed in. It seems unlike the late
James Reilly
, the only time the team of Corday and
Dena Higley
know how to generate mainstream press is when they make colassal blunders. This thing is gonna get ugly.
By Daytime Confidential on November 18, 2008
Mouths around the soap world collectively dropped this weekend as the unthinkable happened. The recently-renewed Days of Our Lives, fired its biggest supercouple Deidre Hall (Dr. Marlena Evans) and Drake Hogestyn (John Black). In this special episode of the DC podcast Luke, Mike and Jamey invite veteran soap journalist Nelson Branco (TV Guide Canada's The Suds Report) and former Days writer Tom Casiello to weigh in from the perspective of industry insiders.
Reactions to the shocking news are gauged from the panel, including: Branco, who reveals Days of Our Lives was the first soap he ever watched and how he first fell in love with the ravishing Hall even before discovering Andrea Evans and One Life to Live; and Casiello, who during his last few months on the soap before the Writers' Strike, was part of a team under Hogan Sheffer that was forced to script out the soap's "Big Four" (Hall, Hogestyn, Kristian Alfonso and Peter Reckell) due to their reported astronomical salaries and ultimately made the decision to kill of the wildly-popular character of John Black— since they were prohibited from using Hogestyn— only to see executive producer Ken Corday panic about fan response and order them to bring the character and actor back.
The DC gang also give their perspective based on their varying histories with the show. Jamey, who has been watching the show for the better part of three decades, reveals his dismay that lower level stars like Molly Burnett, Shelley Hennig, Josh Taylor, Thaao Penghlis, Leann Hunley and Shawn Christian weren't cut first before the show even considered touching the Big Four. Mike, who watched in the early 80's and only recently tuned back in, conveys he still can't believe the show hired Josh Taylor, who once played Roman and Marlena's pal Chris Kositchek as a recast for Wayne Northrop's Roman, with Branco adding that move was a "Jump The Shark" moment for him, adding that Taylor is good friends with Corday. Luke, who has watched Days since the 90's, speculates the brass could be moving to strategically weed out most of the show's veteran performers to repackage Days for an eventual sale to ABC or SOAPnet.
The discussion then moves to what this means for the future of Days of Our Lives and the genre as a whole. If an international superstar like Hall isn't safe, who could be next? Reckell? Alfonso? Sweeney? Taking it a step further, will other soaps start to think their top stars are expendable? Could we see a day when the headline is "Susan Lucci Out", or "Eric Braeden Axed"? This is an episode of Daytime Confidential you don't want to miss.
Listen to Daytime Confidential by clicking on the Daytime Confidential Player at the bottom of this post or Download us for FREE via iTunes. Vote for us on Podcast Alley. Add us as a Friend on MySpace and Facebook.