David Fumero
By Jillian Bowe on January 29, 2010
Ah those Cramer women from One Life to Live, here it is almost a month after I met with those wacky dames in New York and I still still find myself discovering gems from my various chats with Robin Strasser and Co.
One of my favorite conversations was with our girl, Melissa "Bitchy Bangs" Fumero, where I get the scoop on what she's been doing since leaving Llanview, like her Teen.com web soap Haute and Bothered, and her recent appearance in the Frat Lit movie I Hope They Serve Beer in Hell. I also find out if Fumero, who returns to OLTL as Adriana this February Sweeps, will ever make a more permanent return engagement.
Daytime Confidential: So what brings Adriana back to Llanview this time?
Melissa Fumero: It's a serious family emergency. Kelly and Adriana have been hanging out in Paris, and I get a call. We come back to Llanview together actually.
Daytime Confidential: You know fans are still clamoring for you to return full time. Do you ever see yourself bringing Bitchy Bangs back to Llanview permanently?
MF: [pauses] It's not in the cards right now, but I believe in never saying never. It's been left open; it's always been left open for me thankfully. READ MORE
By Luke Kerr on November 16, 2009
New York soap, primetime and Broadway stars turned out for the Stockings with Care celebrity bartending event at the Stitch Bar & Lounge on November 11. The event, which helps raise money to buy holiday gifts for children whose families cannot afford to celebrate their holiday, brought together stars from All My Children, As the World Turns, One Life to Live and former Guiding Light stars.
See photos of Adam Mayfield, Austin Peck, BethAnn Bonner, Brandon Buddy, Bree Williamson, Brett Claywell, Brian Kerwin, Brittany Allen, Daniel Kennedy, Daphnee Duplaix, David Fumero, Grant Bowler, Jason Tam, Jesse L. Martin, Mandy Bruno, Malcolm Jamal Warner, Mark Lawson, Melissa Claire Egan, Melissa Fumero, Meredith Hagner, Michael Urie, Murray Bartlett, Robert Bogue, Stephanie Gatschet, Terrell Tilford, Terri Colombino, Trent Dawson, Vanessa Williams and more after the jump. READ MORE
By Luke Kerr on September 08, 2009
Have you ever wondered how Cristian's (
David Fumero
) paintings are created? Watch as David Fumero take viewers behind-the-scenes at the
One Life to Live
art department after the jump.
READ MORE
By Luke Kerr on August 04, 2009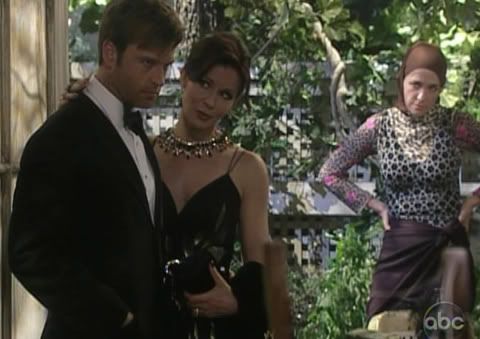 The best argument the soap opera genre can make in favor of its own survival airs at 2pm EST on ABC/ 9pm EST on SOAPnet. Its name is One Life to Live.
OLTL's fictional town of Llanview, PA. is a town rich in history, overflowing with talent, boisterous in personality and uninhibited by an addiction to one or two characters.
Monday's nod to Grey Gardens–acted out by the fantastic foursome of Robin Strasser, Kassie DePaiva, Trevor St. John and Florencia Lozano–and the seamlessness with which it was woven into the double wedding ceremony of Viki to Charlie and Nora to Clint is one of many examples of why OLTL has surpassed The Young and the Restless as the genre's most well-written soap opera. READ MORE
By Jamey Giddens on July 25, 2009
We Loves Soaps
'
Roger Newcomb
has arrived! TMZ caught up with
Gregori J. Martin
, the director of Newcomb's movie
Manhattanites,
outside of the film's
L.A. premiere
.
Manhattanites
stars
Ilene Kristen
,
David Fumero
,
Aiden Turner
and
Forbes March
. The film was co-directed by
Darnell Williams
.To purchase your copy of
Manhattanites
go
here
.
By Jamey Giddens on June 29, 2009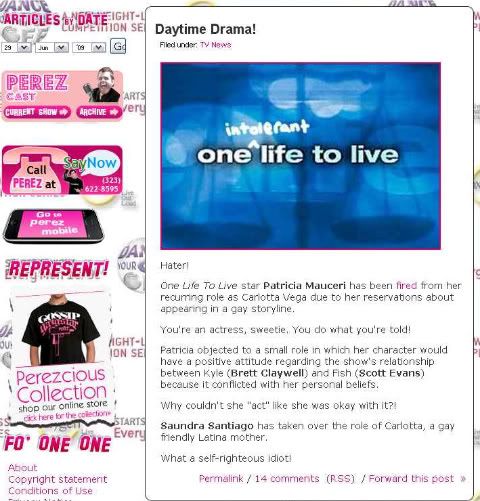 Perez Hilton
has
linked
Daytime Confidential's breaking news item about the recasting of Carlotta Vega on
One Life to Live
. As we
previously reported,
actress
Patricia Mauceri
was reportedly fired from the role and replaced with
Saundra Santiago
after Mauceri allegedly vehemently protested an upcoming beat in the gay storyline featuring Kyle (
Brett Claywell
) and Fish (
Scott Evans
) that had Carlotta, as a result of a comedy of mistaken identities, believing her son Cristian (
David Fumero
) was gay, as opposed to his roommate Fish.
READ MORE