David Andrew MacDonald
By J Bernard Jones on January 30, 2009
Funny how the universe sometimes lines up and minds think alike, isn't it? Guiding Light is in the thoughts of a lot of people these days. Bloggers, soap journalists and industry watchers — not to mention the writers, cast and crew of GL — are all on pins and needles about this 72 year old institution. The writing has been on the wall among commentators on the Internet and in the soap press for some time regarding GL's maybe/probably/likely cancellation, which would essentially signal the final march along daytime's trail of tears as the end of the genre.
The signs are obvious and ominous: GL has been hovering at a 1.5 rating for the last few months, a situation exacerbated by a genre-crushing free fall in advertising revenues, which have in turn led to massive budget cuts by the networks for all the shows. If GL doesn't get its act together by the Ides of April, as our own Jamey Giddens so aptly put it, the oldest series on broadcast television will bite the dust. However, there is hope. As has been reported here, Guiding Light needs the minimum of a steady 1.8 rating to avoid getting the ax.
Back to minds thinking alike: Just as I was finalizing this list, Mr. Giddens posted his "Top 10 Last Ditch Stunts To Save Guiding Light," followed by Spauldingfield's awesome GL promo posted by Luke Kerr. Because of their excellent efforts I almost decided to not post these recommendations, but the situtation at Guiding Light is so important to those of us who love the show that I felt it was more important to contribute to the call to keep GL on the air and risk repetition than not do so. Therefore, consider these considerations an addition to their efforts. GL needs viewers not tomorrow, but today and here are ten reasons to tune in right now! READ MORE
By J Bernard Jones on December 11, 2008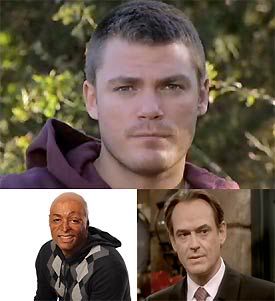 Despite gloom and doom about the state of daytime in almost all of its aspects, fans have been treated to some good soap opera lately.
The Young and the Restless
is the Must See Soap right now.
One Life to Live
has regained it's glory and
Guiding Light
is steadily improving. Some of daytime's best actors are giving some of the performances of their lives. With that in mind, there are three performers new to their respective shows deserving of special mention who I think are doing a bang up job.
JR MARTINEZ (Brot Monroe, All My Children)
Introduced amid a publicity blitz, JR Martinez came aboard AMC with a fascinating, real life backstory: an Iraq War veteran seriously injured and disfigured by explosives, eventually becoming a noted inspirational speaker for and on behalf of veterans coping with their life altering injuries. His addition to AMC's canvas was purposeful and deliberate. The show wanted a real life injured vet to play Brot, former love of newcomer Taylor (Beth Ehlers).
AMC has received much justly deserved praise for casting Martinez, but make no mistake, this was as much a bit of stunt casting as it was groundbreaking decision. READ MORE
By Jamey Giddens on November 20, 2008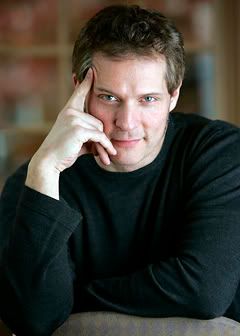 No that isn't the title to a Harlequin Romance about a Dubai royal who forces his personal assistant into a marriage of convenience only to ascend to his father's throne—though it would be a good one if I do type so myself—
Guiding Light
is bringing back Prince Nasty Pants, Edmund Winslow (
David Andrew Macdonald
), according to
We Love Soaps
.
When we last saw the former ruler of San Cristobel, he was on perma drool thanks to Cassie's demon seed, adopt-o-brat. I always liked Edmund. He was like the Jan Brady of the House of Winslow. "Richard! Richard! Richard!"
My guess is with Cassie (mercifully) gone, Edmund will be back to cause trouble for Richard's doppelganger Jeffrey and Edmund's one-time sister-in-law Reva, or to sell the story of her pregnancy to The National Examiner. READ MORE
By Luke Kerr on February 17, 2008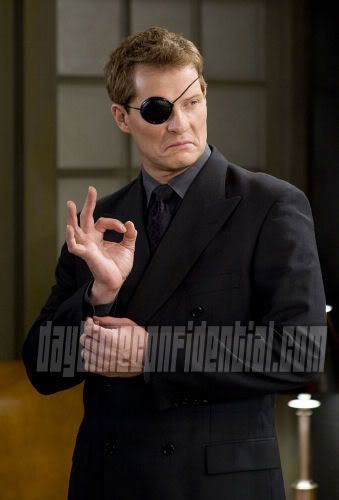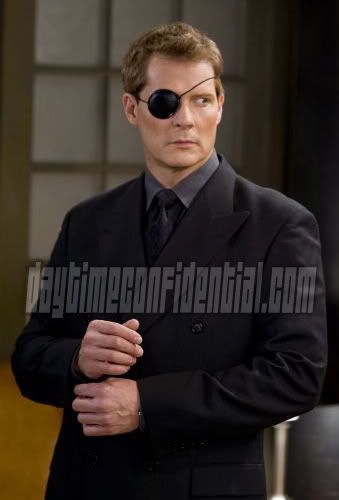 Update:
More details are coming out on the above photos of David Andrew MacDonald.
SON
is reporting that they are apart of an ESPN and ABC promotional campaign and that MacDonald will not be joining the cast of One Life to Live. (To bad, because from those photos he looks like he could really shake up Llanview if he wanted.)
Original: Move over The Sun, get of the way The Banner, there is a new man in town and he's gunning for Buchanan Enterprises. That's right folks, there's a new villain in Llanview and he's being portrayed by David Andrew MacDonald. MacDonald, who recently returned to Guiding Light as Edmund Winslow for a short stint, has jumped networks and joined One Life to Live. Details are sketchy about the character other than he's going after Buchanan Enterprises and there is no official word on how long he will be staying.