Daniel Goddard
By Jillian Bowe on October 13, 2009
On Air On Soaps' Michael Fairman caught up with some of The Young and the Restless' stars, including Kristoff St. John, Daniel Goddard, Sharon Case and Adrienne Franz, at the recent World Magic Awards, where they spoke out on co-star Eric Braeden's contract issues.
KRISTOFF: I think that no comment is the best policy to take when other actors are going through contract talks. I don't believe Eric Braeden will leave the canvas as the character of Victor Newman, but if he does, it would be sad to see him go at such a critical time in the show's history. We have a guaranteed two years left on network television. I think in order to survive and to get another contract and licensing agreement out of CBS, the wise decision would be to get him back. Is it the wisest decision for Eric to accept the terms of the contract? I don't know, and I cannot comment on that. It would be a huge loss to the show and the audience worldwide. READ MORE
By Luke Kerr on October 12, 2009
The Young and the Restless'
Daniel Goddard
and
Sharon Case
, along with
Cougar Town
star
Carolyn Hennesy
and former
Days of our Lives
star
Kristen Renton
, who now appears on FX's
Sons of Anarchy
, attended the
2009 World Magic Awards
on Saturday at The Barker Hanger in Santa Monica. See photos of Case and Hennesy after the jump and watch red carpet video too.
READ MORE
By Luke Kerr on August 19, 2009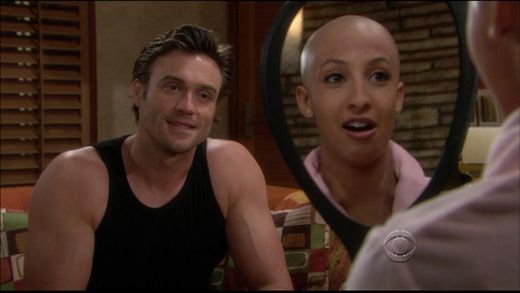 On today's episode of
The Young and the Restless
, Lily (
Christel Khalil
) took her battle with cancer into her own hands, snipping off her long hair before having Cane (
Daniel Goddard
) buzz her head. The scenes between Lane were quite touching. See more images of Lily having her head shaved after the jump.
READ MORE
By Luke Kerr on August 04, 2009
Check out this video by Our Prattville's Melissa Parker of The Young and the Restless stars Jeanne Cooper, Daniel Goddard, Christian LeBlanc and Greg Rikaart on stage and behind-the-scenes at Joyce Becker's Soap Opera Festival at the Silver Star Casino Convention Center. For a compete recount of the event visit Our Prattville.
By Jillian Bowe on July 20, 2009
...
Get the hankies out Lane fans. Shoutout to
twinklestarr20
for the video!
By Jillian Bowe on July 15, 2009
Take a quick peek at Phillip IV, aka Chance (
John Driscoll
) onscreen debut.