Daniel Cosgrove
By Jillian Bowe on August 14, 2009

Crystal Chappell (Olivia) tweeted great news for fans of Guiding Light star Daniel Cosgrove (Bill). Her former on-screen love has joined her web series Venice! Tweets Chappell:

Got some amazing news! Danny Cosgrove is Venice bound! He's playing Owen, Gina's brother. Love him!

Kudos to the both of them working together again! Shoutouts to Addie and Raquel for the tip!
By Luke Kerr on July 16, 2009
By J Bernard Jones on July 15, 2009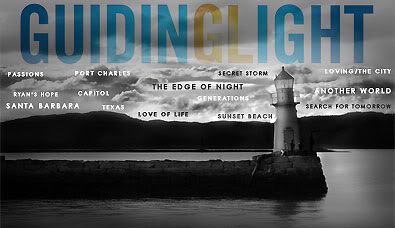 One of the hardest tasks in all of television must be bringing a daytime drama to a close. In other realms of entertainment, plays and musicals can be resurrected through countless revivals. Primetime TV shows can come and go, yet have the potential to be re-imagined or rebooted for the small or big screen. The biggest box office disasters can live on via countless direct-to-DVD sequels. Radio hosts and their dubiously talented sidekicks can be fired for the most hateful commentary, yet live on with the same formats other stations to be spiteful for another day.
With the exception of Dark Shadows, once a soap opera is canceled it is gone forever. During my time I've watched some of my favorites disappear: The City, Port Charles, Generations, Texas, and — in my opinion — two of the genre's titans, Santa Barbara and The Edge of Night. Many of you are still missing your own beloved shows over the last three decades as well. Fans of Capitol, Love of Life, Sunset Beach, Passions, Search for Tomorrow, and the still mourned Another World among others express their loss as if there yet remains a certain kind of grief that has not yet abated after all these years. Soon we will lose another giant among soaps: in less than ten short weeks, Guiding Light will shine for the last time on CBS. READ MORE
By Luke Kerr on July 13, 2009
During this week's CBS and
Days of Our Lives
podcast episode (to air Tuesday) we had an interesting discussion about what each of us would consider to be our "final memory" of
Guiding Light
.
Crystal Hunt's
Lizzie is the reason I started watching GL and I have been looking forward to the marriage of
Marcy Rylan's
Lizzie to Bill (
Daniel Cosgrove
) for a very long time. As I mention in the podcast, after watching Beth and Alan's almost wedding earlier in the year I was anticipating a big church wedding. Obviously that' not what I got on today's episode, but no matter how good or bad GL may get between now and the end the moment pictured above is going to be what I think of when I think of
Guiding Light
.
READ MORE
By Daytime Confidential on July 13, 2009
On today's ABC episode of Daytime Confidential Luke, Jamey and Regan discuss the latest in All My Children, General Hospital and One Life to Live storylines and news, including:
One Life to Live's Robin Strasser may be leaving the show. Should she take the pay cut and what would her leaving mean to the Llanview canvas? Dorian stands up for Langston and Markko, while facing the reality that no one may come to help her. One Life to Live wants Guiding Light's Daniel Cosgrove in Llanview. Should Rex and Schuyler be brothers?
Has the "Who Killed Stuart" murder mystery lasted to long on All My Children and is it distasteful? Ryan is like a son to Erica and the cougar storyline is rubbing Jamey the wrong way. Would David and Liza be a hot pairing or should she be paired with someone else?
Regan and Jamey share their reactions General Hospital's Dominic being Dante. Should characters have inappropriate chemistry and subtext with actors who portray their onscreen siblings? Has General Hospital diluted its brand? The Spixie pairing is going full steam ahead and it looks as if Spinelli will propose. Do we still see moments of "the old General Hospital?" Jerry Jacks returns to Port Charles. Will General Hospital fans be in for culture shock if they follow Stuart Damon and Lynn Herring to As the World Turns?
Help support and improve the Daytime Confidential podcast: Take a few minutes to fill out the two Daytime Confidential listener surveys: Listener Survey A l
Be sure to leave your comments on all the latest goings on in the world of soaps by calling the Daytime Confidential comment line by calling 917-677-9757.
Listen to Daytime Confidential by clicking on the Daytime Confidential Player at the bottom of this post or Download us for FREE via iTunes. Vote for us on Podcast Alley. Add us as a Friend on MySpace and Facebook.


READ MORE
By Jamey Giddens on July 10, 2009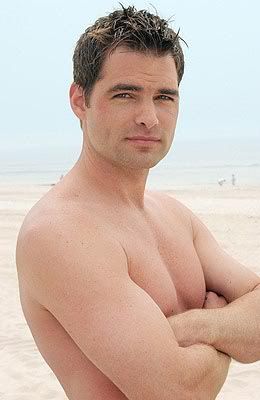 It looks like Daytime Confidential was right again! Last March, just prior to the news of
Guiding Light
's cancellation being made public, we
first told you
ABC was salivating over
Gina Tognoni
and
Daniel Cosgrove
for the roles of Kelly Cramer and Joey Buchanan, respectively.
Carolyn Hinsey
has now confirmed
One Life to Live
is interested in
Cosgrove
for Joey in this week's
New York Daily News
.
Additional reporting by Tina Guilford and Melodie Aikels.