Daniel Cosgrove
By Mark on August 13, 2010
Next week, Noah (Jake Silbermann) sees Reid (Eric Sheffer Stevens) with another man (Chris, Daniel Cosgrove) and tells Luke (Van Hansis). Blackthorn (Billy Warlock) discovers a microphone bug on Carly (Maura West) and Dusty (Grayson McCouch) is pushed into a van. Watch the As the World Turns promo after the jump.
READ MORE
By J Bernard Jones on July 20, 2010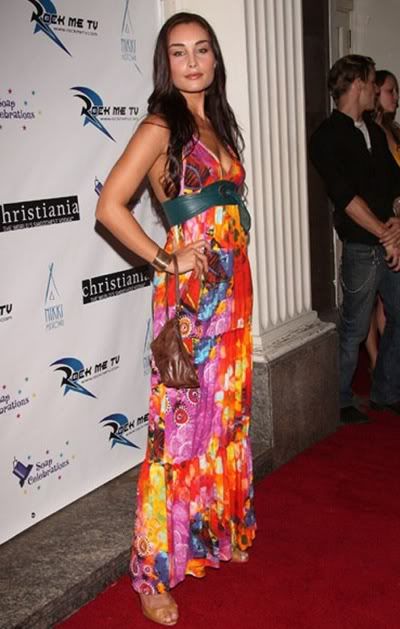 Today's episode was a typical "treading water" day in the life of a daytime drama winding up its final days. With tons of exposition and repetition, the news of Vienna's pregnancy deception and other shenanigans, Henry's relationship with and long overdue publicly admitted love for Barbara, and Katie's attempts to make right her role in the whole fiasco rocketed through Oakdale faster than tweets about
Sarah Palin's
hilariously absurd forays into neologism.
Henry confronted Vienna about Barbara's whereabouts. Katie told Margo, Will and Gwen about Vienna and Barbara and Henry. Will confronted Henry about Barbara. Alison told Casey about Vienna. Folks ran around in various combinations telling each other the same information several times throughout the episode. Perhaps the best reaction of learning of Vienna's pregnancy scam came from a genuinely shocked, appalled, and disappointed Kim, who laced into a semi-penitent/self-justifying Chris about his role in the cover-up and its consequences. Of course, one must ask if anyone in Oakdale has heard of texting, Facebook, or Twitter in this day and age, but then this kind of "shocking news spreads through town like wildfire" episode is the kind of thing that soaps used to do so well.
This brings me to a point about Henry (Trent Dawson) and Barbara's (Colleen Zenk Pinter, who has been extraordinary) love being thwarted by the "evil" machinations of Vienna (Ewa de Cruz): I like it. Correction. I love it! READ MORE
By Mark on July 01, 2010
On next week's As the World Turns Jesse Lee Soffer and Jennifer Landon reprise the roles of Will and Gwen Munson. Chris (Daniel Cosgrove) wants Katie (Terri Colombino) to give him a reason to stay and Craig (Jon Lindstrom) tells Lily (Noelle Beck) he will take care of Lucinda (Elizabeth Hubbard). Meanwhile, Barbara (Colleen Zenk) is locked up somewhere while Henry (Trent Dawson) and Vienna (Ewa Da Cruz) are getting married. Watch the promo after the jump! READ MORE
By Mike Jubinville on May 14, 2010
Next week on
As the World Turns
, Carly (
Maura West
) defends herself to Jack (
Michael Park
) regarding Parker (
Mick Hazen
), while Vienna (
Ewa Da Cruz
) gives Henry (
Trent Dawson
) some surprising news. Meanwhile, Chris (
Daniel Cosgrove
) makes a play for Katie (
Terri Colombino
) and Lily (
Noelle Beck
) covers for Craig (
Jon Lindstrom
) when he is questioned by Margo (
Ellen Dolan
). Reid (
Eric Sheffer Stevens
) gives Luke (
Van Hansis
) a warning about Noah (
Jake Silbermann
). Check out the promo after the jump!
READ MORE
By Daytime Confidential on April 06, 2010
You've watched the behind-the-scenes video of As the World Turns' 54th anniversary celebration and now you can check out photos from the celebration. See more photos after the jump. READ MORE
By Luke Kerr on March 11, 2010
What are your First Impression of Daniel Cosgrove as Chris Hughes on As the World Turns?