Colleen Zenk
By Luke Kerr on July 28, 2008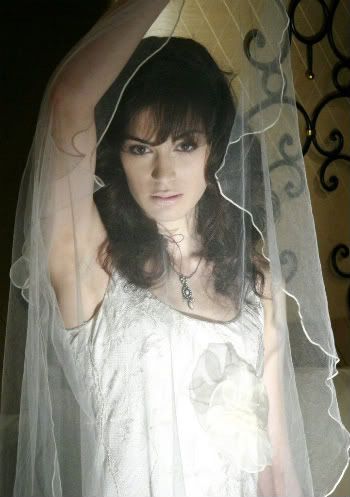 Poor, poor Meg Snyder. Not only is she married to Paul Ryan but now she's being haunted by the ghost of Sofie Duran. No one, not even Meg deserves that.
This week on As the World Turns Sofie returns to haunt Meg and I thought that this picture of her would make a great "Caption This".
So take your best shot. My feeble attempt is Sofie talking to Meg "You see dead people!."
By Mike Jubinville on July 17, 2008
Who would have thought that any story involving
As the World Turns'
Meg and Paul could be interesting? After months of back and forth, months of wavering and months of pure torture, they are finally married. Oh wait, more drama. Sofie's dead and the only good thing about it is that other characters like Barbara, Margo, Lisa, and Dr. Rick Decker are integrated with them. Funny thing what character isolation does!
When I first read that John James was coming back, I did not know what to expect. Of all the characters that I would pop back on my screen, the killer doc was not on the top of my list. I may be overstating a return, but it was brilliant. A man spending his life institutionalized for serial murder is now the go to guy for legal defense. Who would know the mind of a killer better than a killer?
The best part, of course, was the horror movie feel of the his appearance. He quickly connected himself to Barbara before moving on to Margo, Paul, Meg, Alison and Susan. Screams, shock and snappy dialogue kept the pace of Oakdale's latest death investigation chugging along. He's gone again, but one can hope that his spirit will linger and close another chapter in the endless drama that is Meg and Paul.

By Jamey Giddens on March 27, 2008
Reva Shayne's blonde tresses never had it this good! Don't be surprised if the divas of As The World Turns and Guiding Light are soon pushing hair care products by Frederic Fekkai on air as Proctor and Ganble recently purchased the brand for an undisclosed amount. Industry insiders speculate Fekkai's global sales at just under $100 million.
The hair care brand is sold in upscale department stores like Nordstrom, Neiman Marcus and Sephora. By purchasing Fekkai's line, P&G is finally poised to take on rival L'Oreal which has dominated the posh hair care market for years.
Sounds like a great soap storyline in the making to me! Why not have ATWT's Barbara Ryan (Colleen Zenk Pinter) "buy" the Fekkai line on the soap and have her go to battle with upstart Carly Snyder (Maura West), who also launches her own struggling line?
One of the reasons Y&R was so popular for so long was the glamorous battles between the Newmans and Abbotts over their competing cosmetics lines. And as shows like America's Top Model, The Hills and Project Runway are proving with their niche ratings success, women 18-49 crave glamour, excitement and drama, three things the soaps used to master.
By Mike Jubinville on March 22, 2008
How sad is it that I have to blog my excitement over a Kim and Barbara moment? In the context of everything that has dominated the show (can you say Carly and Jack trying to trap Kit?) over the last several weeks, their scene seemed completely out of place. Don't get me wrong. I savored every rare second of it. First, it's long overdue. Barbara needed to come clean to her family about her oral cancer weeks ago. Second, there has been no support or follow through with this storyline. She's been riding the backseat to her boring daughter in law Gwen's endless issues with baby Hallie and Paul's endless feud with Craig. Third, why Kim? Don't get me wrong. Back in the day this would have been a natural thing, but in today's Oakdale, Lisa (who she told some time ago before she disappeared again) and Kim have little to do, much less support Barbara for the long haul. Fourth, where is this storyline going? Is it going to develop? Are we going to see Barbara actually get more action than showing up for a radiation appointment and having a nurse tell her she needs to find a ride home? So many questions, so little answers.
By Luke Kerr on February 26, 2008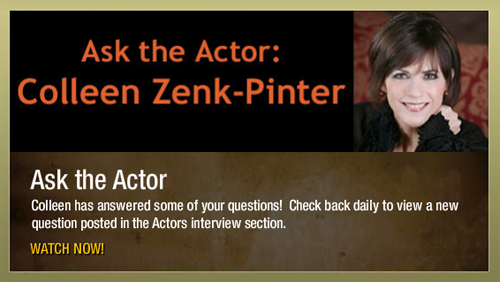 As the World Turns' launch of
www.astheworldturns.net
seems to be pulling in the show's fans. Daytime Confidential listener and reader MarkDutchViewer sent in a question for Colleen Zenk Pinter (Barbara Ryan) and it ended up being one of the ones she chose. His question is #3 so be sure to pay special attention to it. Also up next is Austin Peck. You can send your questions for him to pgwebmaster@televest.com.
Congrats to MarkDutchViewer!
By Luke Kerr on February 17, 2008
In a recent column by Carolyn Hinsey over at the New York Daily News she has a quote from General Hospital star Laura Wright on her character Carly Corinthos Jax. Here it is.
Q. Will all the turmoil with her son have a negative impact on Carly's pregnancy?
A. "I hope so," quips the actress. "I've already been pregnant four times [on soaps], and twice in real life. I am done wearing the fat suit."
Needless to say, this comment isn't sitting well with "CarJax" fans who were looking forward to the possibility of a baby Jax. But for the purpose of my question that is neither here nor there. Sure I'd love a baby Jax but at the same time I can't imagine wearing a fat suit for nine months (or 12 months in the case of Nancy Lee Grahn's poor Alexis during her pregnancy with Molly). It can't be fun.
My question is quite simply: How much storyline control should one actor have over their storyline?
If the Head Writer of a soap wants to have an actress' character become pregnant, should they be able to refuse? If an actor doesn't want to be in a romantic pairing with a specific actress (or vice versa) but the Head Writer(
see sparks between their two characters should he or she be able to derail a potentially popular pairing?
My knee jerk reaction would be no. No one actor or actress should be able to wield that much control over their storyline. However, if one gives it a bit more thought, I think things become a bit more muddled.
What about an actor who has experienced something in their personal life such as Colleen Zenk Pinter (who had throat cancer) over at As the World Turns. Reportedly she asked the Writers at As the World Turns to have her character Barbara Ryan suffer from throat cancer. At General Hospital we know that Maurice Bernard felt that having Sonny go through a Bi-Polar storyline could be educate fans or be helpful to fans who may be suffering from the same condition.
I am very interested to hear what you think.
Disclaimer: I want to make it clear I am not bashing Laura Wright. I only used the above quote for the purpose of what I hope will be a healthy discussion. The same quote might have come from any actress on any soap with the same storyline possibility and I would have used it if it was a recent comment.