Colleen Zenk
By J Bernard Jones on December 11, 2008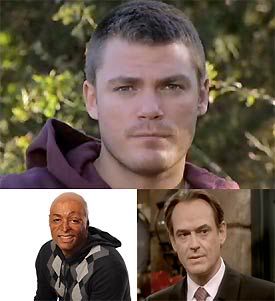 Despite gloom and doom about the state of daytime in almost all of its aspects, fans have been treated to some good soap opera lately.
The Young and the Restless
is the Must See Soap right now.
One Life to Live
has regained it's glory and
Guiding Light
is steadily improving. Some of daytime's best actors are giving some of the performances of their lives. With that in mind, there are three performers new to their respective shows deserving of special mention who I think are doing a bang up job.
JR MARTINEZ (Brot Monroe, All My Children)
Introduced amid a publicity blitz, JR Martinez came aboard AMC with a fascinating, real life backstory: an Iraq War veteran seriously injured and disfigured by explosives, eventually becoming a noted inspirational speaker for and on behalf of veterans coping with their life altering injuries. His addition to AMC's canvas was purposeful and deliberate. The show wanted a real life injured vet to play Brot, former love of newcomer Taylor (Beth Ehlers).
AMC has received much justly deserved praise for casting Martinez, but make no mistake, this was as much a bit of stunt casting as it was groundbreaking decision. READ MORE
By Mark on December 06, 2008
By Jillian Bowe on November 29, 2008
Seems like
Colleen Zenk Pinter
and her better half
Mark Pinter
have an additional role to play this spring, grandparents! Their daughter is expecting her first child with late night talk show host and former
MTV
VJ
Carson Daly
.
Daytime Confidential would like to send congratulations to the Pinter and Daly family!
By J Bernard Jones on November 13, 2008

Warning:
The following post contains salty language. Not safe for work. Not safe for kids. Not safe for pets. You have been duly warned!
The key to watching the NASCAR race that is As the World Turns is to latch onto whatever stories are playing, find the good, the bad and the ugly on any given day or week and hang on for dear life. With all the refueling, pit stops, tire changes, sharp curves, unexpected tune ups and occasional pile ups, by the time Head Writer Jean Passanante and Executive Producer Chris Goutman put the pedal to the metal on the storyline racetrack, it sometimes feels like someone is waving a checkered flag at the finish line while simultaneously getting ready to fire the start gun for the next race to begin.
In fact, it would seem that neither Passanante nor Goutman (with an assist from Barbara Bloom) have a firm handle on what's working and what's not working from week to week. The good part is that stories and some characters that aren't working are over and out sooner rather than later. The bad part is that stories and often characters that are working are over sooner rather than later, too. The rain, it seems, falls on the guilty and innocent alike. READ MORE
By J Bernard Jones on September 30, 2008
I've been really busy the last few days and have had to play catch up with As the World Turns, but now that the DVR has practically melted down I'm still enjoying what I'm seeing overall...
THE STAR WARS SAGA CONTINUES:
Darth Vader/Darth Sidous (James Stenbeck) continued to woo weak-willed, emotionally confused and immature Anakin Skywalker (Paul Ryan) to the dark side by twisting psychological daggers in Anakin's/Paul's back. As I've said before, this isn't a new development, but rather a direct nod to ATWT's history of James' attempts to turn Paul to "the dark side." READ MORE
By Mark on September 29, 2008
The nominations for the 2008 Sentinel for Health Awards were announced earlier this month and As the World Turns is nominated for Barbara's (Colleen Zenk Pinter) oral cancer storyline. The fact that Colleen Zenk Pinter had the same illness in real life made this story extra special for me. One of my favorite moments is the conversation Barbara had with Lucinda (Elizabeth Hubbard) who had cancer herself in 2005 (watch those scenes in the clip above). My only complaint about the story was that the airtime it got was pretty nonexistent.
The awards take place in Los Angeles on Thursday, October 2. For more information go to The Norman Lear Center.