Colin Egglesfield
By Luke Kerr on October 10, 2012
The Client List and former All My Children star Colin Egglesfield completed the Chicago Marathon on October 7. Egglesfield tweeted his thanks to supporters and shared an Instagram photo with fans.
Finished! Thanks everyone for all your support to #LLS and my family!! Couldn't have done it w/out you! Chicago rocks! #chicagomarathon READ MORE
By Daytime Confidential on April 06, 2012
Former All My Children star Colin Egglesfield walked the red carpet at the premiere of his new Lifetime series The Client List. He plays Evan, the brother-in-law of Jennifer Love Hewitt's character Riley Parks. Former The Young and the Restless star Clementine Ford (ex-Mackenzie) also turned up to support her mother, Cybill Shepherd. The TV icon plays Riley's mom, Lynette. The event took place at the Sunset Towers Hotel in West Hollywood on April 4.
See more photos from The Client List's premiere after the jump and visit Pop Confidential to watch the trailer. READ MORE
By Luke Kerr on May 04, 2011
The Young and the Restless' Billy Miller reunited with his former All My Children co-stars Chrishell Stause and Melissa Claire Egan on the red carpet of Something Borrowed. The romantic comedy, starring AMC grad Colin Egglesfield, Kate Hudson, Ginnifer Goodwin and John Krasinski, hits theaters May 6. READ MORE
By Jamey Giddens on February 18, 2010
Look for
All My Children
and
Melrose Place
alum
Colin Egglesfield
to likely portray the role of a young William Walker on
Brothers & Sisters'
upcoming flashback episode.
EOnline
first broke the news that Egglesfiield would be replacing one of the previously cast Rewind Walkers. Speculation is Egglesfield is going in for fellow soapster
Daniel Cosgrove
,
who had previously been tapped to play William. I have to say, this is a good move. Egglesfield definitely brings to mind what I would envision for the cocky, philandering jerkoff who cheated on my Gidget with that tramp Holly Harper!
By Luke Kerr on August 14, 2009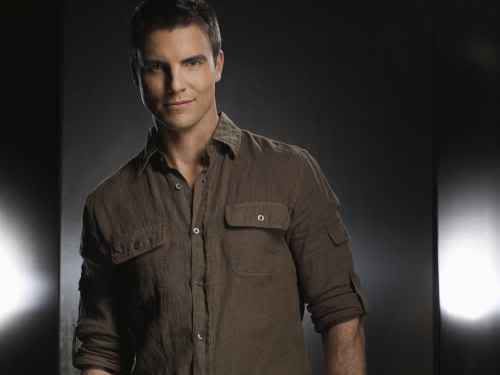 Colin Egglesfield gives a behind-the-scenes tour on the set of the new Melrose Place, as he prepares to shoot a scene. Watch the clip after the jump. READ MORE
By Luke Kerr on June 08, 2009


The CW has released an extended preview for the new Melrose Place and it looks pretty darn good. Previews can be deceiving, but this looks way better than anything I watched on the new 90210.