Claire Coffee
By Regan Cellura on January 20, 2009
Most fans were expecting some sort of shake-up for Nurse Nadine when it was announced that
Natalia Livingston
was returning to
General Hospital
.
Claire Coffee
took to her
message board
to let the fans know just what's up with her status at GH.
Hi Everyone!
It's been a while since I've stopped by...
I sort of figured this was coming, but wanted to be absolutely certain until I relayed the news.
I have been taken off contract, effective February 8. It's a mutual decision; I completely understand the stresses of the producers and writers and the Nadine storyline seemed to coming to a close. I won't be exploding in a ball of hospital flames, but you probably won't see me much around the hospital, either. Tough times in the economy, Port Charles included! Jill Phelps has been incredibly supportive and I have nothing but respect and reverence for my time at GH. Thank YOU ALL for your support.

Signing off,

Claire
By Regan Cellura on January 12, 2009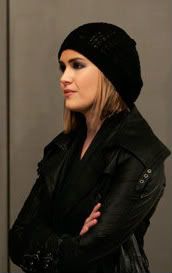 Here's the Scoop! 01.12.08
It's Natty Week! Natalia Livingston returns to General Hospital this week as a new character, Rebecca. I know I am not the only fan hoping that Rebecca turns out to be a very much alive Emily Quartermaine but so far, she's just Rebecca who has something to do with this crisis about to hit GH. Rebecca MAY be sharing some time with other male residents of PC but Nikolas will be drawn to her and one RUMOR has her helping Nikolas save Nadine. What about Matt? Rebecca and Dr. Hunter share a scene and some are SPECULATING that they have a past.
Speaking of Nadine... Many fans are worried that Natalia's return means Claire Coffee's exit. While it is most likely the end of Nikadine, it APPEARS Claire is safe, for now.
Sonny and Jason... It's war between the former friends and partners. Sonny's latest bride does not help matters. There is still a POSSIBILITY that when all the smoke clears, Sonny and Jason COULD be revealed to be working together. READ MORE
By Jamey Giddens on December 16, 2008
SOAPnet.com has confirmed what we have been
telling
y'all since Lassie was a pup,
Natalia Livingston
is indeed returning to
General Hospital
. The former Emily Bowen Quartermaine will be playing a new character named Rebecca.
I always liked Livingston's classic, romantic novel heroine take on Emily and am glad to see her back. I just hope TPTB don't decide to toss the amazing Claire Coffee (Nadine) to the wolves, er Russians, now that they have an Emily lookalike back for Nikolas (Tyler Christopher). Oh and by the by, what in high hell was the point of killing Alan (Stuart Damon) and Emily only to keep bringing them back? Now that the soaps are in ratings freefall, will Damon return as Alan's long lost cousin next Sweeps? Is Billy Warlock on his way to town as a new member of the Zucchini family? Oy vey.
By Jamey Giddens on November 26, 2008
Okay you knew it was coming. Now that the Idiots In Charge of The-Soap-Opera-Formerly-Known-as-Days-of-Our-Lives have let the phenomenal
Blake Berris
go, I decided to start out doing a Wishful Casting about where Berris should end up, but it turned into more of an analysis of which soaps are managing to set things up for their next generation the right way, and which ones are getting it wrong, dead wrong.
Much of the daytime industry is experiencing a serious drought in terms of talented, young stars who can actually, you know, act. Save for The Young and the Restless, One Life to Live and General Hospital, the under 30 set at most soaps is pretty much comprised of rejects from the Pamela Anderson School of Acting and Pantomime. I'll start with the soaps in most need of help and work my way up. READ MORE
By Regan Cellura on November 12, 2008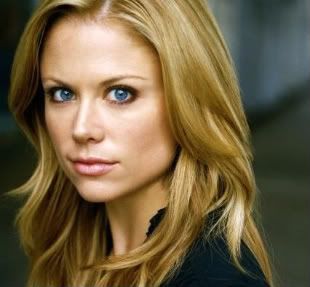 It looks like Nadine's (
Claire Coffee
) Aunt Raylene is coming to Port Chuck!
Soaps in Depth
is reporting that
Saturday Night Live
alum,
Mary Gross
, has been cast as the wacky aunt with all those insightful views on life.
Not sure who Mary Gross is? She has a pretty large resume. I remember her as Annie Herman in the movie Troop Beverly Hills and she's the sister of Family Ties star Michael Gross, who's been spending some time over at The Young and the Restless as Lowell "River" Baldwin. Not exactly who I had pictured in my head for Nadine's Aunt Raylene. As my girl Tina just said, we were thinking more along the lines of Lucy Coe's Aunt Charlene.
By Regan Cellura on October 09, 2008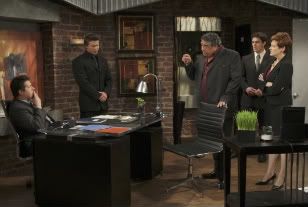 Here's the Scoop! 10.09.08
Is Elizabeth being nabbed? RUMORS yesterday said Sonny would kidnap the mother of two to prove a point to Jason. The LATEST? A RUMOR just hit that Max and Milo take care of Elizabeth as a thank you to Jason. MY THEORY? Well IF the napping RUMORS are true, Max and Milo won't hurt Elizabeth as they owe Jason big time.
Why do they owe Jason? He pulls through for the Giambatti brothers and plays enforcer. Hurricane Carly almost blows Max's cover.
I'm a fan of Nadine's. I love Claire Coffee. What I'm not a fan of, is the overuse of Nadine's quirk. Memo to TPTB, pull back a bit on Nadine. There is more coming for the wacky nurse. She's in trouble with a capital T as Jerry drugs her! What about Nikolas? Well he's making his deal with Carly and he'll get a little reminder that it's no fun to love and lose.
Will Sonny be honest with Kate? SPOILERS say he'll tell her he needs to go back to the biz. More RUMORS say he goes to work for ZaCrazy. READ MORE