Claire Coffee
By Luke Kerr on July 22, 2013
NBC has released videos of its 2013 Comic-Con panels, including its popular, Friday night hit Grimm. The mythological drama stars David Giuntoli, Russell Hornsby, Silas Weir Mitchell, Sasha Roiz, Bree Turner and former General Hospital favorite Claire Coffee (ex-Nadine). Coffee's character, Adalind Schade, is pregnant with the child of a Grimm prince. She just isn't sure which of the two men is the father.
Watch Grimm's Comic-Con 2013 panel and a red carpet video after the jump! READ MORE
By Daytime Confidential on January 07, 2013
Days of Our Lives' Alison Sweeney and former General Hospital star Claire Coffee were two of the current and former soap stars who participated in NBC's 2013 Winter TCA Presentation on January 6. Sweeney hosts NBC's long-running reality hit The Biggest Loser; while Coffee is among the stars of Grimm.
Former Days of Our Lives star Lisa Rinna was also on hand, since she's returning for the upcoming season of Celebrity Apprentice. See more photos from NBC's TCA Press Tour event after the jump! READ MORE
By Luke Kerr on January 07, 2013
Since leaving General Hospital, Claire Coffee has had a successful run on NBC's Grimm as the villainess Adalind Schade. During NBC's 2013 Winter TCA presentation, Coffee teased more of what's to come for Adalind and shared her research into psychopaths for the manipulative character. TV Guide tweeted her comments from the event.
Watch the preview for Grimm's winter premiere after the jump!
By Luke Kerr on November 15, 2012
Former General Hospital star Claire Coffee has had a successful run on NBC's supernatural procedural Grimm as Adalind. This week, Adalind returns to Portland, Oregon looking for revenge. TV Line previews what is in store on the November 16 fall finale.
"She's avenging her mother's death a bit, but I think for Adalind, it's more [about] the shame that the captain put her through after she lost her powers," Coffee says.
Watch a trailer for Grimm's "Season of the Hexenbiest" after the jump!
By Jamey Giddens on September 26, 2012
Ex-
General Hospital
cutie
Claire Coffee
just landed herself a steady paycheck! According to
Deadline
, Coffee has been upped to series regular status on NBC's supernatural procedural
Grimm
. Coffee, who appeared as Nadine on GH from 2007-09, portrays hexenbiest antagonist Adalind Schade on
Grimm
.
Photo credit: NBC
By Regan Cellura on July 01, 2009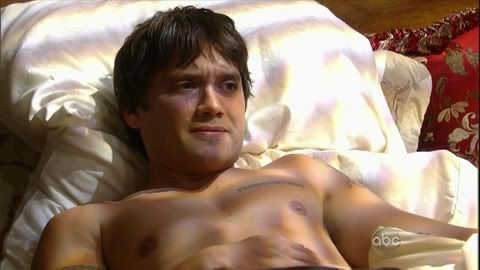 Here's the Scoop! 07.01.09
Dominic/Dante… What's in a name anyways? Apparently Dante wanted to protect his mother from his line of work and decided to change his name to Dominic. Protecting the innocent huh Dante? Well Olivia isn't so innocent. She's been keeping secrets from everyone about who Dante's daddy is. How long will we have to wait this reveal out? Not sure but don't expect for it to be out in the open just yet.
Claudia's role in Dante's story… Dominic wants Claudia to smooth things over with Sonny and get him on the inside. Will Sonny just give the man who held a gun on his boys and Carly a job? Really, what's going to stop Sonny from killing Dominic on the spot? Obviously something does and it doesn't appear to be the reveal that he's actually Sonny's son.
Kudos to Maurice Benard and Steve Burton… those scenes yesterday were the Sonny and Jason of old. So many emotions coming off them in waves. Is this a rare glimpse or a sign of what's to come? READ MORE