Chris Goutman
By Jillian Bowe on October 27, 2009
TV Guide Magazine
got the goods from
As The World Turns'
Chris Goutman
about what's in store for a road trippin' Jack and Carly (
Michael Park
and
Maura West
) in the wake of Brad's death.
Soul-searching tends to be done solo. Why have Carly come along? This is a romance story, as well. We're listening to the fans. They've been clamoring to see Jack and Carly get back together. It's a soul-searching mission for him but she's the one who brings him back to Oakdale. In fact, she's really the only one who can bring him back. It's like a reversal of the guy going to save the damsel-in-distress. But if we are to bring them back together they've got to come from new and different places. Jack can't be judgmental anymore. Carly can't be so devil-may-care. They have a lot of wear and tear and it won't be an instantaneous getting together. They will have many obstacles to overcome. This is going to be a new incarnation of Jack and Carly, not the same-old same-old.
Listening to the fans, what a concept!
By J Bernard Jones on September 10, 2009
In what one hopes will be the first of many, daytime's legendary and most outspoken actress
Kim Zimmer
granted
Nelson Branco
of TVGuide.ca
an interview guaranteed to drop jaws
! While the insightful and often hilarious talk covers everything from Ms. Zimmer's new TV-movie gig to her desire to be on
Dancing with the Stars
(
Maksim
, watch out!), it is her views on
Guiding Light
and its demise that are sure to raise eyebrows. Among La Zimmer's many quotables, this one stands out:
... if I was in

Ellen Wheeler

's position, I would have said, "You are raping the show. No, I won't produce GL this way." I give Ellen credit for trying to be the second coming. [Laughs] I had a really hard time with the new production model because it affected how the writers wrote our show — and that killed us in the end.
If that wasn't enough, Zimmer's perspective adds an additional extra dimension to what killed GL: READ MORE
By Jillian Bowe on September 08, 2009
1. Will soaps come back in style like 80's clothing?
2. When will fans see "love in the afternoon" again?
3. Why won't Bob Guza and Co. beg Vanessa to give them one more chance?
4. What happened to the corporate raid with Jabot/Newman/Chancellor?
5. Doesn't it annoy you to see Meg Snyder being Oakdale's man eater? READ MORE
By J Bernard Jones on August 05, 2009
Perhaps someone passed along my
Open Letter to Christopher Goutman
. Perhaps
Barbara Bloom
took a good look at the plummeting ratings and decided that everyone should not lighten up after all. Perhaps head writer
Jean Passanante
took an extended vacation to Buenos Aires. Whatever has been happening over the last few weeks, let me step out on a limb and utter the words that many fans thought might not ever be said again or even believe:
As the World Turns
is, at long last, improving.
I fully expect the comments section to be full of invective and angry fist shaking about how ATWT is still "the worst soap on the air," how the vets are misused, and how the "Vortex of Suck" continues to, well, suck. In addition, the now well-documented list of the show's biggest defects remain stubbornly in place: warp-speed storytelling and the soul sucking semi-episodic structure continue to test the rapidly waning patience of the show's dwindling audience.
Having said that, it bears repeating that fans are a stubborn breed. We will praise shows, actors and performances we like, but we are quick to make our displeasure known when we feel things are not up to speed and falling apart. Once the latter narrative has been established it is very hard to turn the tide of opinion, even when a show starts to address its critics and make changes. Therefore, though the longstanding criticisms of ATWT are still valid, I think it is time to once again give credit where credit is due. READ MORE
By J Bernard Jones on July 14, 2009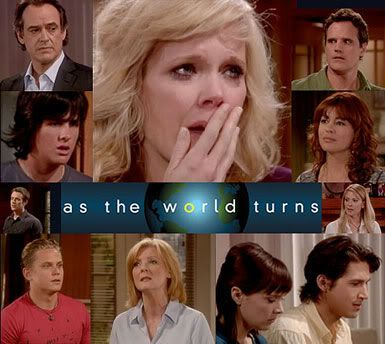 As the World Turns
gets little critical love these days, at least from me. Executive producer
Chris Goutman
and head writer
Jean Passanante
are roundly criticized for revolving door castings that last between three to six weeks per actor while a number of popular veterans remain stranded on the sidelines, nine month story lines compressed into 45 minutes of screen time, and obviously declining production values due to draconian budget cuts not of their making or within their control. Watching ATWT lately has been as often a test of endurance as much as one of patience. Unfortunately, many viewers have been able to pass neither challenge as the show's declining Nielsen ratings attest.
Nonetheless, I am careful to try to give credit where credit is due and today's episode did something very smart for the first time in a long time: human emotions took center stage. The writers shoved janky plot mechanics aside and instead focused on characters trying to relate to each other through adverse circumstances. Yes, ATWT's usual maddening problem of compressing events that should have played out over days and weeks into a single show managed to compromise a bit of my enjoyment, but I have to say I thought as a whole they hit it out of the park today. READ MORE
By J Bernard Jones on June 22, 2009
Dear Ms. Phelps,
I present to you the new opening for As the World Turns that debuted on Monday, June 23rd. ATWT's executive producer Chris Goutman might not be producing the best show (an understatement), but he does know how to update his show's opening credits every year or two. Not all of ATWT's openings have been great, but they represent an attempt to keep current.
Now I know what you might be saying, something along the lines of "We have the daytime equivalent of the budget of Transformers: Revenge of the Fallen and can do much bigger, better and flashier than that! And we can include the cast, too! Hell, our credits run for 11 minutes, not 9 seconds!"
Ms. Phelps, it goes without saying that of course you do and of course you can (and of course it does), which is the point. If anything you certaintly have the flashier part right: GH's current opening has more epilepsy inducing lens flares than J.J. Abrams' Star Trek. READ MORE