Chris Goutman
By Jillian Bowe on October 09, 2010
According to We Love Soaps, former As The World Turns showrunner Chris Goutman may be heading to The Young and the Restless. The site is reporting Goutman may join the directing team at Y&R. So far the sudser is keeping mum and nothing has been confirmed. Lord in the morning say it ain't so!
By J Bernard Jones on September 16, 2010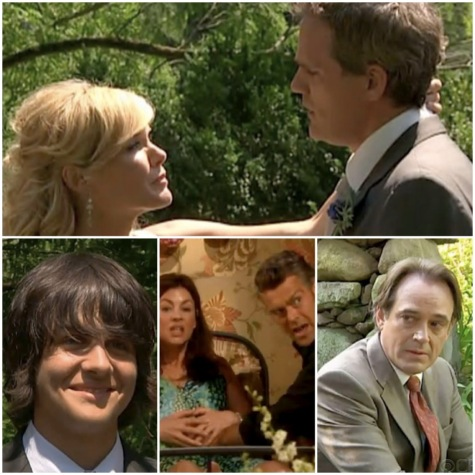 Several days ago, I posted an entry about the fallout from the death of Dr. Reid Oliver (Eric Sheffer Stevens) on As The World Turns. There were three central ideas in that piece. First, despite the very legitimate complaints that any given fan might have, ATWT is providing great human drama here at the end of its run. Second, Reid's tragic passing and donation of his heart to Chris (Daniel Cosgrove) encapsulated that goal mainly by thrusting the Hughes'— the show's core family since its very debut— front and center toward its conclusion. Third, given the soap opera wrapped production months ago, the idea of kicking a dead horse with unrelenting criticism isn't going to make it win the Kentucky Derby.
I have not budged one iota from any of those positions and I am about to incur the wrath of a whole lot more of you by making what I know will be a very controversial statement to many: I believe that in these final days, executive producer Christopher Goutman has made mostly the right decisions.
By Jillian Bowe on August 09, 2010
SPOILER ALERT
: Hang on to your hats boys and girls!
TV Guide's
Michael Logan
spoke with
As The World Turns'
Chris Goutman
and got him to sing like a canary about what's to come in the final days of the soon-to-be defunct serial.
Barbara (

Colleen Zenk

) and Henry (

Trent Dawson

) will finally make it to the altar, reveals Goutman. "They are very flawed people but they know there's no other way to complete themselves other than being with each other. Their wedding will help heal the incredibly dysfunctional Ryan family and expunge the ghost of James Stenbeck (

Anthony Hererra

) once and for all. Once that ghost is put to rest, Emily (

Kelley Menighan Hensely

) and Paul (

Roger Howarth

) will be able to see through all their mishigas and finally realize they are meant for each other. They are going to raise Eliza together and be a family.

READ MORE
By Jillian Bowe on July 29, 2010
Fans wanting to say adiós to Oakdale will have their chance next month. On Aug. 18, The Paley Center will host an event which will showcase clips from over the years and discuss how As The World Turns handled many real-life issues throughout the years. The following are slated to appear:
Chris Goutman
Jean Passanante
Terri Colombino
Trent Dawson
Kathryn Hays
Don Hastings
Eileen Fulton
Colleen Zenk Pinter
Van Hansis
For tickets and more information click here
By Jillian Bowe on July 22, 2010
In an interview with
TV Guide's
Michael Logan
,
As The World Turns'
executive producer
Chris Goutman
discusses the show's plans to honor the late
Helen Wagner
(Nancy). Goutman stated,
We decided not to go the traditional route in paying tribute to Nancy because she made it clear she didn't want anything fancy done," Goutman notes. "Instead, we pick up right after the ceremony with all the characters feeling like they need to do more for her. Casey takes the lead and challenges everyone to come up with a special way to honor Nancy, and that becomes our farewell episode.
By Mark on December 14, 2009
Michael Logan from TV Guide Magazine interviewed As The World Turns executive producer Chris Goutman. They talked about the cancellation, finding a new home for the show and what's going to happen in Oakdale the coming months.
Was this out of the blue for you?
It's a shame and it's a shock because we absolutely thought we had a shot at another year. Our show is not ready to go because, creatively, we're on a roll. We still have exciting stories in the works and we're sticking to them. We're not ready to start inviting back old favorites and do the nostalgia thing.