Cameron Mathison
By Luke Kerr on April 10, 2009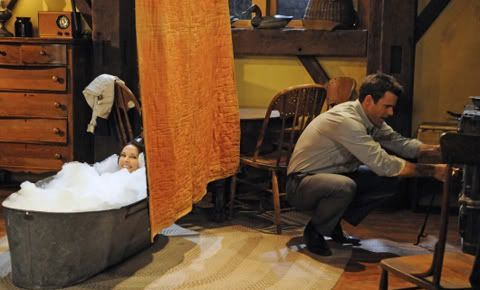 UPDATE:
Found a clip of Susan Lucci. Check it out after the jump starting at 2.13 in the clip. It is worth the watch.
It has been so long since I've been able to say anything remotely positive about All My Children that a scene on today's episode was like having water poured on a wilting plant in the middle of the desert.
Susan Lucci did an outstanding job as the pressure of life, children and lack of love bore down on her and made her explode in a tirade or tears where she told Ryan she was tired of worrying about everyone else and wanted to get back to doing what she did best, making everything about her. The dialogue was great, Lucci's delivery was spot on and for the first time in years I can actually say something positive about Cameron Mathison's Ryan Lavery. His expression as Erica had the melt down and then, as she started to cry, he took her in his arms and hugged her comfortingly, were comical, sad and refreshing.
Susan Lucci's performance today is definitely my pick for Performer of the Week and as soon as I find a clip of it on You Tube I'll update this post.
Who is your Performer of the Week? READ MORE
By Luke Kerr on March 18, 2009
As the World Turns
may be recycling 2006 scripts, but in the arms race for unoriginality
All My Children
is going back even further. Apparently Kendall and Ryan are back in fashion again. What could be more exciting then then Ryan and Kendall back together, yet again? I mean seriously. The angst, agony, romance and sorrow of this "iconic couple" - and I use the term so loosely a mac truck could drive right through - will spark the imagination of fans, immediately make
All My Children
"must watch TV" and save the genre from itself. Ryan the superhero, Kendall the second guesser and Zach the man who never loses are here to save the day! Whoop-de-do-da-day, inspiration abounds! I'm so happy I need to take a prescription drug to calm my excitement.
I know that many General Hospital fans think that it is the worse of the three ABC soaps, but I enjoy it exponentially more than All My Children, even with the mob. Only in the world of soaps do shows such as All My Children and Days of Our Lives have their ratings go up while shows like One Life to Live are hanging on for dear life. All My Children even beat General Hospital in the ratings. I'll let everyone draw their own conclusions about what that means, but it says something. READ MORE
By Regan Cellura on March 09, 2009


And a little General Hospital as well! Broadway Cares is tonight!
By Jamey Giddens on March 04, 2009
Regan asked you guys earlier if you were ready for a Rendall Redux and from the
looks of things
, DC readers aren't trying to feel a reunion between Ryan and Kendall on
All My Children
, but I sure am! Those promos are taking me right back to the magic that was Rendall!
Alicia Minshew
and
Cameron Mathison
have always sparkled together onscreen, and they still do.
It was an abyssmal mistake to ever inject Green-Me (
Rebecca Budig
) into Ryan and Kendall's orbit. As for Zach (
Thorsten Kaye
), my ability to tolerate The Cambias That Ate Pine Valley died with Myrtle Fairgate (the late
Eileen Herlie
).
Zach is a Grade-A jackass, who thinks he should never pay for anything he does! He shot Kendall's poor, unaborted brother through the head and showed about as much remorse as a celebutante after her sex tape is "leaked". READ MORE
By Luke Kerr on February 19, 2009
By Nicki on January 14, 2009
Want to meet your favorite soap stars? Well now's your chance as the Soap Opera Mania on Tour could be coming your way soon!!
Stars from all your favorite soaps are starting a tour around the country next month and they could be right in your neck of the woods. They will be adding more locations as they go and as they do I will update you with those additions. But as for what they have so far here is the upcoming schedule of where, when, and who will be there....
Saturday 02/07/09 in Macon, GA at the Anderson Conference Center:

Christian LeBlanc (Michael Baldwin - The Young and the Restless)
Austin Peck (Brad Snyder - As the World Turns)
Brandon Beemer (Owen Knight - The Bold and the Beautiful)
Murray Bartlett (Cyrus Foley - Guiding Light)
Gina Tognoni (Dinah Marler - Guiding Light)
Winsor Harmon (Thorne Forrester - The Bold and the Beautiful)
Julie Pinson (Janet Snyder - As the World Turns)
Don Diamont (Brad READ MORE